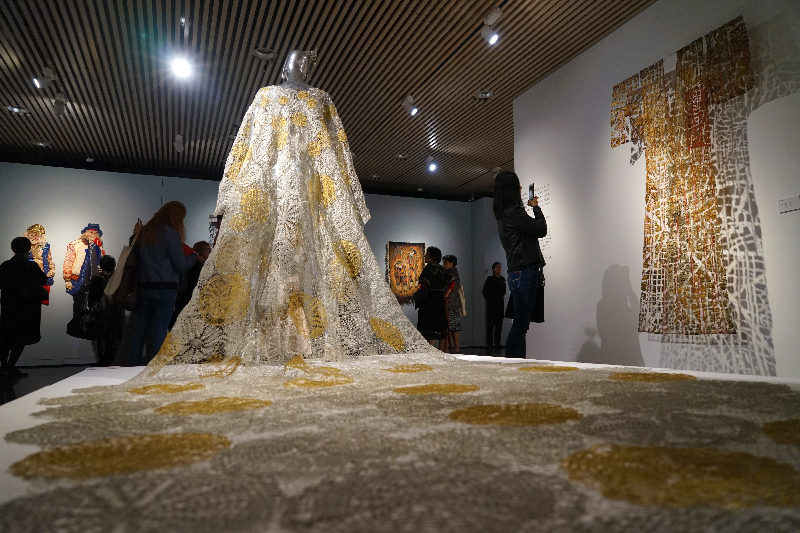 Vom 10. Oktober bis 15. November 2018 fand die 10. Biennale "From Lausanne to Beijing" an drei Orten statt: Im Beijing Art Museum, im Tsinghua University of Art Museum und an der Akademie für Kunst und Design an Die Idee zu dieser zweijährlichen Veranstaltung stammt von Professor Lin Lecheng, der in seiner Biographie beschreibt, wie verheerend es für ihn war zu erfahren, dass die Biennale von Lausanne Mitte der neunziger Jahre beendet wurde. Er brauchte jedoch nur bis zum Jahr 2000, um seinen Traum, eine weltweite Veranstaltung zu organisieren, die der Textilkunst in der Fortsetzung der Biennale von Lausanne gewidmet ist, zu verwirklichen. Sein Verdienst ist es, sich um zehn solcher Großveranstaltungen gekümmert zu haben, die organisiert und finanziert werden mußten. Da dies die letzte Biennale war, die von ihm organisiert wurde, bleibt abzuwarten, wie sich die Veranstaltung in den Händen jüngerer Organisatoren entwickelt.
In der Zeitschrift Textile Forum haben wir mit kritischem Blick über die Veranstaltung berichtet. In 2012 in Nantong, einer ehemaligen Textilindustriestadt, haben wir die Ausstellung zum ersten Mal selbst gesehen. Wir waren beeindruckt von den 282 Kunstwerken aus 35 Ländern, ausgestellt in fünf riesigen Ausstellungshallen. Wir empfanden den Gesamteindruck jedoch als unausgewogen und bedauerten, dass die Techniken (und mögliche Ausführende) nicht erwähnt wurden. Es war jedoch klar, dass enorme Kosten und organisatorische Arbeit in diese Biennale investiert worden waren, die es für Besucher aus dem Ausland lohnend machten, die vielen dort ausgestellten Textilkunstwerke zu sehen.
In diesem Jahr wurden 1375 Kunstwerke aus 45 Ländern eingereicht, von denen 175 Werke von 183 Künstlern aus 40 Ländern ausgewählt wurden. 88 Künstler kamen aus China, 63 aus Europa und 31 von anderen Kontinenten (13 davon aus den USA). Rund 22 Prozent der Teilnehmer waren männlich, 88 Prozent weiblich. Im Katalogvorwort wird die Vielfalt zusammen mit den Traditionen hervorgehoben: "Die Textilkunst vermittelt nicht nur eine reichhaltige Tradition, sondern zeigt auch die Vielfalt der Möglichkeiten für die Zukunft der Textilkunst auf" (Lu Xiaobo, Dekan der Academy of Arts & Design, Tsinghua Universität). Weitere Bewertungen wurden nicht veröffentlicht.
Was gab es zu sehen? Ich zählte mindestens 21 Werke in der traditionellen Tapisserie-Technik, eine kleinere Anzahl freistehender dreidimensionaler Skulpturen, nur zwei Computerwebereien. Weitere Webereien und Stickereien waren ebenfalls vorhanden, jedoch, soweit auf den Fotos erkennbar, nicht in größerer Anzahl. Insgesamt sahen die Arbeiten tatsächlich aus wie eine Mischung aus traditioneller Arbeiten mit experimentelleren Textilarbeiten. Die chinesischen Künstler zeigten sowohl ihre hervorragenden traditionellen wie auch ihre freien experimentellen Arbeiten. Junge chinesische Künstler haben dort eine sehr gute Plattform,  ihre Arbeit einem weltweiten Publikum vorzustellen!
Aus der westlichen Welt sah ich einige der preisgekrönten Werke anderer internationaler Ausstellungen und mir viel auf, dass eine ganze Gruppe von Textilkünstlern zunehmend an vielen internationalen Ausstellungen teilnehmen. Die Biennale würde davon profitieren, wenn in den Regeln zur Einreichung der Arbeiten gefordert würde, dass nur Werke gezeigt werden dürfen, die noch nicht zuvor bei internationalen Ausstellungen gezeigt worden sind.
Es war deutlich, dass die Finanzen diesmal nicht so großzügig zur Verfügung standen wie es in der Version im Jahr 2012 der Fall war. Das alte Problem des Geldmangels, das jeder Textilkunstausrichter in Europa hat, wird nun auch in China spürbar.
Wir müssen sehen, wohin die Entwicklung für die Ausstellung "Von Lausanne zur China-Biennale" in der Zukunft gehen wird. Weil auch die andere weltweit ausgerichtete Textilkunstausstellung, die Triennale von Lodz, eine neue jüngere Kuratorin hat, besteht Hoffnung auf die Fortsetzung wichtiger Veranstaltungen mit neuen und interessanten Kunstwerken.