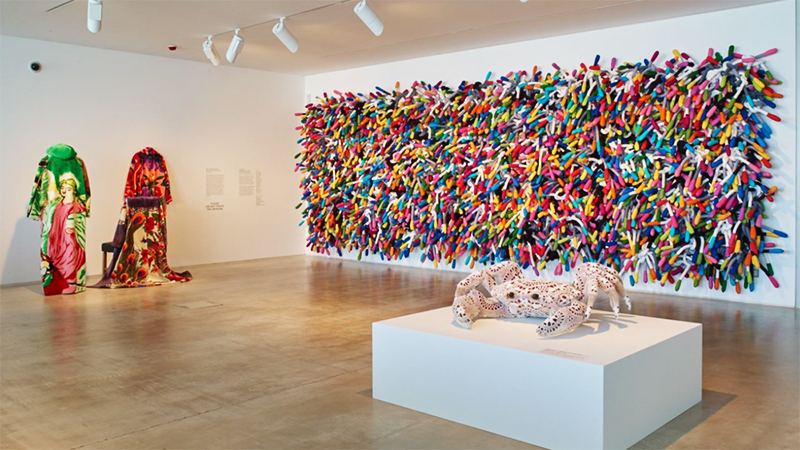 Zum Thema 'Kunst und Textil' gibt es eine interessante Entwicklung. Im angelsächsischen Raum gibt es neuerdings Ausstellungen mit Kunst von Frauen, zum Teil mit viel Textil. So zum Beispiel die Ausstellung "Pathmakers: Women in Art" im Museum of Art & Design (MAD) New York, 2015, und "Revolution in the Making: Abstract Sculpture by Women" bei Hauser Wirth & Schimmel in Los Angeles, 2016. Bei den genannten Zielen heißt es u.a.: " ihre kollektive Innovation – ihre Pionierarbeit mit neuen Materialien und Arbeitsweisen – war weit einflussreicher als man bislang verstanden und gewürdigt hat (their collective Innovation – their pioneering of new materials and processes – has been far more influential than has been previously understood and recognized,Text Hauser Wirth & Schimmel)".
Jetzt ist auch in Europa eine solche Ausstellung zu sehen: "Entangled: Threads and Making" vom 28. Januar bis 7. Mai 2017 im schönen Kunstmuseum Turner Contemporary in Margate an der Küste von Großbritannien. Über 40 Künstlerinnen zeigen Skulpturen, Installationen, Tapisserien, Textil und Schmuck ab dem frühen 20 Jahrhundert bis heute. 
Die Möglichkeiten des Strickens, Stickens, Webens, Nähens und der Holzbearbeitung – oft unter Einsatz von unerwarteten Materialien wie Pflanzen, Kleidung, Haare und Federkielen – werden bis an die Grenzen ausgenutzt .
Kuratorin der Ausstellung ist Karen Wright, die für eine Artikelserie "In the Studio" über 200 Künstler in ihrem Atelier besucht hat. "Diese intime Begegnung mit Künstlern bei der Arbeit lieferte die Inspiration für eine Schau ausgerichtet auf Arbeitsweise und Material. Was als Textilausstellung anfing, wurde zur Schau mit Arbeiten, die einen Sinn für Textil aufweisen. Entstanden ist eine lose Interpretation von Fäden, ein Puzzle." so Karen Wright.
Die Direktorin des Museums, Victoria Pommery, sagte zur Ausstellung: "Zu einer Zeit, wo die Rechte der Frau auf der ganzen Welt bedroht sind, kommt diese Ausstellung gerade zur rechten Zeit. Erfindungsreich, neugierig und experimentierfreudig demonstrieren alle Künstlerinnen dieser Ausstellung Innovation und Kreativität."
Die Ausstellung spielt mit der Idee von 'Textil als Arbeit von Frauen' – ob nun Tapisserieweben, Nähen, Weben, Knoten oder Sticken – und wie Frauen auf diese Idee reagieren. Sicher sind oder wären einige der teilnehmenden Künstlerinnen, wie z. B. Louise de Bourgeois, nicht mit diesem Blickwinkel einverstanden! Auch die weitere Idee des Machens in dieser Ausstellung ist nicht unumstritten, wurden doch einige der ausgestellten Werke nicht von den Künstlerinnen selbst hergestellt, wie z. B. die Jacquard-Arbeiten von Kiki Smith.
Die ausgewählten Künstlerinnen in dieser Ausstellung sind: Anni Albers; Caroline Achaintre; Ghada Amer; Paola Anziché; Hrafnhildur Arnardóttir/ Shoplifter; Phyllida Barlow; Marion Baruch; Karla Black; Margrét H Blöndal; Regina Bogat; Louise Bourgeois; Geta Brătescu; Sonia Delaunay; Sonia Gomes; Ximena Garrido-Lecca; Eva Hesse; Ann Cathrin November Høibo; Laura Ford; Mona Hatoum; Marianne Heske; Sheila Hicks; Susan Hiller; Maureen Hodge; Christiane Löhr; Kate MccGwire; Annette Messager; Rivane Neuenschwander; Lucy + Jorge Orta; Arna Óttarsdottir; Sidsel Paaske; Maria Papadimitriou; Anna Ray; Maria Roosen; Ursula von Rydingsvard; Hannah Ryggen; Betye Saar; Judith Scott; Samara Scott; Kiki Smith; Aiko Tezuka; Rosemarie Trockel; Tatiana Trouvé; Frances Upritchard and Joana Vasconcelos.
Das Interessante an dieser Auswahl der Arbeiten ist die grosse Bandbreite des Zeitraums der Entstehung und der verwendeten Techniken und Ideen.
Ich werde die Ausstellung, die eine neue Richtung der Ausstellungen von Kunst mit Textil einleitet, im April besuchen und darüber berichten!
Beatrijs Sterk