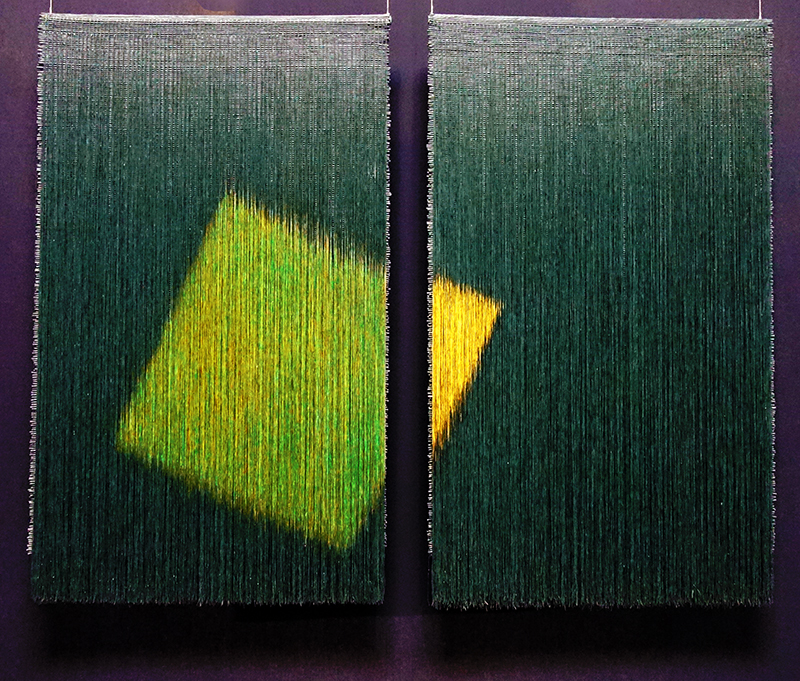 "Light of Spirit – Olga de Amaral – a retrospective" at la Patinoire Royale – Galerie Valérie Bach, Brussels, from 29 March to 21 July 2018.
This was one of the few  retrospective exhibitions of this great Columbian textile artist in Europe. In this period of time, where older textile artists are finding recognition within the art world, it is logical that also this exceptional South- American artist is being honoured with a solo exhibition in an important art gallery. The same happened this year to Magdalena Abakanoowicz who had two exhibitions in the Textile Museum of Lodz, Poland;  to Sheila Hicks with her exhibition "Life Lines" at the Centre Pompidou in Paris and to Anni Albers , shown in the K18 Art Hall in Düsseldorf  and until January 2019 in the Tate Gallery of Modern Art, London . Even though Olga de Amaral is not as well known as these grand ladies, she certainly has the same importance. I regretted very much not to have been able to see this exhibition myself and therefore was happy to receive photos made by artist Gudrun Hanisch from Hannover! The text you can read here is taken from the small catalogue issued for this exhibition.
Beatrijs Sterk
The Patinoire Royale–Galerie Valérie Bach becomes, for one exhibition, the temple of the Amerindian spirit and its powerful spiritual charge, in direct link with the cosmos, through the timeless work of the Colombian artist Olga de Amaral. This unclassifiable artist and her production, whose eternal force is haloed with gold -a glorious and divine stainless material- characterizes her mode of expression. A selection of some forty exceptional works, which cover the last 15 years, are presented here for the first retrospective in Belgium.
Her luminous work re-explores the textile tradition of South America by directly quoting the colors, shapes, graphics and materials of the pre-Columbian world, using gold or silver leaf, as well as the natural pigments of the world: indigo, amaranth, turquoise, and earth-colors, in a vast firework display against a backdrop of Andean music.
Her great sensitivity, in the service of a meticulous textile practice and an innate taste for interlacing, mosaics and mats, makes Olga de Amaral a passer-by between the ancestral spirituality of the Incas and our contemporary society. Delivering much like many artifacts, a poignant testimony of this immense civilization which disappeared in the first half of the 16th century.
The work of Olga de Amaral, characterized by a high degree of homogeneity and a fidelity to herself, for more than sixty years, would be without a doubt betrayed if one saw there only a simple visual manifestation, flattering our eyes , without any finality other than being very decorative, conferred to him by its colors and metallic sparkles. The work of weaving, cutting and combing textile fibers, sometimes freed from linen straps or organized by falling wire curtains, sometimes immersed in gesso, or by the practice of gluing Japanese paper stiffened by rope, are as much surprising techniques directly inspired by the ethnographic know-how of Amerindian civilizations, and thus constitute the structuring axis of a timeless production, of which we do not always know whether it is contemporary works or archaeological remains.
A great power characterizes these colors and these metal tones, ranging from bronze to silver, from gold to mother-of- pearl, focusing our imagination around a form made of a rain of colors and reflections, borrowing this force from that of Russian icons or Buddhist Stupa. There is therefore a very spiritual, almost sacred perspective, invested by the artist in these murals, condensing in the subtlety of the result a creative process similar to prayer or meditation. Each of Olga de Amaral's works appears, in its uniqueness and originality, as the narrative of an inner journey, recounting the joys and sorrows, the difficulties and the dazzling, the worries and the certainties of this artist who, as a result of her fame and international renown, continues to practice her art as a tireless and humble seeker.
To contemplate a work of Olga de Amaral is to be dazzled by the light of a spirit.
Olga de Amarals official website is http://www.olgadeamaral.com ; books about her work are available on https://www.amazon.com/s/ref=nb_sb_noss_1?url=search-alias%3Daps&field-keywords=olga+de+amaral