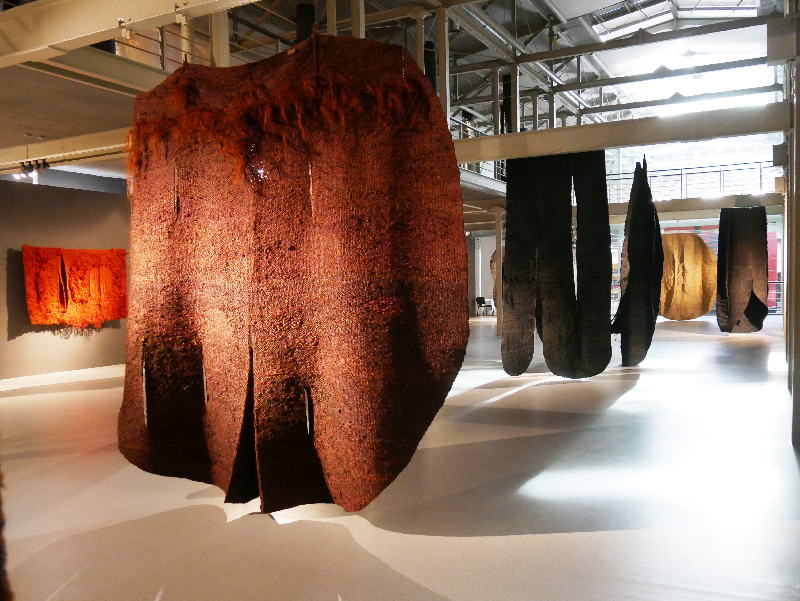 Part one of this major retrospective of textile works by Magdalena Abakanowicz (1930 – 2017) will be held at the Central Museum of Textiles in Łódź, Poland, from 30 November to 1 April 2018. Twelve of the 21 pieces featured in the exhibition are from the museum's own collection and five from the Magdalena Abakanowicz Foundation run by her husband. Another two works come from the National Museum of Wrocław and two from Starmach Gallery . The pieces present the textile revolution in post-war Poland in a nutshell!
The emergence of a textile revolution in the Eastern Bloc can perhaps be explained as follows: back in the Soviet era, many highly trained artists, both in Poland and elsewhere, decided not to enter the departments of painting and sculpture because there they would have been monitored more closely than they were in the so-called applied arts. The textile departments of art academies were staffed with highly qualified artists who enjoyed their freedom to the full. Not all of them may have been opposed to the regime, but the rebellious characters would certainly have congregated there. As for Magdalena Abakanowicz, however, her success made her the darling of the regime, just like the great athletes! It is said that she handled this situation very carefully.
The exhibition curator, Marta Kowalewska wanted to show the artist's early development. How did the Abakans come to be created? She considers the period when Abakanowicz made tapestries the most important in her career. At that time, the medium of tapestry was still more closely associated with architecture and decorative art. Abakanowicz and a group of Polish weavers were the first to break all the rules in treating tapestry as an independent art form. Having commenced her university course in Sopot near Gdansk, she later moved to the Academy of Arts in Warsaw. Abakanowicz was inspired by Professor Mieczysław Szymański took a different approach to tapestry as a medium and taught her students to design different structures and to treat tapestries as scenographic items using various layers and diverse materials such as wood, paper etc. Although Abakanowicz was not an actual student of hers, she was enrolled at the same academy, was aware of these new ideas and seems to have been impressed by them.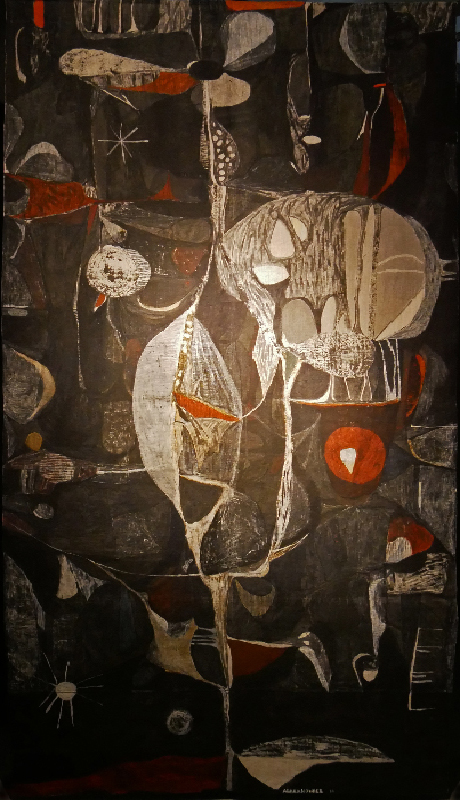 Abakanowicz' development is traced in the exhibition. The first exhibit is a gouache on cotton hanging freely without a frame. It looks very much like a textile. There appear to have been other artists who worked in the same way, but Abakanowicz had her own style and chiefly used organic elements. Nature was always very important to her.

In the early 1960s, Magdalena Abakanowicz also began producing flat wall-based tapestries presenting a great many three-dimensional structures, most of them created in linen, wool, cotton and cotton cord. The first Lausanne Biennial held in 1962 was highly important. Five Polish artists participated in that first event, displaying very unusual works produced in diverse materials and structures. Abakanowicz' entry, "Composition of White Forms" was woven in Maria Makiewicz' workshop on a 2-metre-wide loom. Since pieces were supposed to measure 12 square metres in size, the tapestry was thus created in the unusual size of 2 x 6 metres! Since Polish artists did not have money for the materials, the director of the Central Museum of Textile Industrial History (since 1975 the Central Museum of Textiles), Krystyna Kondratiuk, approached the Ministry of Culture, a very unusual procedure. Both the warp and weft of the piece are made of cotton cords, all in white but in different shades of it.
Jean Lurçat, the initiator of the Lausanne Biennale, is said to have been very upset that there was so much interest in this new Polish art of weaving. This was not what he had had in mind. He had intended to launch a biennial for cartoon painters who would leave the actual execution to professional weavers. This new movement in which artists did their own weaving thwarted his plans.
A very important event for Abakanowicz and the Polish weavers was a visit to Poland by Pierre Pauli (co-founder of the Biennial, founder and first curator of the Musée des Arts Décoratifs de Lausanne) and André Kuenzi (art critic). It was the latter who pronounced that "The tapestry of tomorrow was born in Poland". They organised a show featuring Polish artists which travelled Europe as a touring exhibition to introduce this new movement.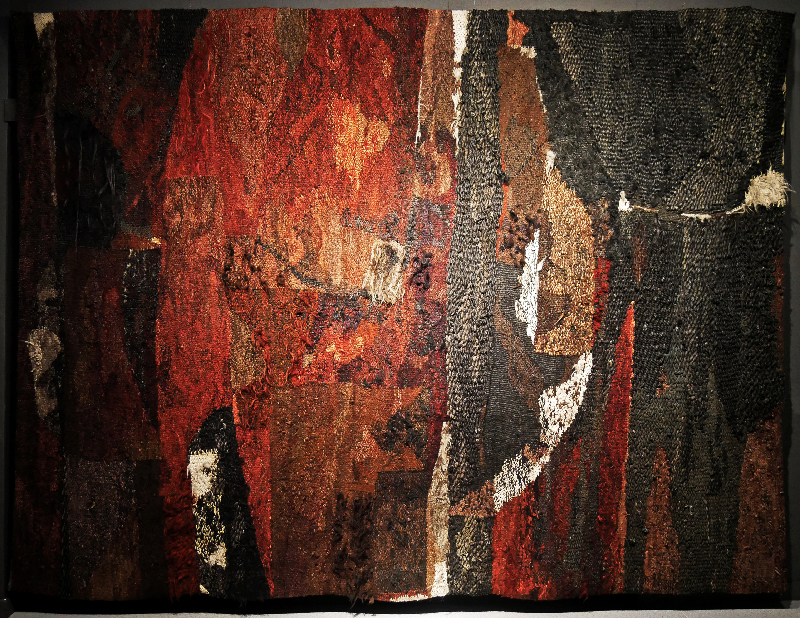 "Desdemona", the work Abakanowicz submitted for the second Lausanne Biennial, was highly significant for her development. Her pieces now included horsehair, and she increasingly worked in three dimensions. The work was part of a larger cycle of tapestries selected for the Sao Paulo Biennial in 1965. This is where Abakanowicz won the gold medal, a very important milestone in her career.
In 1968 Abakanowicz brought her big "Abakans" to the dunes of Łeba on the coast of Poland. A film by Kazimierz Mucha – part of the exhibition – shows the Abakans as great zoomorphic creatures looking very much alive. Music composed by Bogusław Schäffer accompanies the film. At the time he belonged to a, similarly revolutionary, group of musicians who likewise broke all the rules.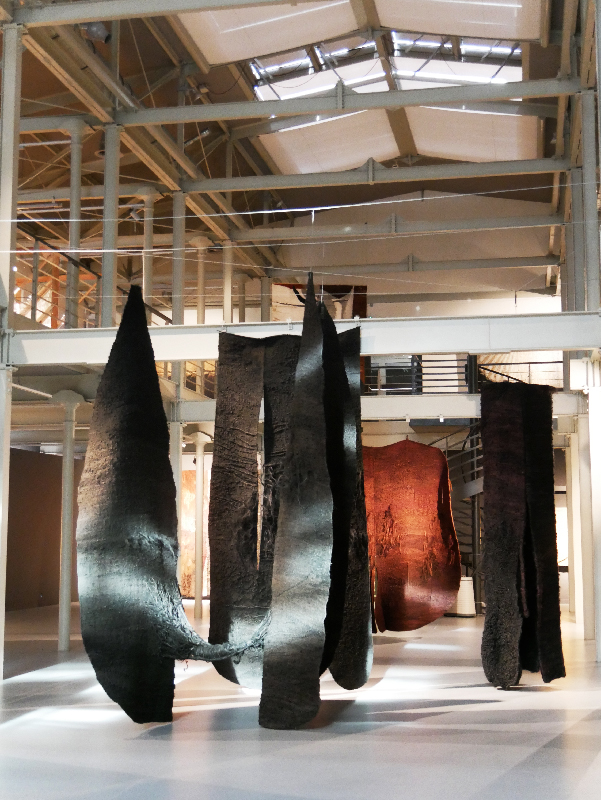 The central room of the exhibition is filled with large Abakans created on simple frames in smaller sections and then joined. This meant that large studios were not required, and the method made it easier to weave three-dimensional structures. Looking at the big brown Abakan owned by the Central Museum of Textiles, curator Marta Kowalewska told me that Abakanowicz is often considered a feminist in the US because of her vulva-like structures. She believes that this is a more multi-faceted situation with many aspects. Women in the former Eastern Bloc were highly emancipated (for example, most of them worked the same as men), and on the other hand Abakanowicz always drew a great deal of inspiration from nature and the forms that arose naturally from the weaving process.
The exhibition stops around the time in Magdalena Abakanowicz' development when she began to shape human figures from jute and canvas – circa 1975. I agree that this first phase from 1960 to around 1975 is the most important period in the liberation of the textile arts from old constraints. The exhibition thus illustrates a textile revolution. Curator Marta Kowalewska and the exhibition designers, Maya Pavlikovska (exhibition design) and Monika Zawadzki (visual design) had intended nothing less.
When I asked the curator about the little known facts from Abakanowicz´s life, she said that very little people know that Magdalena Abakanowicz had graduated in jacquard weaving and worked in a silk factory in Milanówek producing design ties. There is no mention of this anywhere in her biography, perhaps because it might detract from the artist's fine art image? Other anecdotes of Abakanowicz imply that she heartily disliked being addressed by textile artists. Some artists told me that when invited on a journey to Israel for Polish textile artists, she only spoke to her assistant and her husband! Then as now, our great textile art icons have their weaknesses!
Part two of the exhibition will largely show works from the collection of the Toms Pauli Foundation in Lausanne. Scheduled from 10 May to 2 September 2018, the show will again be held at the Central Museum of textiles in Łódź, Poland. I highly recommend that anyone interested in textile art should visit the exhibition as events featuring so many of Abakanowicz's textile pieces are very rare.