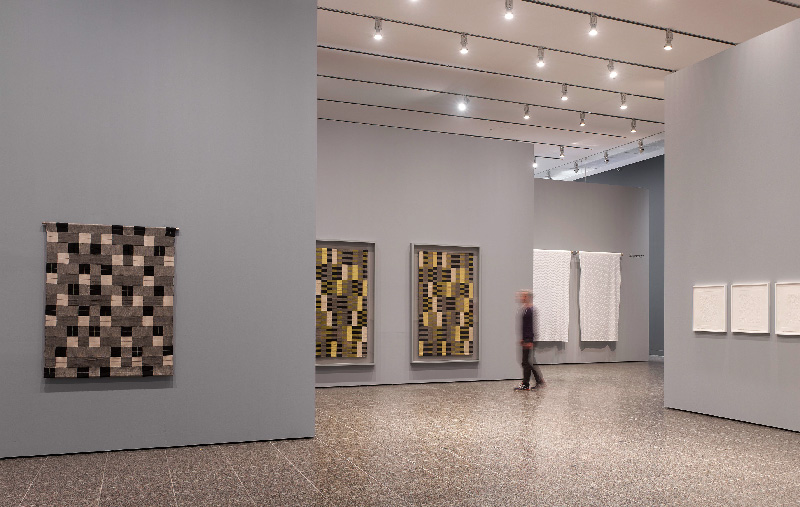 This major retrospective is being held from 9 June to 9 September 2018 at the K20 exhibition building of Kunstsammlung Düsseldorf. It is the second significant German solo exhibition featuring Anni Albers, following the 1975 Anni Albers exhibition at the Kunstmuseum Düsseldorf and Bauhaus Archive. The catalogue states: "In view of the impressive variety of her work, Anni Albers' special contribution to modern art as well as her lasting influence on art and design will receive new appreciation." This fits the picture of recent developments whereby the "old ladies" outrank the young artists as favourites of the art scene ("Why Old Women Have Replaced Young Men as the Art World's Darlings", Artsy editorial, June 2017). In this context, the question arises why Anni's works are priced so much lower than those of her husband, Josef Albers. This difference in public appreciation is also apparent when reading newspaper reports; the "Josef Albers. Interaction" exhibition is being held almost simultaneously at Villa Hügel in Essen, and one finds longer reports on Josef but often only a few sentences on Anni. As regards her printing experiments which she enthusiastically pursued in her later years, Anni laconically said that "when the work is made with threads, it's considered a craft; when it's on paper it's considered art "(Note 1). She was pleased to be able to create multiple images rather than just one as in weaving which, moreover, required a time-consuming process to produce.
The exhibition at K20 is organised by theme, capturing the wide variety of tapestries, room dividers, curtains and fabric designs as well as Anni's preference for experimental fabrics and new materials. The display includes numerous monoprints, lithographs, embossed prints and experimental printing techniques from her later period, and almost always these begin with an image of the threads. Anni Albers was particularly inspired by pre-Columbian weaving. She must have loved the intricate techniques of the Andean peoples since she collected their work on her travels and also tried out their techniques. I believe that her piece, "With Verticals" (1946) shows partial supplementary warp threads of the kind used by the ancient Incas. Since the reverse is invisible in the exhibition, it is not possible to establish the technique with certainty. Unfortunately, the description only states that the work is woven! Magdalena Droste from the Bauhaus Archive once mentioned that all captions for Bauhaus textiles should be reviewed and supplemented. This would be a major feat indicating greater appreciation of these textiles. The display at K20 also includes a number of prints from the latter third of Anni's life (she lived to the age of 94). It makes up for the previous failure to recognise her weaving as great art.
Anni Albers, born Anneliese Else Friedmann in 1899, arrived at the Weimar Bauhaus in 1922, and – like all other women – was assigned to the textile workshop. Anni: "Weaving? Weaving I thought was too sissy. I was looking for a real job: I went into weaving unenthusiastically, as merely the least objectionable choice … Gradually threads caught my imagination."(Note 2) In the preliminary course she was very impressed by Paul Klee and began to translate his colour theory and geometric compositions into wall hangings, using blocks and stripes in contrasting colours. However, in line with the new functional orientation of Bauhaus under Hannes Meyer, she also created functional fabrics. Thus her thesis consisted of a sound-absorbing wall covering for an assembly hall. It was this work which, in 1933, got the Jewish-born Anni, together with her husband Josef Albers, a teaching assignment at the avant-garde Black Mountain College in North Carolina. Josef, a Bauhaus master and leader of its preliminary course until it closed, was appointed director of the college. In 1935, the couple went on their first trip to Mexico where they discovered the pre-Columbian culture; it was to affect both artists' work. As early as 1949, Anni was the first textile artist to be awarded a solo exhibition at the Museum of Modern Art in New York – long before the textile revolution of Lausanne began in 1962.
The current exhibition was designed in collaboration with the Tate Gallery of Modern Art, London, where it will be presented from October 2018 to January 2019. Together, the K20 and the Tate Modern have published a catalogue with contributions by the editors and curators Ann Coxon, Briony Fer and Maria Müller-Schareck as well as text by Brenda Danilowitz, Magdalena Droste, Nicholas Fox Weber, Maria Minera, Priyesh Mistry, Jennifer Reynolds-Kaye and Tái Smith. Publisher: Tate Publishing London / Hirmer Verlag Munich, 192 pages; retail price: € 36.
Note 1 and 2: Quotes from the Publication 'Makers: A History of American Studio Craft' von Janet Koplos & Bruce Metcalf.