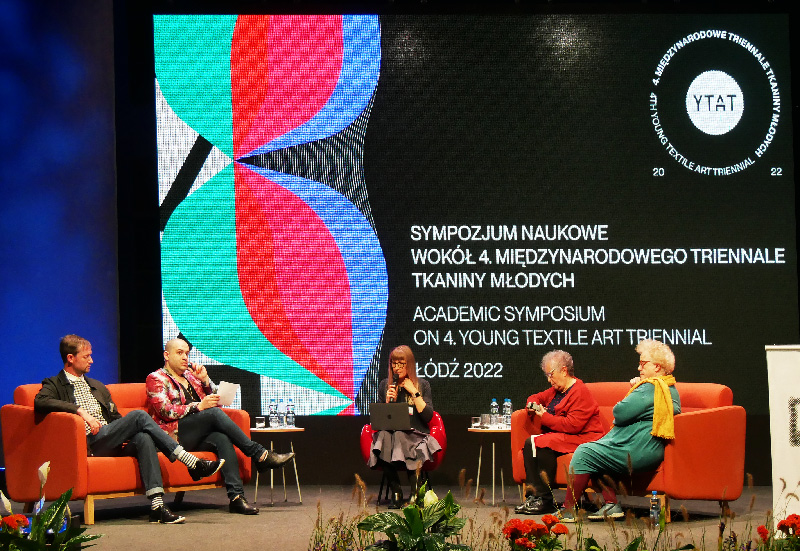 Die 17. Internationale Tapisserie-Triennale, Lodz 2022, Teil 2
Meine diesjährige Reise nach Lodz war viel zu kurz, nur zwei Tage voller Ausstellungsbesuche, beginnend mit einer morgendlichen Besuch der Ausstellung "Wlodzimierz Cygan Weaving – 6 x 3 – Between the Lines". Präsentiert in einem wunderschönen alten Gebäude, zeigte es hauptsächlich Arbeiten aus den Jahren 2020 bis 2022, bei denen optische Fasern verwendet wurden, zusammen mit einigen seiner früheren Webarbeiten, bei denen er eine Technik verwendete, die Änderungen in der Webrichtung beinhaltete. Es war eine Freude zu sehen, was dieser großartige Künstler während der Pandemie geschaffen hat. Ich mag seine Arbeit, weil er immer wieder neue Experimente im alten Weberhandwerk ausprobiert.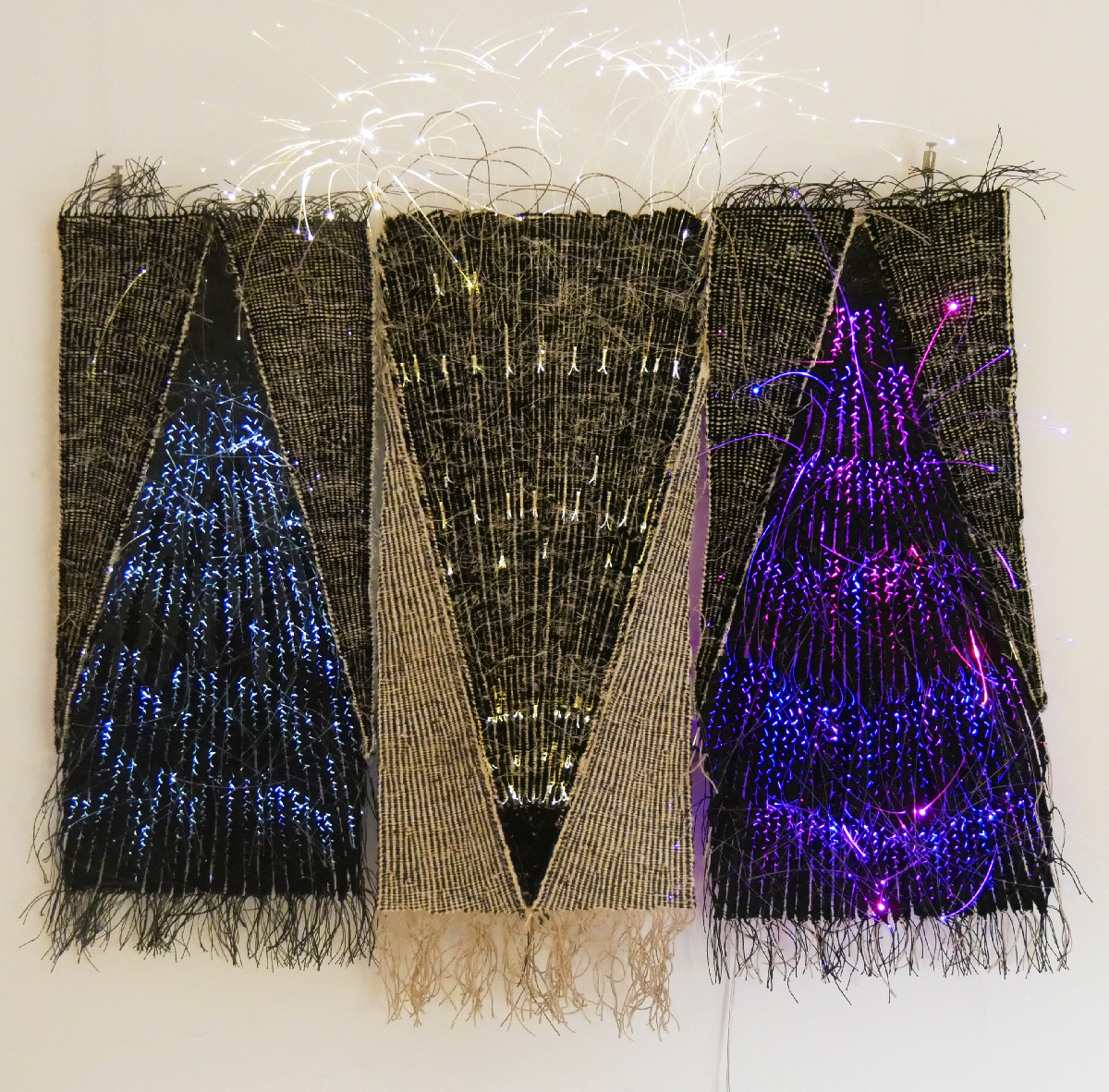 Am Nachmittag des 8. Oktober 2022 fand die Eröffnung der 17. International Triennial of Tapestry, Lodz 2022 statt, wie in Teil 1 meines Blogeintrags vom Oktober 2022 beschrieben.
Am zweiten Tag fand das Symposium der 4. Triennale für junge Textilkunst in der Strzemiński-Kunstakademie in Lodz statt.
Zunächst gab es in der Eingangshalle der Akademie eine beeindruckende Ausstellung der Mentoren der jungen Textilkünstler, hauptsächlich Textilkunstdozenten aus verschiedenen Akademien in Polen und anderen europäischen Ländern, sogar aus den USA und aus Japan. Zu den beeindruckenden Arbeiten, die ich sah, gehörten Werke von Magda Sobon aus Lodz, Anna Maria Orban aus Bukarest, Aet Ollisaar aus Estland sowie Wlodzimierz Cygan und Lidia Choczaj, beide aus Lodz. Leider hatte ich nicht die Zeit, mir diese Ausstellung genauer anzusehen, daher habe ich vielleicht einige gute Stücke verpasst.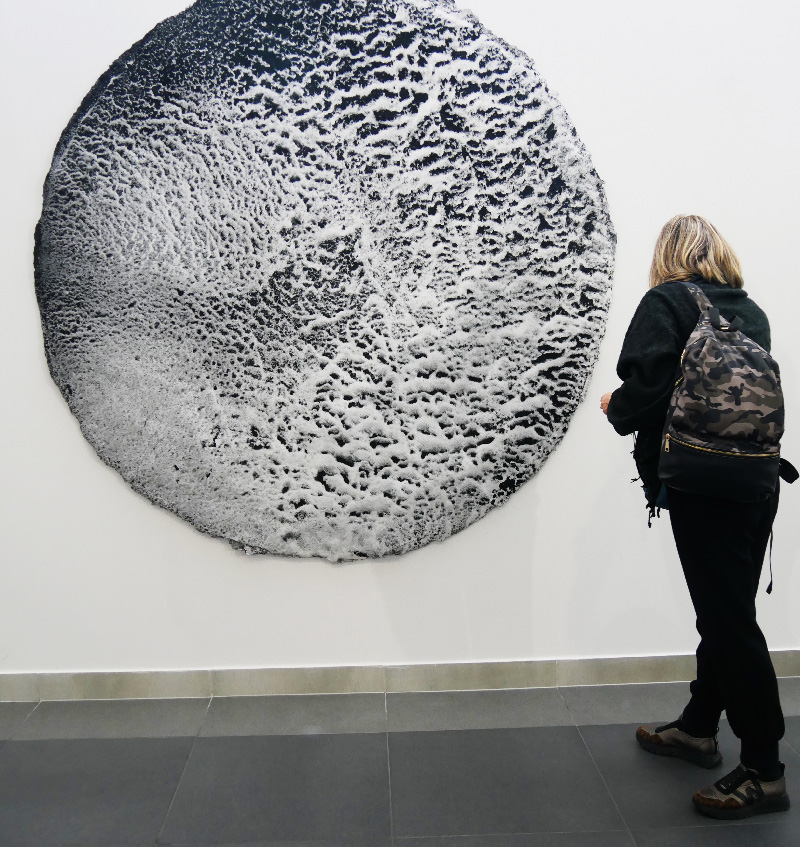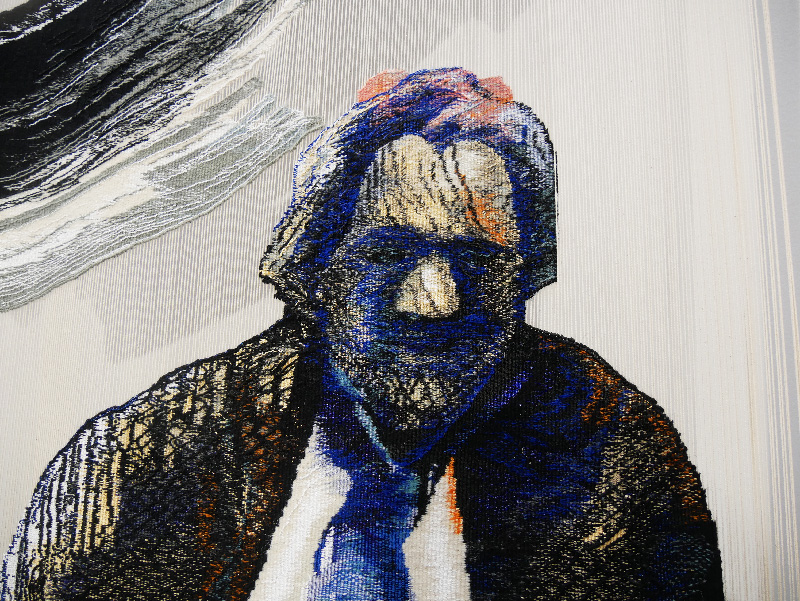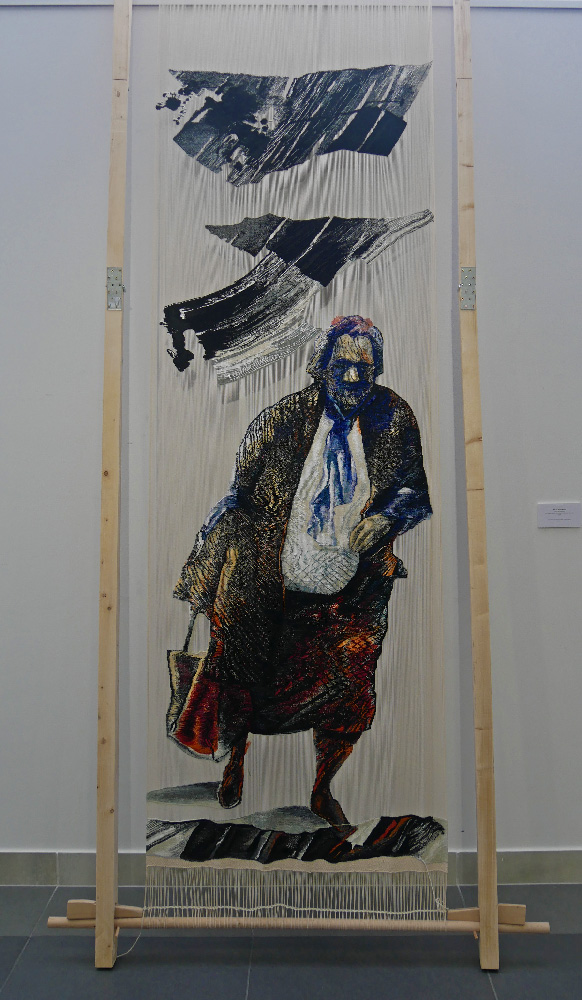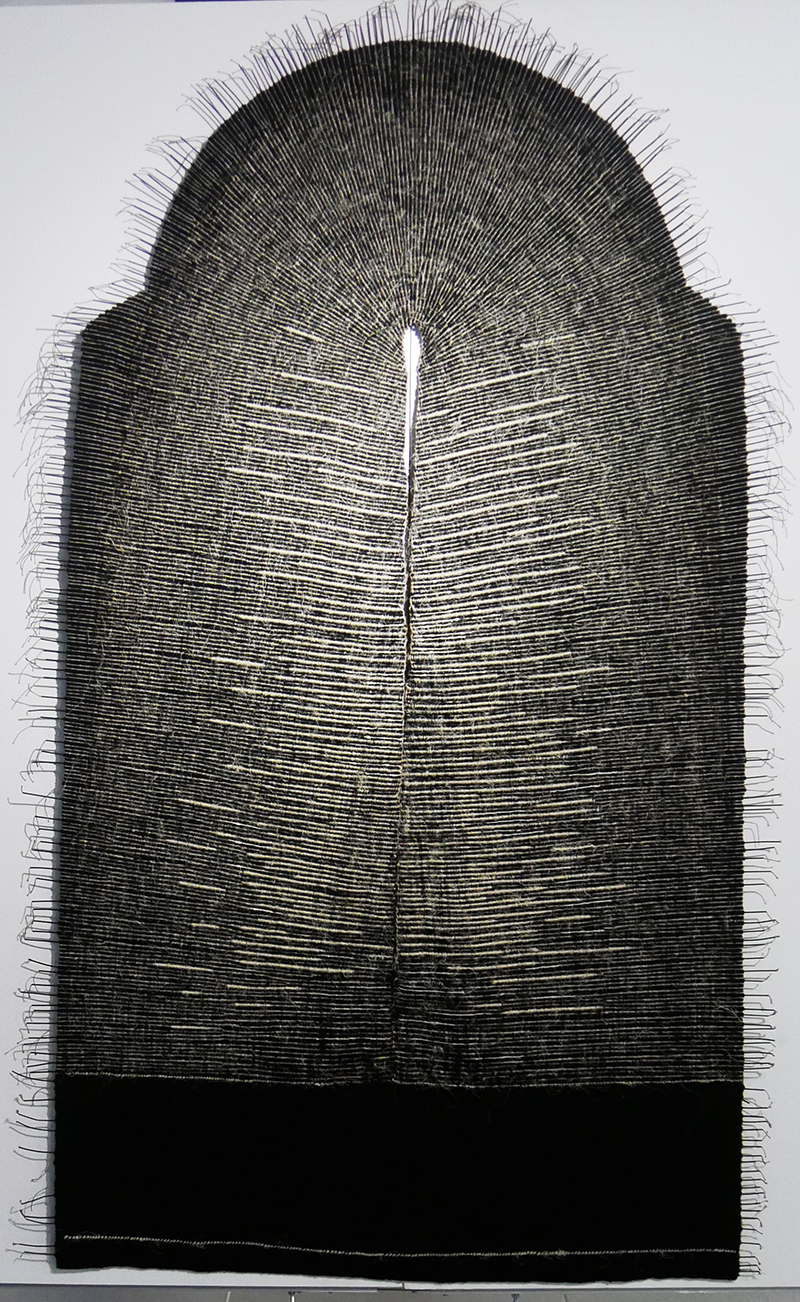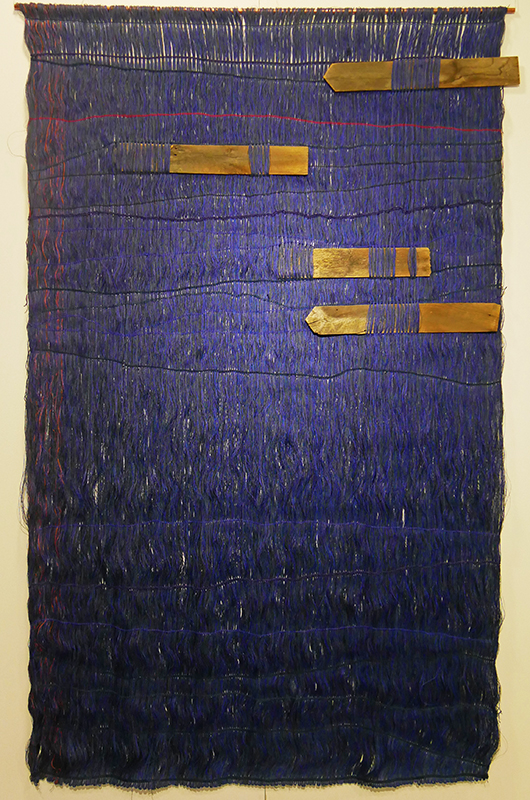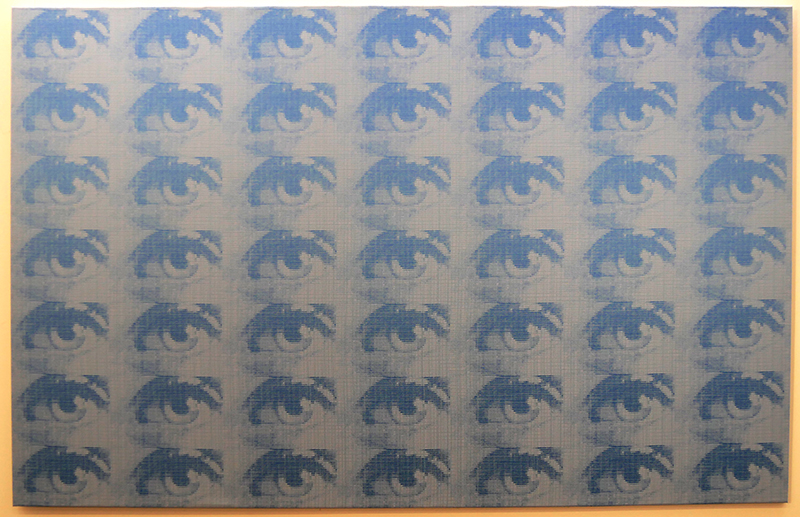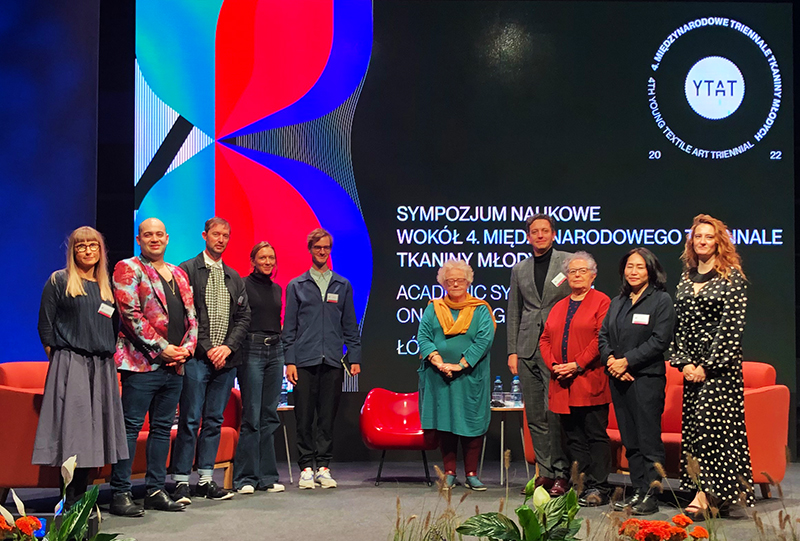 Das Symposium begann mit einer Diskussion zwischen Marta Kowalewska, der Kuratorin der Haupttriennale; Ann Coxon von der Tate Modern, London; Mizuki Takahashi vom Centre for Heritage, Arts and Textiles in Hongkong; und schließlich die Künstlerin Rivane Neuenschwander aus Brasilien.
Textile Persönlichkeiten aus dem Bildungsbereich sprachen in der zweiten Rednerrunde, darunter John Paul Morabito, Professor der Kent State University School of Art, USA; Tim Parry Williams, Professor für Textil an der Universität Bergen, Norwegen; Professor Janis Jefferies aus London; und Lala de Dios, Textildozentin und Aktivistin aus Spanien.
In einem dritten Vortrag diskutierten Galeristen und Kuratoren aus London und Warschau über den Verkauf von Textilkunst. Dieses Thema ist für junge Textilkünstler sehr wichtig und hätte praxisorientierter sein können.
Am Nachmittag hatten wir einen sehr kurzen Besuch in der Nationalen Ausstellung der polnischen Tapisserie "Material Fatique (Materialermüdung)", die sich ebenfalls im Zentralen Textilmuseum von Lodz befindet. Der Kurator Jakub Gawkowski wollte "die Position der Textilkunst in der breiteren polnischen Kunstlandschaft hervorheben". Für jemanden, der zum ersten Mal die polnische Tapisserie-Ausstellung besuchte, machten die Werke einen sehr guten Eindruck, besonders weil sie in diesem schönen ehemaligen Fabrikgebäude ausgestellt waren. Aber ich war enttäuscht, keine Namen zu sehen, die ich von früher kannte; Keiner der großen Künstler, die ich kenne, war dabei. Keine Künstler die in früheren Ausstellungen polnische Textilkunst gezeigt hatten. Es scheint also, dass der Kurator etwas anderes wollte, das näher an der Sphäre der bildenden Kunst liegt. Ich verstehe, dass die Organisatoren der Triennale neue Wege gehen wollen, aber es muss für die polnische Textilkunstszene schmerzhaft sein, dass große Namen bei einer Veranstaltung, die unter dem Namen "Polnische Tapisserie" läuft, ausgelassen werden.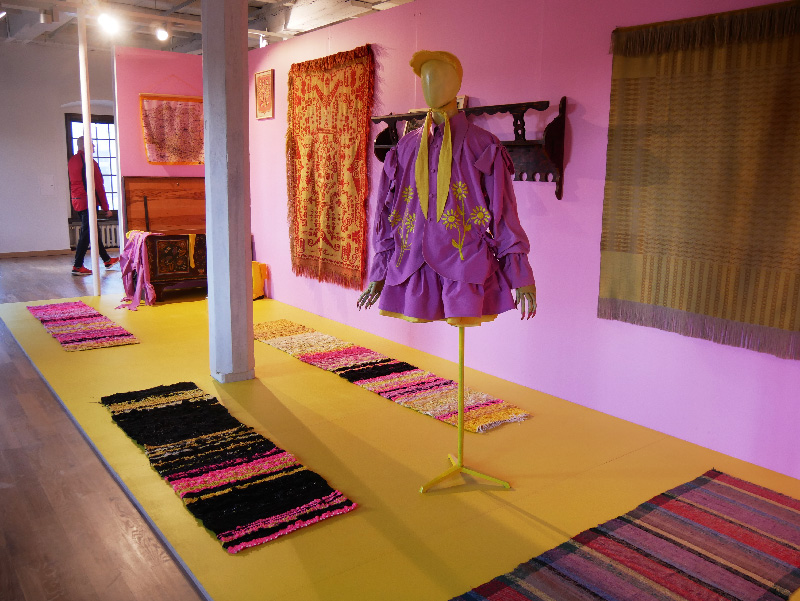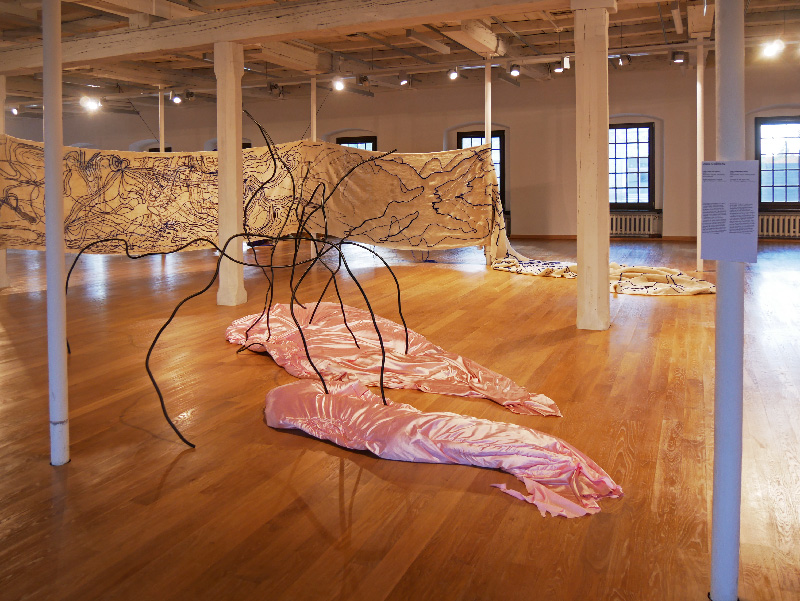 Endlich kamen wir zur 4. Triennale für junge Textilkunst, die in der Städtischen Kunstgalerie Lodz in einem wunderschönen Park stattfand. Diese Show war eine Überraschung, weil junge Künstler ohne die Intervention eines Kurators mit einer speziellen Agenda teilnehmen konnten, dafür aber mit einer prominenten Jury, darunter solche Persönlichkeiten wie Hella Jongerius (eine der interessantesten Designer, die ich kenne, siehe meinen Blog von 30.6.2021 zu ihrer jüngsten Ausstellung in Berlin); Jessica Hemmings, Professorin für Kunsthandwerk an der Universität Göteborg, Schweden, und Janis Jefferies, emeritierte Professorin für Bildende Kunst. Ich war sehr erfreut zu sehen, wie viele Studenten immer noch wunderbare Textilkunst herstellen, und sie schienen aus der ganzen Welt zu kommen. Das fand ich sehr beruhigend, weil es bisher immer an jungen Textilkünstlern gefehlt hat. Hier präsentierten sie sehr inspirierende Werke mit einer großen Vielfalt an Formen und Themen.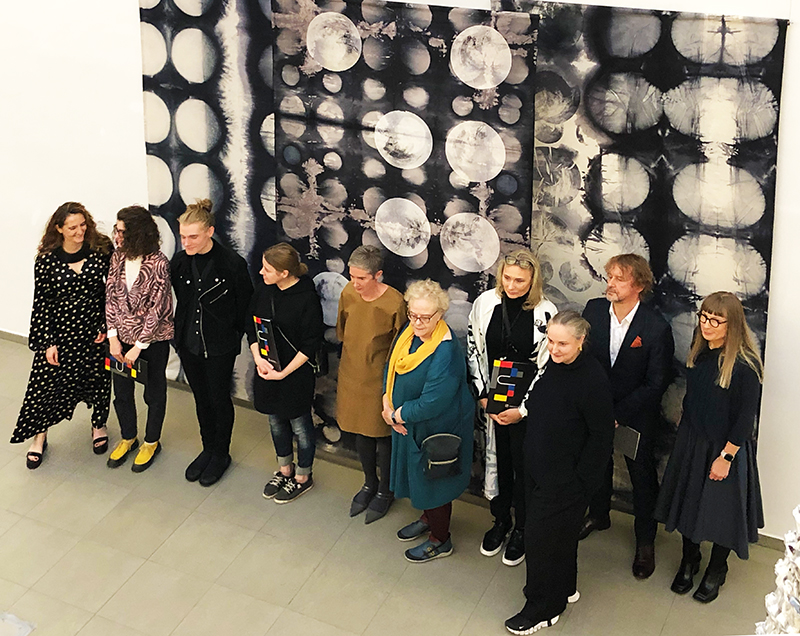 Es gab vier Preise: zwei für Textilkunst, verliehen an Jonatan E. Jurkowski aus Polen und Maria Pilm aus Estland; einer für interdisziplinäre Textilien an Renata Ramola aus Polen und schließlich einer für Design an Zuzanna Wójcik, die in Borås, Schweden, studiert hat. Neben die der Preisträgern, mochte ich auch Arbeiten von Volha Kunats, Martyna Luszczynska, Natasza Lewandowska , und Katarzyna Glinska-Hyclak  aus Polen sowie Kako Myamoto, Japan; und Meagan Smith, USA. Die hier gezeigte Textilkunst war mehr als nur interessant und die Ausstellung insgesamt hinterließ einen sehr guten Eindruck. Ich freue mich, daß alles ein zweites Mal zu sehen, wenn die ETN-Konferenz Anfang März 2023 stattfindet. Für mich war die Reise nach Lodz die Mühe der langen Zugfahrt wert, da mein Besuch mir Hoffnung für die Zukunft gab.