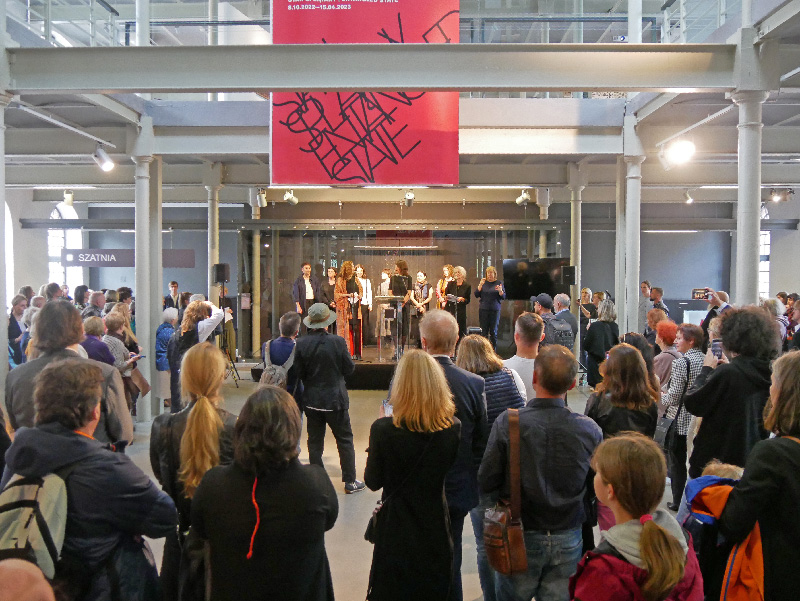 Die 17. Internationale Tapisserie-Triennale, Lodz 2022, Teil 1 von 8.10. 22 bis 14.4.2023
Zur Eröffnung der Triennale in Lodz zu sein, war einfach wunderbar, auch wenn es nicht mehr so selbstverständlich ist, sich wieder ohne allzu viele Corona-Einschränkungen zu bewegen und alte Freunde zu treffen. 
Am Nachmittag den 8.Oktober, 2022 wurde die Triennale mit Reden eröffnet, die das diesjährige Thema "Entangled State" (Verstrickter Zustand) erläuterten – ein visionäres Thema, das vor dem Ausbruch der Pandemie und dem Krieg in der Ukraine gewählt wurde. Für die Ausstellung wurde dieses Thema in vier Unterthemen unterteilt: Die Zivilisierten (Welche Art von Zivilisation erschaffen wir?), Repräsentierte Zustände (z. B. Kindheitserinnerungen), Verwurzelung (z. B. unsere Wurzeln in der natürlichen Welt) und Horizonte der Wirklichkeit (die Grenzen zwischen Realität und virtueller Welt). 
Nach den Reden und einer Erklärung der Kuratorin Marta Kovalevska folgte ein Rundgang durch die Ausstellung mit der Jury und den anwesenden Künstlern. Später am Nachmittag wurden die Preise verliehen und schließlich gab es eine Performance "EMerge" der polnischen Tänzerin/Choreografin Paulina Wycichowska in einem fantastischen Kostüm, das von der Textilkünstlerin Tina Marais aus Kanada entworfen wurde. 
Die Triennale zeigte Arbeiten von 51 Künstlern. Die meisten stammten aus Polen (13), dann aus Japan (5), je drei aus den USA, Österreich und der Ukraine. Jeweils zwei kamen aus Taiwan, Großbritannien, Indien und Brasilien; und schließlich je einer aus Australien, Nigeria, China, Argentinien, Korea, Israel, Norwegen, Slowenien, der Slowakei, Finnland, Ungarn, Rumänien, Spanien, Kanada, Frankreich und Litauen. Bei früheren Triennalen war diese Zahl viel größer, weil Berater aus jedem Land drei Kandidaten vorschlagen konnten, daher war die Zahl der Teilnehmer zwei- bis dreimal höher. Ich habe dieses frühere undemokratische Auswahlsystem immer kritisch gesehen, aber ich sehe auch die Probleme mit einer echten offenen Ausschreibung.  Weil es leider stimmt, dass sich namhafte Künstler seltener bewerben, wird die Auswahl einen anderen Schwerpunkt bekommen, bestenfalls auf jüngere Künstler und solche aus anderen Kontinenten. Die Jury in Lodz hatte mehrere prominente Mitglieder aus dem Bereich der bildenden Kunst, u.a. Ann Coxon, Kuratorin für internationale Kunst der Tate Modern in London, die auf dem Symposium einen Vortrag hielt. Ihre positive Einstellung zu Textilien hat mich beeindruckt, aber wird sie auch genug über Textilkunst wissen? Mizuki Takahashi, Direktor und Kurator des Centre for Heritage, Arts and Textile in Hong Kong, hielt ebenfalls einen Vortrag und betonte die Notwendigkeit, Textilkünstler aus einem nicht westlichen Bereich einzubeziehen. Ich stimme ihr vollkommen zu, aber werden sich diese nicht westlichen Künstler zahlreich bewerben? Soweit ich weiß, sind die Beiträge aus diesen Ländern selten bei Veranstaltungen, die von der "westlichen Welt" organisiert werden, einschließlich dieser Triennale.
Bemerkenswert war, dass alle großen Kunstveranstaltungen, die ich dieses Jahr besuchte, diesen Fokus auf nicht westliche Kunst zu haben schienen: auf Outsider-Kunst (Venedig Biennale) oder auf Kunst von anderen Kontinenten (Documenta in Kassel, Deutschland). 
Die Preisträger waren: Erster Preis, Moumita Basak aus Indien für eine Arbeit ohne Titel, handgenäht und handbemalt auf der Grundlage traditioneller Handwerkskunst und der weiblichen Perspektive – Zweiter Preis, Zhannah Petrenko aus der Ukraine für "Shroud of Insecurity", ein Wandteppich, der den Wert physischer Dinge in einer digitalen Welt widerspiegelt, und schließlich der   – Dritte Preis, Katja Felle aus Slowenien für "Stop – Sew – Reset", eine Stickerei in Gobelinstich, die den Screenshot eines Fehlers darstellt.
Jemand fragte mich auf Facebook, ob die besten Textilarbeiten wieder ausgestellt würden, so wie früher, als drei Berater pro Land für die Auswahl der Künstler zuständig waren. Die ausgestellten Stücke waren vielleicht nicht die besten im alten Sinne, aber sehr interessante, die zum Nachdenken anregen. Besonders dankbar war ich dafür, dass es sich bei den meisten Arbeiten um echte Textilkunstwerke handelte und nicht nur um Kunst, die zufällig Textilien verwendet. Ich habe mir noch keine vollständige Meinung zu den Arbeiten gebildet, aber einige haben mir sehr gut gefallen, wie zum Beispiel die gestickten Gesichter auf Handtüchern von Leena Illukka aus Finnland, das jacquardgewebte "Night Tent" von Katarina Weslien aus den USA, die berührende Stickerei der norwegischen Künstlerin Eli Eines mit dem Titel "A Hole in the Heart" – die sich mit ihrem Vater befasst, der an einem Loch in seinem Herzen starb –, die poetische Arbeit in Naturfasern von Tanyu Lu aus Taiwan mit dem Titel "30 x 30 Initiative", die Stickerei ohne Titel der polnischen Künstlerin Silwia Aniszewska – ein abstraktes Kreuzstichgemälde – und das transparente Gewebe mit bedrucktem Text von Kate Christ/USA mit dem Titel "In Dialogue". Dies ist nur eine Auswahl dessen, was mir nach meinem ersten Besuch in den Sinn kommt.  
Rückblickend glaube ich, dass es den Organisatoren der Triennale gelungen ist, dieses große Traditionsereignis in einer Weise fortzuführen, die es nicht nur für europäische Künstler wichtig macht. Lodz ist nach wie vor ein weltweiter Treffpunkt für alle, die sich ernsthaft für Textilkunst interessieren.  Ich verstehe, dass der Titel der Triennale aus Gründen der Kontinuität immer noch das Wort "Tapestry (Tapisserie)" enthält, obwohl es für Ausländer schwer zu verstehen ist, dass in Polen jede Art von Textilkunst, wie frei sie auch sein mag, immer noch "Tapestry" genannt wird.