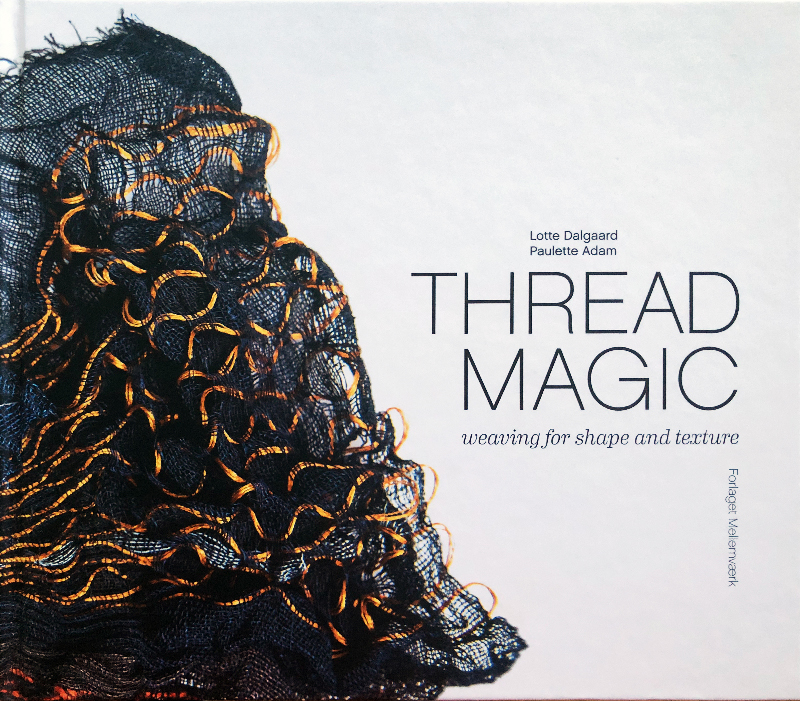 Thread Magic – Weaving for Shape and Texture
Lotte Dalgaard and Paulette Adamson, Forlaget Mellemvaerk/DK, 2020 ISBN978-87-999832-3-0, Sprache englisch, Preis 400 DKK (ca. 53  Euro)
Lotte Dalgaard ist eine bekannte dänische Weberin, die vor allem wegen ihrer fantastischen Webstrukturen bekannt ist. Sie lässt das Gewebe durch den Einsatz von aktiven und passiven Fäden dreidimensional Gestalt annehmen. Paulette Adamson hat lange mit Garnen zu tun gehabt, kennt sich wie keine Andere mit Webmaterialien aus und hat schon mehrere Bücher zusammen mit Lotte Dalgaard gestaltet. Das Buch wurde aus dem Dänischen übersetzt von einer weiteren bekannten Weberin, Ann Richards aus Großbritannien, die ebenfalls eine Leidenschaft für raffinierte dreidimensionale Gewebe hat. Ein echter Glücksfall, denn so konnte die Magie der Weberei mit "aktiven" Fäden – gemeint sind Garne, die mehr als üblich gedreht sind, die elastisch sind oder schrumpfen – auch in englischer Sprache voll zur Geltung kommen. 
Lotte und Paulette zeigen in diesem Buch vor allem Stoffe für Bekleidung und Accessoires wie Umhangtücher, Schals, etc. Sie zeigen, wie man erhöhte Linien sowie Falten und Spiralen in den Stoff weben kann, wie dreidimensionale Strukturen entstehen und wie man generell stinknormale Fäden in einer fast magischen Weise reagieren lassen kann, indem man sie mit "aktiven" Garnen kombiniert.
Das Buch fängt mit einem Kapitel über das Spinnen an, was sehr wichtig ist, denn um Effekte zu erzeugen sollte man verstehen, was S- und Z-Drehung bedeutet, und warum eine Überdrehung des Garns so wirksam sein kann.
Das zweite Kapitel zeigt verschiedene Arten von aktiven Garnen sowie erste Beispiele von Geweben, einen weichen dicken Schal sowie ein sich eng an den Körper anpassendes T-Shirt.
Weitere Kapitel behandeln Texturen, das Gestalten von Proben und das Experimentieren, Rat und Hilfe beim Weben mit aktiven Garnen, sowie die Behandlung der Gewebe mit warmem oder kaltem Wasser oder das Fixieren mittels Dampf. Alle Kapitel enthalten Beispiele zum Nachmachen, die sehr einfach aussehen aber doch ein Mindestmaß an Webkenntnissen voraussetzen, zum Beispiel, dass man die Webbindungen versteht und sich voll auf die Spezialeffekte konzentrieren kann.
Zuletzt folgt noch ein Kapitel "Inspiration und Ideen" mit achtzehn weiteren Beispielen von Strukturen, die während der Gestaltung des Buches entstanden sind. Danach folgen noch Garn- und Einlauftabellen, eine Garntabelle mit allen im Buch verwendeten Beispielen mit einer Liste der Lieferanten(!), Umrechnungstabellen, eine kleine Bibliografie, ein Index und ein Glossar. Unter den Lieferanten befindet sich auch die Vereinigung  "Garnindkøbsforeningen af 1998", die soweit ich weiß auf Initiative von Lotte Dalgaard entstanden ist und die für ihre Mitglieder Garne einkauft. Die Mitgliedschaft kostet 150 DKK (ungefähr 20 Euro). Website: www.yarn.dk