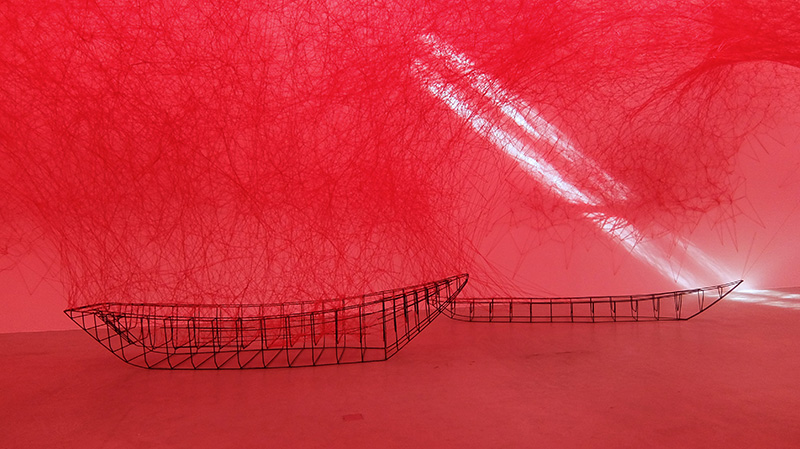 Ausstellung von 17. September 2016 – 12. November 2016 in der Galerie Blain/Southern, Potsdamer Strasse 77 – 87 Berlin
Die Arbeiten de japanische Künstlerin Chiharu Shiota sind seit der Biennale von Venedig, wo sie ihr Land mit der Arbeit "Key in the Hand" vertreten hatte, sehr bekannt. In Berlin ist jetzt eine Ähnliähe Arbeit zu sehen, die ich aus dem Gesichtspunkt der Textilkunst wieder für sehr interessant halte denn hier hat sich eine Malerin konsequent das textile Material gewidmet um Gefühle wie Heimatlosigkeit, sich verloren fühlen aber auch menschliche Verbundenheit auszudrucken. Wer nach Berlin kommen kann sollte sich die Ausstellung nicht entgehen lassen. Ausser die grosse Installation" Ungewisse Reise", sind im Obergeschoss auch kleinere Werke ausgestellt. Die Galerie, die aus London stammt, sagt zu dieser Ausstellung:
Für ihre erste Ausstellung bei Blain Southern präsentiert die Künstlerin Chiharu Shiota eine neue raumgreifende Installation in der Berliner Dependance, acht Jahre nachdem sie zuletzt in Berlin ausgestellt hat Chiharu Shiota ist für ihre labyrinthischen Installationen wie The Key in the Hand bekannt, mit der sie den Japanischen Pavillon auf der Venedig Biennale 2015 repräsentiert hat. Durch die komplexen Verflechtungen von Fäden, schafft die Künstlerin neue visuelle Ebenen.
Die eigens für die Haupthalle von Blain|Southern konzipierte Installation Uncertain Journey, ist ein komplexes System von Verflechtungen, das von oben herunterzuwachsen scheint und skelettartige Gerüste von Booten einfangt.. Über die Ideen, sie mit den Booten zum Ausdruck bringen wollte, sagt Shiota, "Unser Leben ist wie eine Reise ohne Ziel. Auch wenn wir nicht wissen, wohin wir gehen, können wir nicht mehr aufhören. Ich wollte dieses Gefühl des Reisens ins nirgendwo betonen und gleichzeitig das suchen nach einem Gefühl der Zugehörigkeit andeuten. "
Die blutroten Fäden und ihre Vernetzungen symbolisieren in Shiotas Arbeiten das Innere des menschlichen Körpers, die neuronalen Verbindungen des Gehirns, als kompliziertes Geflecht.. Die verflochtenen Stränge drücken auch die Verbindungen zwischen Menschen, "die Linien aus Garn sprechen für mich über alles, was die Menschen verbindet, über das Ändern von menschlichen Beziehungen… ist die Installation wie ein riesiges Netz, wobei die Booten uns tragen auf eine Reise der Unsicherheit und der Wunder.