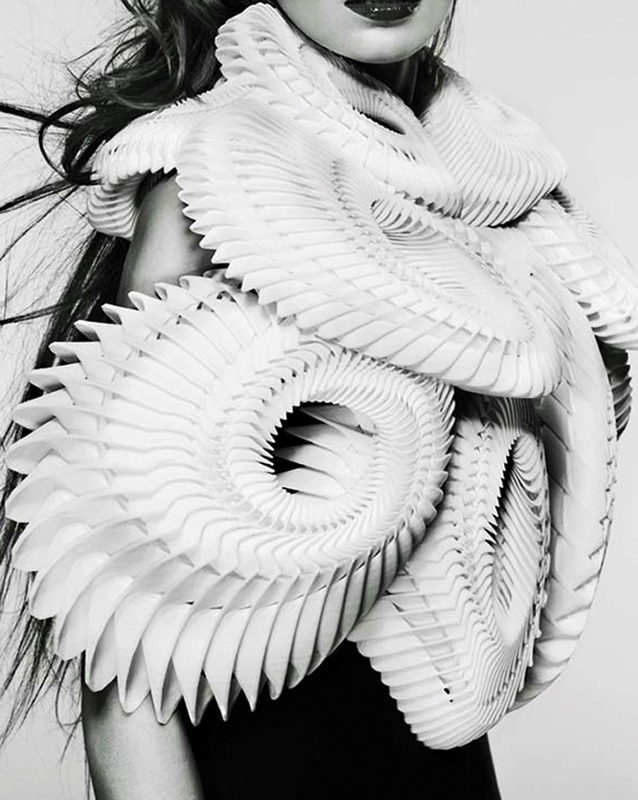 Unter diesem Motto steht die 17. Konferenz des Europäischen Textil-Netzwerks (ETN), die vom 16. – 17. Mai 2015 im Rahmen des Niederländischen Textiel Festivals in Leiden stattfinden wird.
Konferenzaustragungort ist das Rijksmuseum voor Volkenkunde in Leiden. Prominente Sprecher halten Vorträge, u. a. Ingeborg de Roode, Kuratorin am Stedelijk Museum Amsterdam über Textilien in der Sammlung ihres Hauses, Joke Robaard, Dozentin an der Rietveld-Akademie, die zum Thema "Readable Structures" spricht, Hebe Verstappen, Leiterin des TextielLab im Textielmuseum Tilburg, die das Thema "Research and Experiment" erörtert, sowie Simone de Waart, die Gründerin von Material Sense, die Fragen zu "Material Mentality?" behandelt.
Weiterhin referiert die bekannte Textilkünstlerin Barbara Broekman über "Technique and Craftmanships" und eines der jungen Talente Lenneke Langenhuijs erläutert ihre innovativen Textilprojekte…
Ein sehr besonderer Vortrag eines Mitarbeiters der Firma Materialise, in der die 3D-gedruckten Haute Couture-Modelle u. a. von Iris van Herpen und Anouk Wipprecht entstanden, wird stattfinden.
Für ETN-Mitglieder und Gäste finden am zweiten Konferenztag unter dem Motto "Networking" Kurzvorträge von jeweils 10 Minuten zu laufenden Projekten statt, darunter mit Vorrang von niederländische Teilnehmern.
Das Begleitprogramm
Das Vor- und Nachprogramm umfasst Touren zum Textielmuseum Tilburg, zum Rijksmuseum und dem Künstleratelier "Wilhelmina Gasthuis" nach Amsterdam, nach Zaandam und der Insel Marken mit niederländischen Folklore-Textilien und schließlich nach Antwerpen zum belgischen Modemuseum und nach Löwen zur Firma Materialise.
Ebenfalls geplant sind Besuche der verschiedenen Stationen auf der Innenstadtroute, des Textiel-Festivals in Leiden, ein Besuch der Rijswijk Textiel-Biennale, sowie ein Blick hinter die Kulissen des Stedelijk Museum in Amsterdam.
Das komplette Programm ist auf der ETN-Website ersichtlich.
Weitere Textilveranstaltungen
Im Rahmen des Textiel-Festivals finden parallel weitere interessante Textilveranstaltungen statt, so z . B. am Montag, den 8. Mai am selben Ort wie die ETN-Konferenz im Ethnographischen Museum das englischsprachige Symposium "Bio Textiles", u. a. mit der Referentin Carole Collet von "Textiles Futures Research" und Suzanne Lee, der Direktorin von "Biocouture", beide vom Londoner Central Saint Martins College. Das Symposium ist von der Niederländischen Textilkommission organisiert, einer Vereinigung von Textilkuratoren, das voraussichtlich Monate im Voraus ausgebucht sein wird. Dessen Programm wird auf der Website der Textilkommission publiziert.