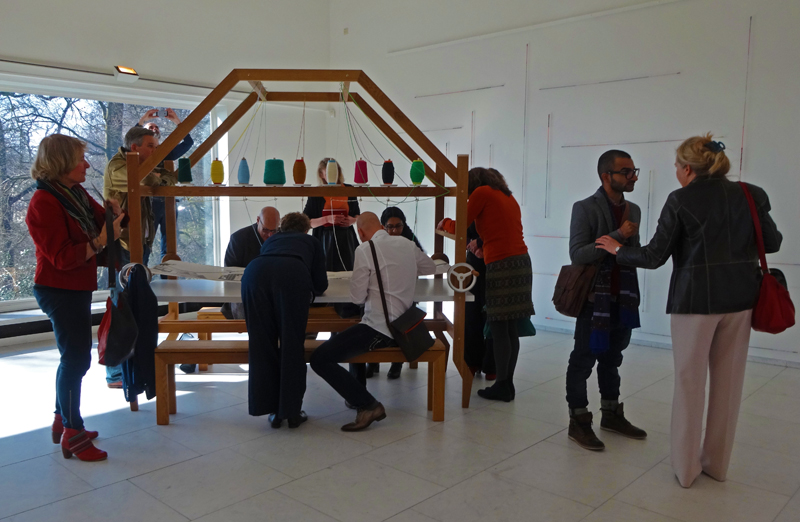 Ausstellung von 19.3 bis 17.8.2014 im Museum Arnhem. Dies war die vierte Ausstellung mit "freier" Kunst und Textil, die wir in den vergangenen Monaten besuchen konnten, zuerst Mönchengladbach, dann Wolfsburg, Bielefeld und schließlich in Arnheim. Leider wirkte diese Ausstellung wie ein zweiter Aufguss, ohne Höhepunkte und Spannung. Die "großen Namen" dieser Ausstellung wie Kimsooja und Chiharu Shiota waren bereits in Wolfsburg anzutreffen (Shiota mit einer sehr viel beeindruckenderen Arbeit). Das Spezielle an der Arnheimer Ausstellung war die geografisch breit gestreute Beteiligung, denn abgesehen von 7 niederländischen Künstlern entstammten die 26 teilnehmenden Künstler allen Teilen der Welt. Mit nur wenigen Ausnahmen , wie die Seidenskulptur von Lian Tianmiao und die Stickereien von Berend Strik, waren die Arbeiten schlecht verarbeitet. Die Teppiche von Faig Ahmed aus Azerbajdzan waren dagegen sehr gekonnt geknüpft, aber nicht vom Künstler selbst, der sich aufs Verfremden und Zerschneiden beschränkte.
Leider fehlten in dieser Ausstellung historische Beispiele textiler Kunst, wie sie in den deutschen Ausstellungen zu sehen gewesen waren, wo sie einen guten Kontrastpunkt gebildet hatten.
Was war den hier gezeigten Künstler gemeinsam? Ausser einer fast allgegenwärtigen Missachtung des Textilen schien es mir , dass alle sich sehr bewusst einen Namen auf dem internationalen Kunstmarkt gemacht hatten oder dabei waren, einen solchen zu bilden. Bis auf die chinesische Lin Tianmiao war keiner von ihnen dabei, der es gewagt hätte, sich als Textilkünstler zu bezeichnen. Von Lin Tianmiao hatte ich diese Bezeichnung auch nur aus anderen Ausstellungen erfahren.
Die Kuratorin, Mirjam Westen, hatte sich u.a. durch die Arbeit "Tread Routes" von Kimsooja zur Ausstellung motivieren lassen. Sie sagte sinngemäss: "Soviel Aufmerksamkeit für Textilgestaltung hat mir zu denken gegeben. Auch wenn Textil normalerweise nicht als vollwertiges Medium angesehen wird, so hat es doch eine grosse Bedeutung, was in anderen Teilen der Welt auch so angesehen wird und dort leider auch abnimmt."
Gefragt nach den nicht exakten Bezeichnungen der textilen Materialien und Techniken, erklärte die Kuratorin stattdessen: "Es geht nicht nur um Textil, es geht um Kunstwerke, die Textil benutzen, um Metaphern zu bilden und auf gesellschaftliche und soziale Themen zu verweisen." Sie berief sich auf die Ausstellung "Textiles – Art and the Social Fabric", die von 11.9.2009 bis 3.1.2010 im Museum für zeitgenössische Kunst in Antwerpen stattgefunden hatte.
Leider war die Arnheimer Ausstellung eine weitere in der Serie von Ausstellungen , die Textil im Namen der Kunst vergewaltigen.
Mir ist bewusst, dass viele Textilkünstler grosse Hoffnungen in diese neue Aufmerksamkeit für Textil setzen. Sie hoffen, dass sich die grossen Museen endlich und zurecht auch für Textilkünstler öffnen. Leider wird diese Hoffnung durch die neue Mode der "im textilen Material erstellten Kunstwerke" nicht erfüllt werden, denn die Kunstszene hat es verstanden, die wasserdichte Abschottung zwischen`Kunst`und Textil beizubehalten. Nur im Einzelfall werden bereits verstorbene oder ältere Textilkünstler, wie jetzt gerade Sheila Hicks, vom Kunstmarkt hofiert. In ihrem Fall liess ihre Galerie jedes "textile" Adjektiv weg. Sheila Hicks war der Jüngere der grossen Namen aus der Aufbruchzeit der Textilkunst in Lausanne. Textilkünstler aus jener Zeit sowie die des Bauhauses haben inzwischen Museumswürde erreicht, sowohl mit angewandter, als auch mit freier Textilkunst.
Threads exhibition at the Arnhem Museum