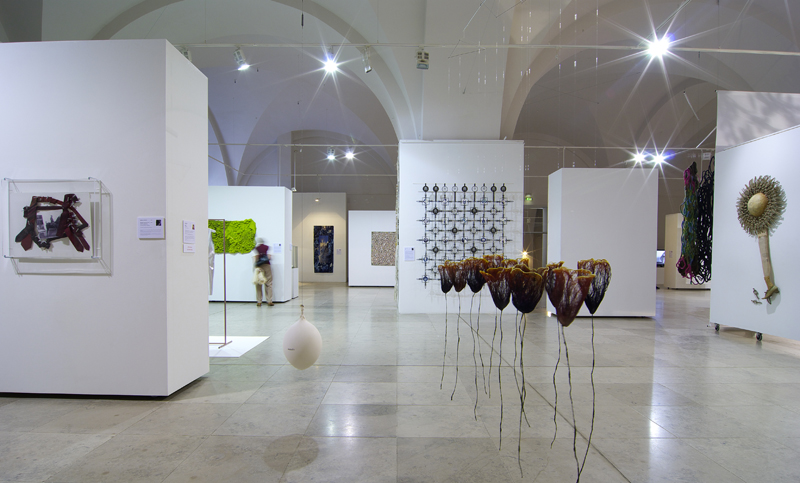 Das Museum für Angewandte Kunst in der lettische Hauptstadt Riga organisiert diese fünfte Ausgabe ihrer Triennale unter dem Thema "Vielfalt & Einheit" . Sie zeigt ihre Ergebnisse vom 23.4. bis 10.6. 2015 in der Ausstellungshalle Arsenāls , wie schon die Eröffnungstriennale im Jahr 2001 zur damaligen 11. ETN-Konferenz in dieser Stadt 1).
Das Thema 2015 wurde anlässlich der in diesem Jahr bevorstehenden EU-Präsidentschaft des Landesgewählt und ist den nationalen Identitäten innerhalb der Europäischen Union und Ihrer Stellung in der globalisierten Welt gewidmet.
Die teilnahmeinteressierten Künstler sind gebeten, Arbeiten mit einer maximalen Dimension von 3 x 3 x 3 Meter einzureichen, die noch nicht auf anderen internationalen Ausstellungen gezeigt worden sind.
Nähere Bewerbungseinzelheiten finden sich auf der Website: www.lnmm.lv , 5th. Riga Intl. Textile and Fibre Art Triennial, museum of Decorative Art and Design, 10/20 Skārņu St., LV-1050 Riga; Kuratorin Velta Raudzepa, e-mail: velta.raudzepa@lnmm.lv
Bewerbubgsschluss: 15.11.2014
Anmerkung:
1) Die Zeitschrift TEXTILFORUM berichtete über alle vier vorausgegangenen Triennalen, insbesondere in TF 3/2001 über den Start dieses international bedeutenden Ereignisses.