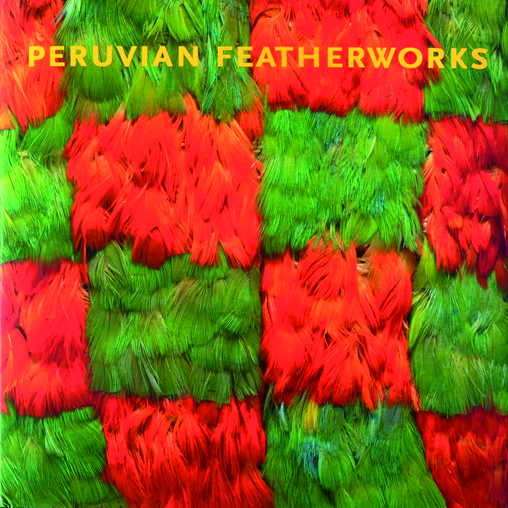 Art of the Precolumbian Era, Heidi King; Yale University Press, New Haven/USA, Lon­don 2012, ISBN 978-0-300-16979-9; 232 pages, 200 colour ills., English text; $ 60
Art of the Precolumbian Era, Heidi King; Yale University Press, New Haven/USA, London 2012, ISBN 978-0-300-16979-9; 232 Seiten, 200 Farbabb., englischer Text; Preis $ 60,- Die Produktion dieses attrak¬tiven Buches geht auf eine Aus¬stellung zurück, die vom 26.2. bis 1.9.2008 und jetzt wieder von 16 Sept.13 – 12 Mai 2014 unter dem Titel "Radiance from the Rain Forest – Featherwork in Ancient Peru" im New Yorker Metropolitan Museum of Art stattgefunden hat. Die Kuratorin der Ausstel¬lung und jetzige Autorin ist For¬scherin in der Abteilung Kunst aus Afrika, Ozeanien und den Amerikas im genannten Museum. Es war die erste Ausstellung in einem amerikanischen Museum, die sich ausschließlich mit die¬sem Thema beschäftigte. Bereits im 3. Jahrtausend vor Christus dienten den Andenvöl¬kern Federn bei verschiedenen religiösen und säkularen Ereig¬nissen. Im ersten Jahrtausend nach Christus begruben die Nasca an der pazifischen Seite der Anden Federbekleidung zusammen mit kostbar aus¬gestatteten Figurinen von nur wenigen Zentimetern Größe als Opfergaben. Im 7. und 8. Jh. verwendeten die Wari im süd¬lichen Hochland große Panele mit leuchtenden Arafedern. Weiter im Norden trugen die Könige des Chimú-Reiches mit Federn verzierte Gewänder. Von den späteren Inkas heißt es, dass sie anlässlich königlicher Hochzeiten die Straßen ihrer Hauptstadt Cusco mit gefärbten und mit Federn verzierten Stoffen bedeckten. In der Aus¬stellung waren damals 70 Expo¬nate aus Museen und privaten Sammlungen ausgestellt, sowie Federtextilien aus der eigenen Sammlung. Es heißt, dass noch nicht viel Forschung in diesem Bereich aus Peru stattgefunden hat. Wir hatten allerdings in TF 2/2005 (s. 38) den Pracht¬band "Magic Feathers – Textile Art from Ancient Peru" von James W. Reid vorgestellt, das u. a. auch bibliographische Angaben enthielt, sowie Bücher aus Argentinien und Deutsch¬land: "Las culturas verdes – Arte plumario de los pueblos de la selva" und "Federarbeiten der Indianer Südamerikas" (s. TF 2/2009, S. 34/35). Das vorliegende Buch enthält sieben Beiträge: 1. Federkunst im alten Peru (Heidi King), 2. Frühe Federarbeiten aus Ocucaje (Ann Pollard Rowe), 3. Die gefederte Bekleidung aus Cahuachi (Mary Frame), 4. Federkleid einer Frau aus Cerrillos (Mercedes Delgado), 5. Feder-Opfergaben der Chimú von den Huaca de la Luna (S. Uceda & H. King), 6. Heilige Federarbeiten der Inka (Johan Reinhard) – und 7. Techniken und die Konservierung peruanischer Federmosaiken (Christine Giuntini). Das Buch enthält abschlie¬ßend eine Liste der Museen mit nennenswerten Beständen der erwähnten Federarbeiten, umfangreiche bibliographische Angaben und einen Index.
Hinweis: Das Buch hatten wir in TF 4/2012 (S. 40) vorgestellt.