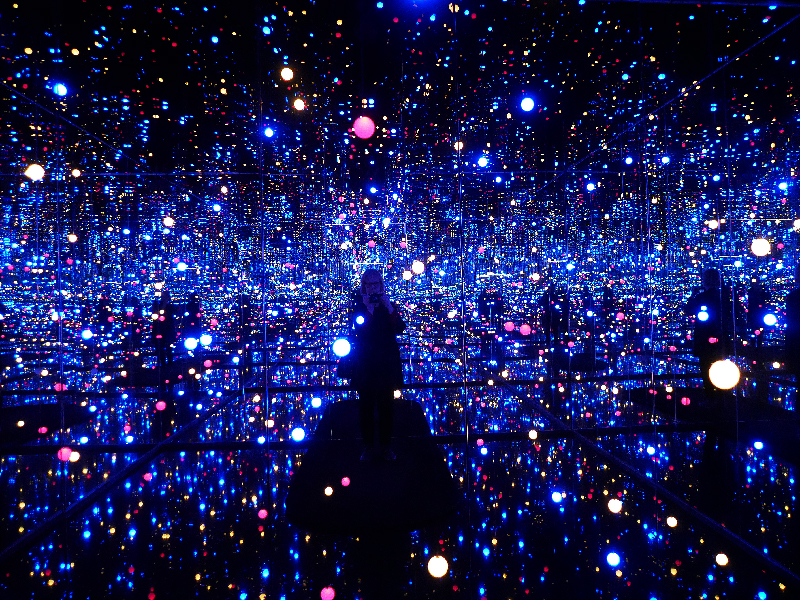 Yayoi Kusama
The well-known Japanese artist Yayoi Kusama had her 90th birthday on 22 March 2019. Museum Voorlinden near The Hague celebrated the event by staging an exhibition which will run until 1 September 2019. The fact that the artist's hallucinations oblige her to live in a psychiatric institution has not hampered her creative urge in any way. With the help of assistants, she continues to paint large canvases in her continuous patterns which are so like textiles. Her hallmark is polka dots, round dots which she paints on canvas, sculptures and people. In 2017 the artist even opened her own museum in Tokyo! It is said that Yayoi Kusama is the most prominent living artist. She achieved world fame in 1966, when she failed to be invited to the Venice Biennial but nevertheless erected her "Narcissus Garden" installation of 1500 reflective silver balls in front of the Biennial entrance. Visitors were able to purchase the balls until the police eventually stopped the sale. However, by then she had already become the most talked-about artist of the Biennial.
Museum Voorlinden, one of the most beautiful museums of modern art in the Netherlands, has been collecting her art for years. The current exhibition presents several of Yayoi Kusama's key pieces as well as a number of loans by private collectors. Kusama's 2008 work, "Infinity Mirror Room: Gleaming Lights of the Soul" is featured as a special exhibit which  attempts to realise the concept of infinity. A maximum of two visitors at a time are guided into a completely darkened room. Light and reflection are used to create a feeling of boundlessness in a universe conceived by the artist. The experience generates a sense of playfulness, one feels like a child again and is left with a sense of wonder. This effect is produced in spite of the fact that the room is not all that large. It is visitors' imagination which makes it appear infinite.
Another piece featured in the exhibition is "Pumpkin", again from 2008 – a black pumpkin two metres tall covered in yellow dots, created from a hallucination of a talking pumpkin which the artist experienced in her childhood. The show also presents one of her most recent works from the "My Eternal Soul" series, "I am dying now, there the death" from 2014. Reportedly, Kusama works with painted motifs such as dots, nets, eyes and flowers without a preliminary design. New ideas bubble up in her mind and are implemented without hesitation. The aforementioned "Narcissus Garden" is juxtaposed with "Infinity Nets" from 2010. The latter piece represents the reflection of the sun on the infinite ocean as seen through the window of an aircraft. Naturally there is no lack of polka dots which appear, for instance, in "Dots" from 1999. As a young girl, the artist once had an experience where flowers in a field began talking to her. The flowers seemed like an endless sea full of dots. For Kusama, her paintings are a way of overcoming her fears. Her work "Invisible Life", created from 2000 to 2001, is a combination of silver balls and her dot patterns. Visitors who walk into the maze of semi-spherical mirrors mounted like dots enter another world – the boundless world of the artist.
Anyone wishing to see her work without travelling to Holland is advised to read "Yayoi Kusama", a book by Catherine Taft. Published in 2017 by Phaidon Press, it is available from Amazon at circa 72 EUR (and even less than half that for a used book).
Beatrijs Sterk