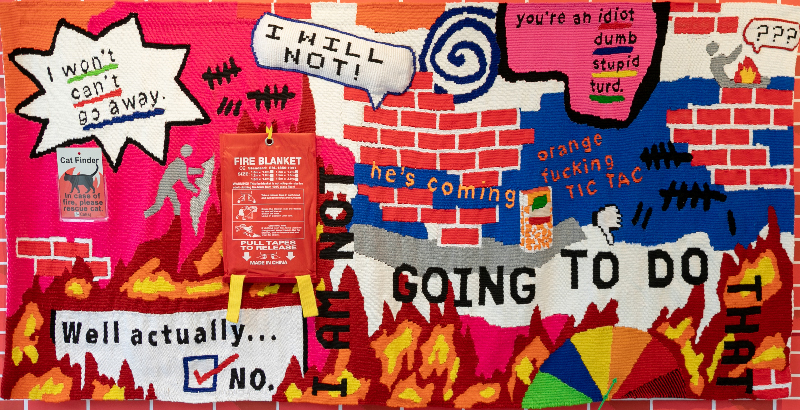 Museum Rijswijk is hosting the 6thRijswijk Textile Biennial from 18 June to 6 October, 2019. New and vintage go hand in hand as 22 artists explore the past and present: in their use of applied techniques and materials, as well as in their choice of subjects. This makes the 2019 biennial both current and a fitting descendant in a series of strong shows.
Computers and the internet have become a valued, fixed part of our daily lives and they have also gained ground in contemporary art practices. Kayla Mattes 'archives' fleeting pictures from the internet by way of time-consuming weaving. Apart from the shared structure (the binary and warp & weft), she also sees a cultural link: tapestries have traditionally documented culture. Totally different approaches to the combination of 'digitalism' and weaving can be seen in Kata Unger's and  David B. Smith's works. The one manifests a whirlwind of connotations through self-dyed wools in breath-taking colours, the other manipulates with soft and flexible sculptures.
Just as in the Textile Biennial of 2017, the majority of these artists make work that comments on contemporary issues. Australian Paul Yore expresses through activism. His appliquéd placards protest and comment on issues of gender, abuse by the Church, consumerism and white superiority ideologies. His compatriot Paula do Prado looks through the eyes of an insider and outsider at colonialism, racism and, especially, that which connects.
Letting materials speak – in particular those with a past – can be achieved in several ways. Mark Newport creates beautiful mending samplers, in which traditional methods raise the weaves to new levels. They symbolize the scars that life has in store for us, in spirit and body. Lawrence Bailey's appliquéd banners represent frayed urban edges, and nature as scarred by humans – the very same who will disappear into a black hole.
These artists work in big gestures and in intimate ways that express the universal. Museum Rijswijk presents a kaleidoscopic cross section of fibre arts in this prominent international exhibition.
Participating artists:
Anna Astopova (Russia/Netherlands), Lawrence James Bailey (United Kingdom/Netherlands), Ana Teresa Barboza (Peru), Nigel Cheney (United Kingdom), Max Colby (United States), Josefina Concha (Chili), Paula do Prado (Australia), Katherine Entis (United States), Kristine Fornes (Norway), Elizabeth Fram (United States), Lia de Jonghe (Netherlands), Higi Jung (Korea), Mirjam Kruisselbrink (Netherlands), Kayla Mattes (United States), Mark Newport (United States), Noora Schroderus (Finland), David B. Smith (United States), Monika Supé (Germany), Marianne Thoermer (Germany), Kata Unger (Germany), Paul Yore (Australia), Bhakti Ziek (United States).
Accompanying the Rijswijk Textile Biennial 2019 is an illustrated catalogue (Dutch/English), penned by Frank van der Ploeg.
On Sunday 15 September there will be a big fabric market outside (11 a.m. – 5 p.m.).
Museum Rijswijk, Herenstraat 67, 2282 BR Rijswijk
Open: Tuesday to Sunday, 11 a.m. – 5 p.m.
For more information: annekloosterboer@museumrijswijk.nl or  www.museumrijswijk.nl
Press Informaton