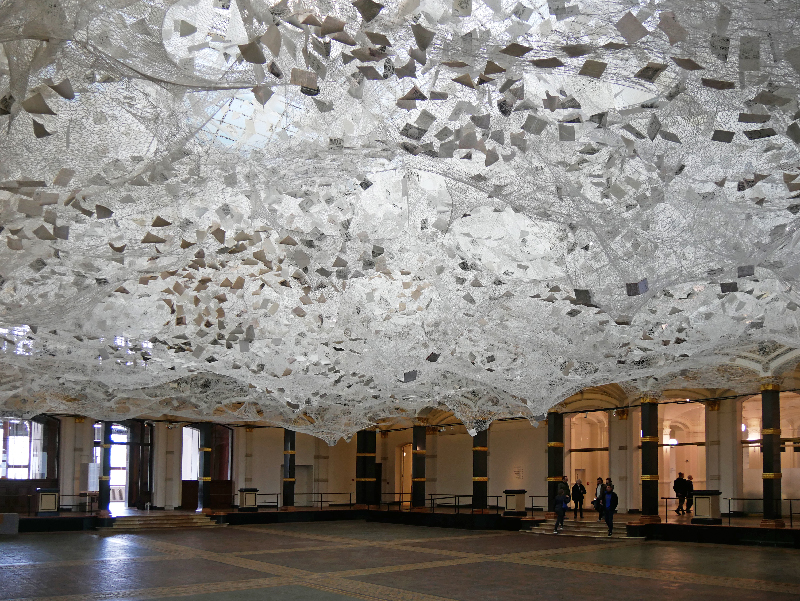 Chiharu Shiota – Installation at the Berlin Gropiusbau
from 22 March to 16 June 2019
Chiharu Shiota moved to Berlin from Japan in 1997 to study performance art with Marina Abramovic. Her famous thread installations enhanced with personal items (such as letters, shoes, keys, clothing and furniture) evolved gradually. The artist uses them to explore themes like home, birth and death. "The Key in the Hand" with which she represented Japan at the 2015 Venice Biennial is probably her best known work to date.
The artist says about her work in yarn that although her art is often associated with needlework and femininity, the lines she creates from yarn are like the brushstrokes in a painting. Rather than using a brush and canvas, she works with yarn in space.
She comments as follows on her current large installation, said to be the largest she ever created: "Within the atrium, I have created a cloud of thoughts and connections, binding the viewer to the past and the future. The white yarn is timeless, I do not think time is something linear but has rather a circular notion". Reportedly, 780 km of white wool were used to make the installation. Historic documents relating to the building's earliest history have been knotted into it. As shown in videos on previous pieces by the artist, she uses several scissor lifts to create her large installations, each manned by 3 or 4 people who attach and knot the yarns. The artist is very precise in her use of technique; the shapes, now round, could clearly be distinguished. Sometimes her forms appear as if knitted with giant knitting needles!
In my previous encounter with her work, "Uncertain Journey" exhibited at the Berlin Blaine/Southern gallery in 2016, the red wool forms were still triangular in shape. At the time I was deeply impressed by the feeling of uncertainty regarding our path through life evoked by the installation. This current work conveys a rather happy atmosphere which really came close to a sense of eternity.
Chiharu Shiota's installation is part of an exhibition entitled "And Berlin Will Always Need You. Art, Craft and Concept Made in Berlin" featuring 17 artists living in Berlin. The exhibition concept makes reference to the ideals of Bauhaus which juxtaposed art, the crafts, design and education. The works in textile materials displayed in the show could not be more different; aside from the Shiota piece they were created by Willem De Rooij, Leonor Antunes, Nevin Aladağ, Haegue Yang as well as Alice Creischer & Andreas Siekmann.
Beatrijs Sterk