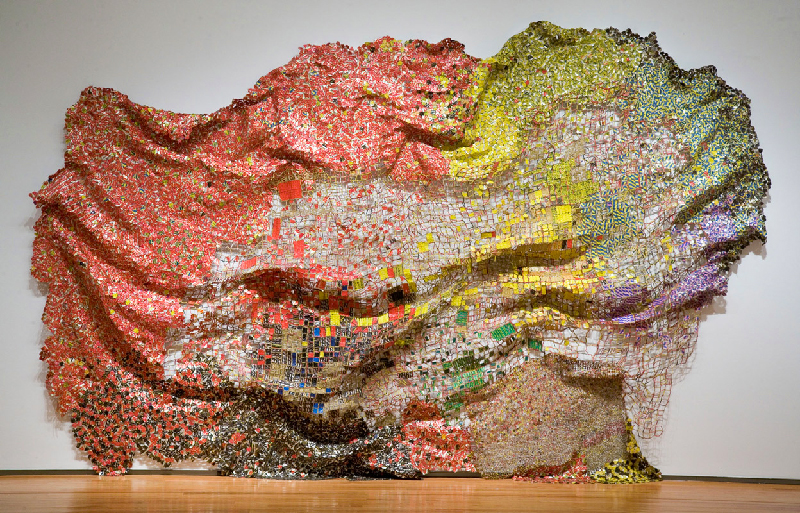 El Anatsuis Übersichtsausstellung "Triumphant Scale" vom 8. März bis 28 Juli, 2019 im Haus der Kunst in München ist seine erste Übersichtsausstellung in Europa, und die bislang umfangreichste Ausstellung seines Werks. Sie zeigt zentrale Werke aus fünf Jahrzehnten künstlerischen Schaffens. Im Mittelpunkt der Ausstellung stehen die typische Arbeiten aus Flaschenverschlüssen aus den letzten zwei Jahrzehnten – Werke von imposanter Präsenz und in schillernden Farben.
El Anatsui generiert Bedeutung aus dem Material und seinen technischen Prozess. So stammen etwa die Flaschenverschlüsse, die er verwendet, von Spirituosen, die Europäer nach Afrika gebracht haben und zwar als Währung, und damit als Mittel der Unterdrückung. Das Schneiden, Flachschlagen, Zusammendrücken, Drehen, Falten und Zusammenfügen von Tausenden dieser Flaschenverschlüsse, zusammen mit dem Kupferdraht, der die einzelne Elemente zu einem Gesamtwerk verbindet, erzählt von menschlichen Gemeinschaften, die aus miteinander verbundenen Subjektivitäten bestehen
Fasziniert von der Monumentalarchitektur des Museums, hat El Anatsui drei Arbeiten eigens für diese Ausstellung geschaffen: Die Skulpturen "Logoligi Logarithm" für den Größten Saal des Ostflügels und "Rising Sea", eine Wand-und Bodenarbeit. "Second Wave" ist eine 110 Meter breite Installation and der Aussenfassade.

"El Anatsui – Triumphant Scale" reist weiter zum Mathaf Arab Museum of Modern Art in Doha (1. Oktober 2019 bis 2 Februar 2020), zum Kunstmuseum Bern (13.März bis 21. Juni 2020) sowie ans Guggenheim Museumin Bilbao (17. Juli bis 1. November, 2020). Bei Prestel erscheint ein Katalog mit essays von Enwezor und Okeke Agulu, der auf 320 Seiten 190 farbige Abbildungen aus dem Archiv des Künstlers enthällt. ISBN 978-3-7913-5824-6, Preis 49 Euro.

Text (gekürzt) aus der Pressemitteilung des Haus der Kunst München. Eine Besprechung der Ausstellung wird folgen.