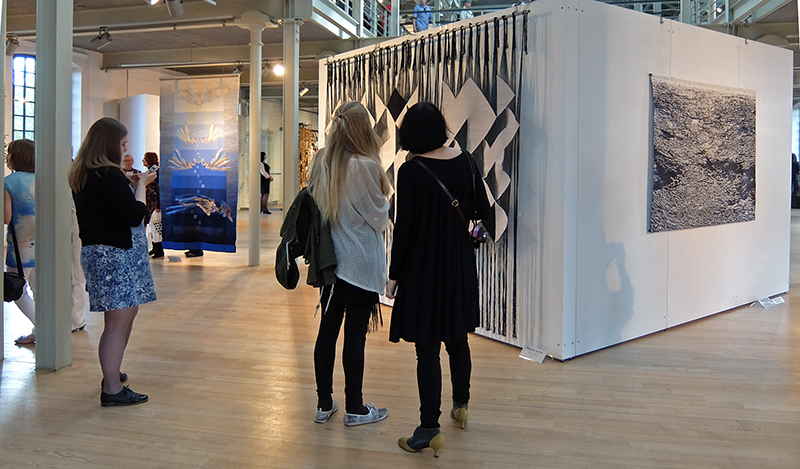 Trotz aller Erneuerungen zeigt diese Triennale – die vom 9.5. bis zum 30.10.2016 im Zentralen Textilmuseum von Lodz zu sehen ist – ein relativ traditionelles Abbild der Textilkunstszene: Immerhin sind 39 der 135 Werke in Webtechnik hergestellt, 15 davon in Gobelintechnik und 5 in digitaler Jacquardtechnik.Rund ein Drittel der Arbeiten sind drei-dimensionale Installationen, der Rest ist größtenteils für die Wand konzipiert.Die 15 Künstler, die zur Sticktechnik gegriffen haben, sind in der Mehrzahl, gefolgt von genähten Assemblagen/Patchwork (13 x vertreten), Papier und Filz (10 x), Druck und Färbetechniken (7 x, davon 2 in Digitaldruck).
Der große Vorteil dieser Triennale ist, dass hier zumeist Arbeiten von echten Textilkünstlern gezeigt werden (im Gegensatz zu Arbeiten von Malern, die lediglich ihre Entwürfe bei Flanders Tapestries weben lassen). Was noch fehlt ist die Öffnung hin zu einer größeren Beteiligung junger Künstler, indem man etwa die nationalen Kommissare bittet auf das Alter des Künstlers zu achten. Gerade die noch kleine Triennale für Junge Textilkunst erhält von den Besuchern am meisten Lob, was eine große Chance für die Zukunft bedeutet.
Die Triennale bietet eine ganze Bandbreite an sehr guten, aber auch an weniger überzeugenden Arbeiten, macht jedoch
insgesamt einen sehr vitalen Eindruck. Mehrere Besucher sagten, dass die Ausstellung diesmal interessanter als vor drei
Jahren ist. Die Hängung in den schönen Räumen des Museums betont die Kontraste und wirkt überzeugend. Man kann den Organisatoren zu dieser Ausstellung nur ein großes Lob aussprechen!
Die Eröffnung der Triennale zeigte, dass das Interesse an der Textilkunst – seitens der polnischen Bevölkerung – ungebrochen groß ist. Aus dem ganzen Land waren die Besucher angereist, ergänzt um eine große Gruppe von Ausländern, die aus allen fünf Kontinenten der Welt zusammen kamen. Wie üblich bei dieser Veranstaltung wurde dem Publikum ein Textilkunst-Marathon mit verschiedenen Eröffnungen, die über drei Tagen liefen, angeboten. Wie erwähnt gefällt den meisten Besuchern – nach der Triennale selbst – die Internationale Junge Textilkunst Triennale, aber auch die Solo-Ausstellung von Wlodzimierz Cygan, Professor für Textilkunst an der Strzeminski Akademie der Kunst in Lodz, steht hoch im Kurs.
Diejenigen Besucher, die alle Editionen dieser Veranstaltung über die Jahre gesehen hatten, haben diese Triennale als eine sehr vitale und interessante empfunden. Es scheint sich das neue Interesse an Textil innerhalb der sogenannten freien Kunstszene nun auch positiv auf diejenigen, die Textilkunst betreiben, auszuwirken (gemeint sind alle, die ihre Arbeiten selbst mit textilem Material oder in textilen Techniken herstellen). Dieser Aufschwung äußert sich auch in den Arbeiten der jungen Künstler, die – unbekümmert und ohne sich an Traditionen gebunden zu fühlen – neue Wege gehen, wobei Textil manchmal nur noch als Idee oder Anmutung vorkommt. Eine Angleichung der "Kunst mit Textil" Ausstellungen an die Textilkunst-Ausstellungen (Kunst in kunsthandwerklichen Medien)? Ein wenig schade wäre es, wenn der Umgang mit Textil nur noch lustig oder beliebig werden sollte. Denn gerade diese Triennale zeigt, wie großartig die Kunstwerke werden können, wenn die Künstler mit Material und Technik umgehen und ihr Thema subtil ausdrucken können.
Es wäre jedoch auch von Vorteil, wenn die künstliche Trennung zwischen verschiedenen Arten der Kunst aufgehoben wird. Denn auch innerhalb der Textilkunst gibt es solche Trennlinien: Die Künstler, die Patchwork/Quilt, Filzen, Stickerei oder Weberei betreiben, haben leider je ihr eigenes "Ghetto" und sehen oft nicht über den Tellerrand hinaus.
Diese Triennale hat diese Art der Trennmauern bereits durchbrochen, eventuell schafft es die Triennale der Jungen
Textilkunst auch die weiteren Hürden zu überwinden.
Die Wahl der Künstler war durch die nationalen Kommissare sowie durch das Organisationskomitee getroffen worden (ein Verfahren, das überprüft und eventuell reformiert werden müsste); die Preisvergabe war jedoch durch eine internationale Jury, bestehend aus Małgorzata Wróblewska Markiewicz/PL, Thomas Cronenberg/D, Yoko Ikeda /Japan, Bruce Pepich/USA, Magdalena Soboń/PL und Renata Rozsivalová/CZ, vorgenommen worden: Die Goldmedaille (und der Preis für Newcomer der Akapi-Stiftung!) ging diesmal an Tereza Barabash/Ukraine für die Arbeit "Rain in Ukraine". Weil die Jury weder die Titel der Arbeiten noch Namen oder Herkunftsland der Künstler kannte, war dieser Preis nicht politisch motiviert. Die sehr fein gearbeitete Installation enthielt fast nur metallische Fäden, ein weiterer Diskussionspunkt unter den Besuchern. Je eine Silbermedaille erhielten Anne Bjørn /DK für "Transparent Landscape" und Laima Ore-Oržekauskienė/LT für "Dedicated to father". Drei Bronzemedaillen wurden vergeben an Peter Horn/D für "Who did this?", Joanna Rusin/PL für "Composition on Canvas" und Anna van Stuijvenberg/NL für "Do you see it, it doesn ́t see you". Weitere fünf Ehrungen gingen an Katalin Fóris/H, Toko Hayashi/Japan, Ian Nigel Hurltone/UK, Jeannie de Raeymaeker/B und Anna Więckowska Kowalska/PL. Des Weiteren erhielt Tohru Ohtaka/Japan für "My City of Water", 295 x 154 cm, 2015, den Preis des Zentralen Textilmuseums von Lodz.
Alle weiteren Namen der teilnehmenden Künstler sowie die Begleitveranstaltungen sind auf der Website des Museums zubinden: http://www.muzeumwlokiennictwa.pl/1-triennale/1/547,15th-international-triennial-of-tapestry-lodz-2016.html
Ein umfangreicher Katalog ist erschienen und über das Museum erhältlich. Zur Finissage (Oktober 2016) wird ein Buch über die Tapisserie-Triennale von Lodz herausgebracht.
Beatrijs Sterk
Zwei weitere Artikel von B. Sterk werden in dem Surface Design Journal/USA sowie in der Zeitschrift Textilkunst/D erscheinen.