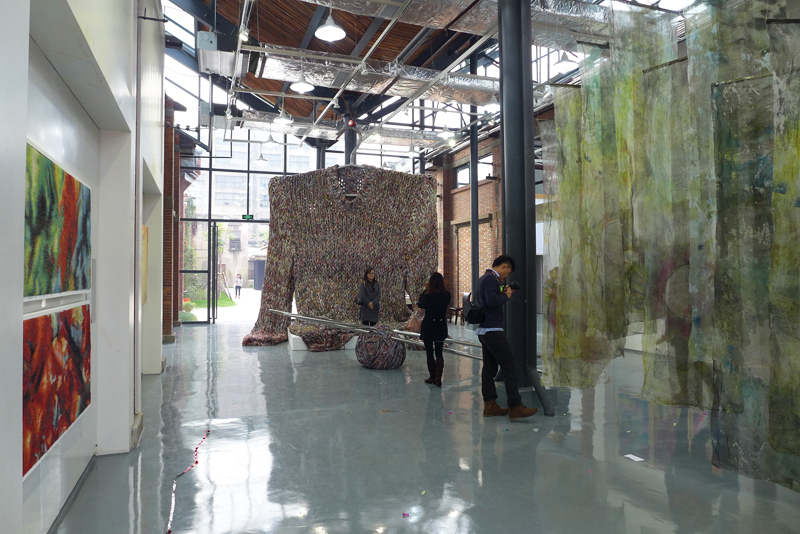 8th INTL. FIBER ART BIENNIAL 'FROM LAUSANNE TO BEIJING'
Der Bewerbungszeitraum endet bereits am 1. Juli 2014. Die Anmeldung muss vor diesem Datum erfolgt sein!
Die Eröffnung der Biennale ist am 30. September 2014 um 15.00 Uhr im Nantong 1895 Creative Cultural Industry Park. Die Schau endet am 16. Dezember.
Seit 2000 besteht die Biennale 14 Jahre Jahre lang und hat sich seitdem zu einem der größten Textilkunstereignisse in der Welt entwickelt. Sie verzeichnete bei ihrer letzten Ausgabe 2012 über 800 Bewerbungen mit mehr als 300 ausstellenden Künstlern (davon 84 % weiblich) aus 37 Ländern der Welt, darunter 66 % aus Asien, 22 % aus Europa, 10 % aus Nordamerika und 2 % aus der übrigen Welt.
Ein umfangreicher Katalog, drei Preise und 81 Belobigungen sind erreichbar. Es gibt weder Einschränkungen in der Wahl von Textilmaterialien, Form und Stil der Arbeit. Zweidimensionale Werke dürfen 320 cm in der Höhe und 600 cm bei dreidimensionalen Arbeiten nicht übersteigen. Das Paket darf bei Anlieferung nicht größer als 120 x 120 x 50 cm groß sein, ein eventueller Tubus darf die Länge von 120 cm nicht übersteigen. Begleitfotos müssen 300 – 350 Pixel pro Inch aufweisen und in Tiff oder Jpg-Format angeliefert werden (E-Mail: Lbfiberart@163.com). Jede einzelne Arbeit bedarf einer eigenen Anmeldung.
Die jurierten Arbeiten werden gesammelt unter "From Lausanne to Beijing 8th International Fiber Art Biennial Catalogue" durch China Arcitecture & Building Press.
Internationale Teilnehmer müssen ihr Kunstwerk per Internationalem Postbüro verschicken an die unten aufgeführte Adresse. Die Kosten der Versicherung und Anlieferung trägt der Einsender, der Rücktransport das Organisationskomitee.
Internationaler Ansprechpartner: Yue Song
Adresse: C322, Fiber Art Institute, Academy of Arts & Design, Tsinghua University Haidian District, Beijing, China, Postcode: 100080, Tel: (011)-86-10-62798976, Fax: (011)-86-10-62798976, E-Mail: Lbfiberart@163.com, Website: www.chinafiberart.com
Hinweise
Auf der Website www.chinaculture.org war zu lesen:
"Während seiner wirtschaftliche Macht zunimmt und die Bevölkerung altert, sollte China seine Kulturgebiete immer mehr entwickeln. Im Laufe der kommenden Dekade, wenn China weniger Güter exportieren mag, sollte es mehr Kultur exportieren. Welche (kulturelle) Macht ist das beste Mittel, Freunde zu gewinnen und Menschen zu beeinflussen".
In der Zeitschrift TEXTILE Forum 1/2013 ist auf den Seiten 20 – 23 die 7. Biennale beschrieben.