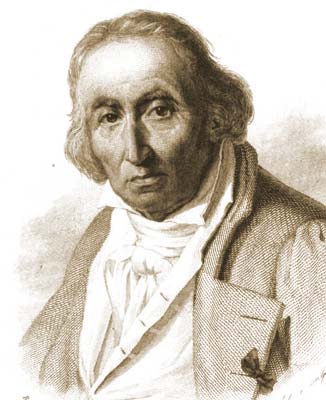 Es heißt im allgemeinen: "1805 Patent on pattern weaving machine with punched cards by Joseph-Marie Charles Jacquard".
Es kann sein, dass Jacquard als erster ein Patent anmelden konnte, erfunden hatte er die Technik eines vollkommen automatisierten Webstuhls mit Kartenlaufwerk nicht! Auf diese Tatsache machte uns im August ein kanadischer Leser, Herr Dr. Luc Rollland, aufmerksam, seines Zeichens Wissenschaftler und Professor am High Performance Robotics Lab¬oratory der Memorial University of Newfoundland in St.-John's.
Im frühen 18. Jh. beschäftigte man sich bereits mit der Punchkar¬tensteuerung z. B. für Musikauto¬maten. Ein Mitarbeiter an einem der Lyoner Seidenzentren, Basile Bouchon, wendete dieses System 1725 als halbautomatische Alter¬native zum Zugwebstuhl an. Sein Assistent Jean-Baptiste Falcon verbesserte diese Entwicklung bis 1728 und später (1762) nochmals zu einem vollautomatischen Webstuhl, der zu jener Zeit nur 40x verkauft wurde (http://historycomputer.com/Dreamers/Bouchon.html).
Der Erfinder Jacques Vaucanson (1707-1782), dem man 18-jährig bereits in Lyon ein eigenes Atelier eingerichtet hatte, beschäftigte sich lange mit mechanischem Spielgerät, das damals in Mode war. Nach 1741 setzte man ihn auf die Entwick¬lung neuerer Webgeräte an, weil die französische Textilindustrie gegenüber England in Rückstand gekommen war. Vaucanson ver¬besserte zwischen 1745 und 1750 den Webstuhl seiner Vorgänger nochmals, sodass man seinen umfassend automatisierten Web¬stuhl als Weltneuheit anerkannte. Dieser Entwicklungsschritt wurde von den örtlichen Webern aufs heftigste bekämpft; es kam in Lyon zu Unruhen (http://historycomputer.com/Dreamers/Vaucanson.html).
Erst 1805 wagte man Jacquards Patentanmeldung öffentlich be¬kanntzugeben. Dass Tatsachen nicht oder nur mit langer Verzö¬gerung wahrgenommen werden, hat psychologische, soziale und häufig genug machtpolitische Gründe.