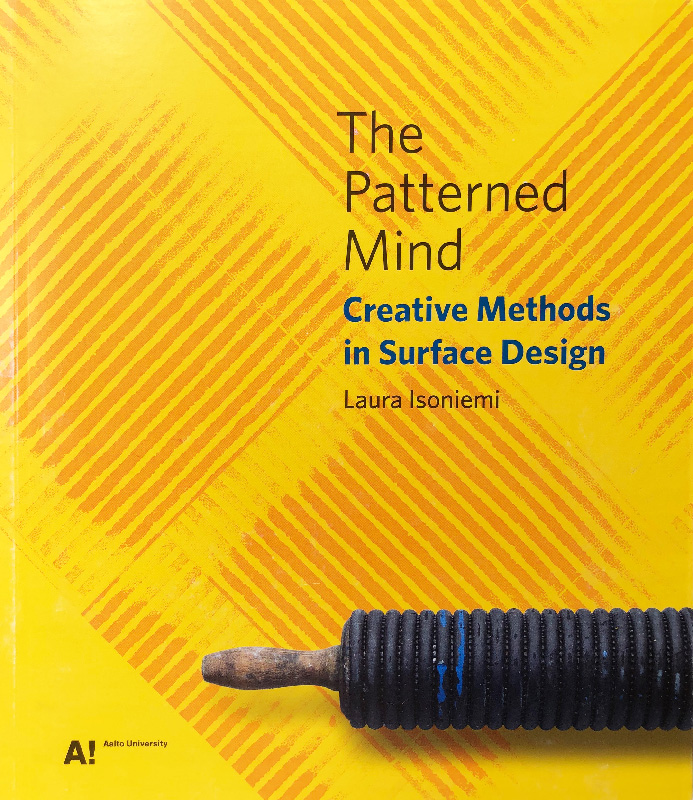 The Patterned Mind – Creative Methods in Surface Design, Laura Isoniemi
My annual meetings with the Nordic Textile Artists keep me up to date on their various projects and publications. This time, Finnish designer and art educator Laura Isoniemi told me about her new book on the latest creative methods employed in making textile designs. She writes by drawing on her many years of work at Aalto University and is a great asset not only to professional textile designers, but also to anyone wishing to explore their creative potential in whatever discipline. She expressly includes hobby artists.
Laura Isoniemi rightly says that everything has already been done in textile design, and for this reason the designer's character should make the essential difference. She thus begins her introduction, "Tools of Creativity", with the heading "Persona", followed by "Trust", "Play", "Accessibility", "Internationality" and "Assessment".
Another important point that immediately made sense to me is the importance a designer attaches to working with their hands. She says that hands often comprehend more quickly than heads, and she rightly sees designing as an international language.
the third important element is play: " Understanding something with your hands and the process of play in design lie at the core of this book ". Playing like a child is one way of tapping into the limitless fountain of creativity.
While living in Holland in the late 1960s, I was fortunate enough to take part in a year's multi-disciplinary training for lecturers working at the Dutch creative centres, where all these points played an important role. The model I took with me to Germany in 1971, known as "Workshop Hanover, Centre of Creative Design", has just seen its 50th anniversary.
This is why it was a true pleasure for me to see that Scandinavian designers, who I believe are some of the most progressive in the world, are still using those very simple but highly effective principles. In Germany, the word "creativity" has wrongly become a meaningless platitude!
Books like the publication by Laura Isoniemi are important for education in creative professions outside Scandinavia, too, for the very reason that they go into the principles of creativity.
I add a full list of the chapters she goes into:
1 Starting points for design work
2 Methods for inventing
3 Elements of a sketch
4 Patterning methods
5 Utilizing technology in surface patterning
6 In the living room of discovery
The book provides a brief index of references and credits for all the photographers who took the many pictures. It is written in English but very easy to read (as is usually the case when non-native speakers write in English).
The publisher (2019) is Aalto University, School of Arts, Design and Architecture. It is available from  https://shop.aalto.fi/p/1137-patterned-mind/   ISBN987-952-60-8760-3  priced EUR 38 
Note: The meetings of the Nordic Textile Artists are open to anyone interested in Nordic textile art. Membership is currently EUR 30 per annum (http://www.nordictextileart.net/become-a-member/), and a meeting in one of the Scandinavian countries is organised once every year. The next encounter will probably take place in Finland in June 2023.