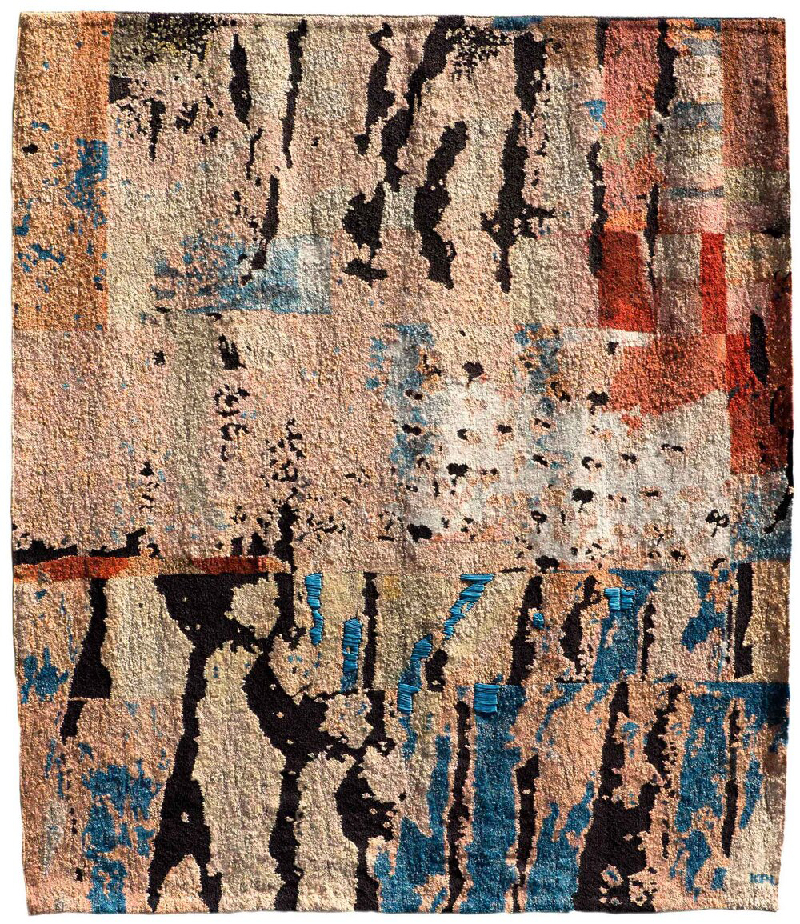 Artapestry 6
Since 6 February this year this important European tapestry exhibition is on show at the Art Centre Silkeborg Bad but due to Covid 19, only Danish visitors can visit it! I am hoping to get vaccinated before the end of the exhibition on April 18th and thus be able to travel again! As usual this is a travelling exhibition and there will be more European venues that are mentioned at the end of this article.
Anet Brusgaard, from European Tapestry Forum´s Secretariat in Copenhagen, writes in her statement as the organizer: "We see with satisfaction young women / men has reinvented weaving and tapestry weaving". In a recent email from her she agrees with me that the start of the new tapestry movement was at the World Tapestry Today exhibition & Symposium in the Victorian Tapestry Workshop, Melbourne 1988, that later travelled the world. The important personality there was tapestry weaver and teacher Archie Brennan. Still this year there will be a major Archie Brennan retrospective in Edinburgh that I plan to visit as soon as possible!
3 Jury members were chosen by the ETF organizers: Andrea Milde, Tapestry artist, Berlin, Germany, Pawel Kiełpinski, Artist, professor at the University of the Arts, Poznan, Poland, Leena Svinhufvud, art historian, docent and curator at Finish Design Museum, Helsinki, Finland.
After long discussions on Zoom two prize winners were chosen, Lívia Pápai and Katarzyna Lavocat. The jury statement hereto: "Both realizations, so different in terms of their meaning, located in the region we know so well, are perfect. Respect for intellectual and visual values, both of which are so important in the opinion of the members of the Jury"
Alltogether 43 works were chosen for Artapestry 6 by 40 artists from 16 countries.
With a growing wish to focus on tapestry art outside Europa, European Tapestry Forum decided to invite Helena Hernmarck and Nancy Koenigsberg two significant tapestry artists from USA to exhibit in an European showcase.
In the catalogue art historian Nina Hobolth from Denmark gives an overview of the different topics in this exhibition and explains them very well: Visions of Nature, Ornament and Symbolism, Photo Realism, Dynamic of Space, Pituresque Poetry, and finally Drama. I like this idea of categorization very much as it gives visitors a chance to better understand the works by looking at them from a different point of view.
Also in the catalogue, Leslie Miller, Professor of Textile Culture in the UK asks: "Can we improvise and lay down new tracks, fresh lines of
travel, without losing what we have? These difficult questions are present
in the works in this latest Artapestry6 exhibition and the works demonstrate that … it is precisely by weaving the tapestries which reflect our living today that we ensure that tapestry weaving will continue. The tapestries may not always look traditional, as ARTAPESTRY has shown with each exhibition it organises, however every iteration is an acknowledgement that tapestry is alive and kicking hard, connecting the past to the future through the present."
The following venues are planned:
ArtCenter Silkeborg Bad, Denmark 7th February 2021 – 18 April 2021
Kulturcentrum Ronneby, Sweden, November 2021 – January 2022
Museum of Central Finland, because of the Corona situation the date for the exhibition has not been finalized.
The ETF Secretariat:
Anet Brusgaard
Kastelsvej 6 o.g
DK-2100 Copenhagen
mail@tapestry.dk
www.tapestry.dk