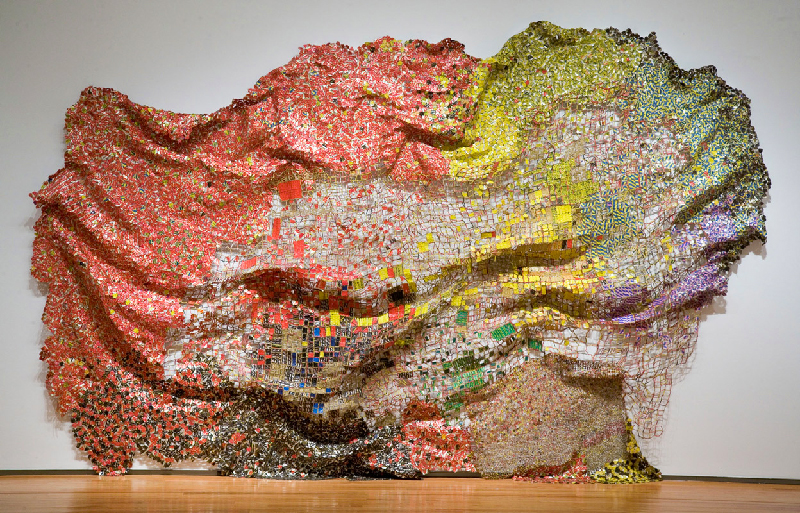 El Anatsui´s survey exhibition "Triumphant Scale" from 8 March to 28 July, 2019 at Haus der Kunst in Munich –the first ever in Europe- is the most comprehensive and detailed presentation of his oeuvre so far. The exhibition comprises key works from 5 decadesof the artist´s career. At the core of the exhibition are the bottle capworks from the last two decades, with their majestic, imposing presence and dazzling colors.
El anatsui generates meaning out of his material and technique. For example the bottle caps come from hard liquors introduced by the Europeans as currency – and thus as a means of subjugation. The process of cutting , flattening, squeezing, twisting, folding and joining of thousands of these bottle caps, together with copper wire that weave together fabricated sections into a single work, speaks of the making of human communities out of connected individual subjectivities.
Fascinated by the museum´s monumental architecture, El Anatsui has created three works especially for this exhibition: "Logoligi´s Logarithm" designed for the centre hall of the East Wing and "Second Wave" on the buildings facade together with "Rising Sea" a wall and floor piece.
"El Anatsui. Triumphant Scale" travels to the Mathaf Arab Museum of Modern Art in Doha (October 1, 2019 to February 2 2020); the Museum of Fine Arts, Berne (March 13 to June 21, 2020); and the Guggenheim Museum, Bilbao (july 17 to November 1, 2020. Prestel will publish an exhibition catalogue of 320 pages and 190 colored illustrations from the artist´s archive, authored by enwzor and Okeke Agulu. ISBN 978-3-7913-5824-6, price 49 Euro
Text from the (shortened )press release Haus der Kunst Munich. Review to follow!