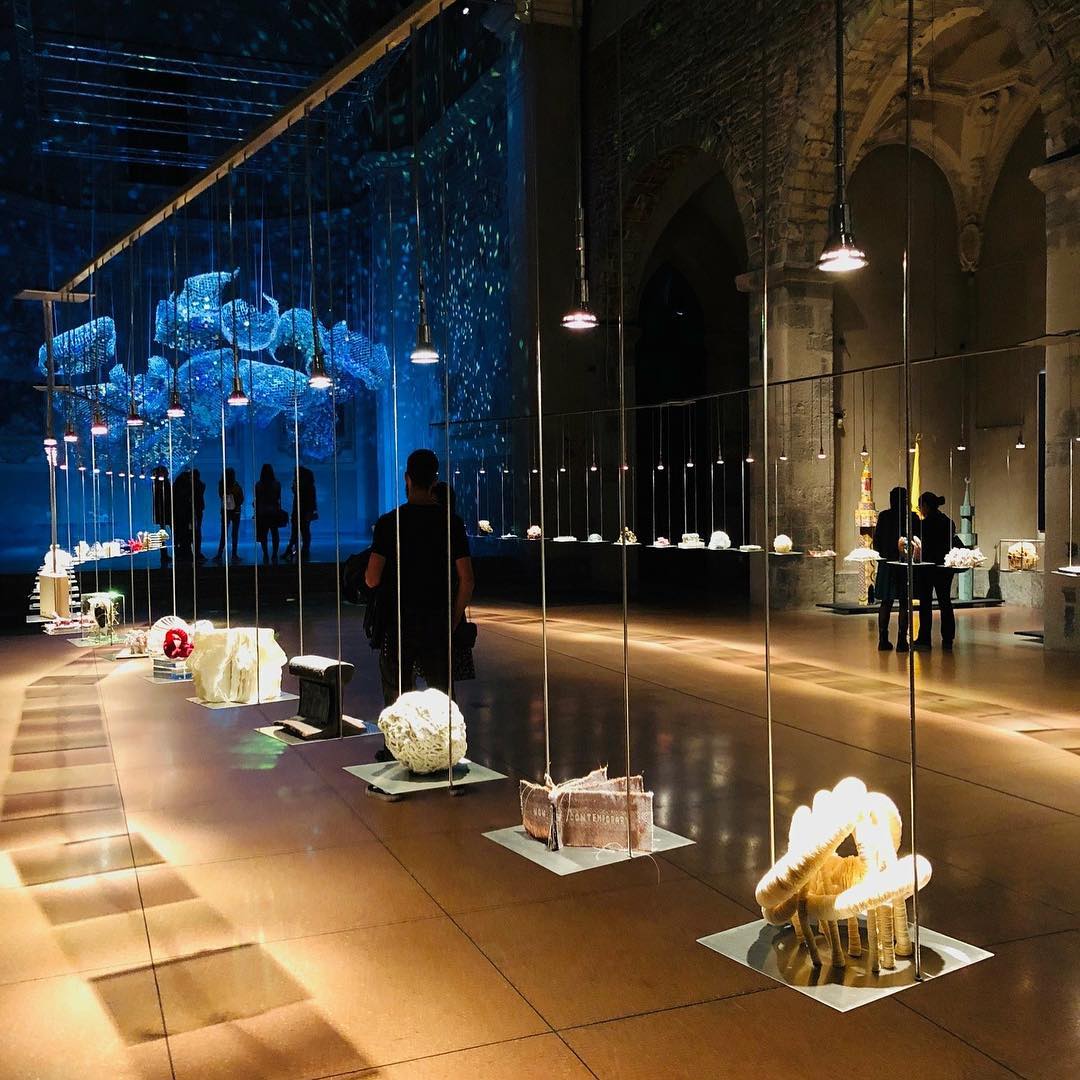 Arte&Arte is organising the 29th edition of Miniartextil, an internationally renowned exhibition of contemporary fiber art. The exhibition will be held in Como, at the former church of San Francesco, and in the former church of San Pietro in Atrio from Saturday 28th September to Sunday 17th November 2019.
The aim of the exhibition is to advance and spread awareness of fibre art as a contemporary art form, illustrating the techniques and methods it employs.
The subject of Miniartexil Como 2019 will be POP UP. A pop up is not just a window that opens up to give extra detail on the text. Something that appears to extend, to connect and disconnect, like the build-up and fading of synapses between virtual nerve cells. Pop up is also a crossroads and an exchange, a crossover that may in art be between diverse media that intersect, like the web and woof of fabric in a plurality of languages. Pop up is also analogical, mechanical and physical, like achildren's book with cut-out information in two or in three dimensions from which may spring another surprising dimension, appearing and becoming something else,as with the magician's conjuring trick. It is an invention that is almost eight hundredyears old, revitalised, ageless, like the interactivity at the origin of the worldwide web, with its rapid graphic obsolescence.Pop up has become an interruption, a by now all too predictable advertising window, something to by-pass, a viral perception to get rid of as fast as possible with a mouse click. Is it destructive, malware that interferes with concentration, corrupts the thought environment and the thinking individual, or is it a possible narrative architecture of wonder, of paper, of colours and of shapes? Certainly it is the sudden opening of a window, that can be looked at or through with a different perspective. What has happened here? A miracle: from nothing to every possibility.
The following rules apply to the works: they must be original, handmade or made using a technique controlled by the artist, involving the use of textile materials or methods; it may be two or three-dimensional, and its subject shall be that indicated at 2 above).The size of the work must be 20x20x20 centimetres. The use of passe partout is not permitted. The work should not be made to be hung or supported by a frame and should not require electrical connections.
Participation is subject to selection of the work of art by a board of judges appointed by the cultural association Arte&Arte which will meet in April 2019
 PARTICIPATION
There is an administrative and archive charge of 30 Euros to be paid at the time the application is sent in. Payments can be made:
–  on-line, at www.miniartextil.it, under "catalogues/shop"
–  By bank transfer to our current account, with administrative costs borne by the artists:Cassa Rurale ed Artigiana di Cantù
to Arte&Arte
Current account n 262609 BIC: ACARIT22IBAN: IT36 R084 3010 9000 0000 0262 609The payment receipt must be annexed to the entry form.
IN THE SUBJECT OF THE PAYMENT WE ASK YOU TO WRITE:
THE NAME AND SURNAME OF THE ARTIST + REGISTRATION WITH MINIARTEXTIL 2018.
SCHEDULE
Sending of application forms and payment of subscription Meeting of panel of judges: by 31st. March 2019
Selection results: April 2019
Sending in of selected works: 1st. of May 2019
Opening of the exhibition: 28st. September 2019
Closure of the exhibition: 17th November 2019
End of the itinerary of the show: August 2020
Since the exhibition will be itinerant, as it is every year, the works will be returned to the artist after their exhibition at the various venues and in any case by 31st December 2020.
31st March 2019 is the FINAL DATE for sending via mail (only once: a unique single mail), uploading your files all together, on www.wetransfer.com or www.dropbox.com to this address contest@miniartextl.it
Application form completely filled in
–  Short up-to-date curriculum vitae of the artist, indicating most important exhibitions, some details on the techniques used, research work and a passport-sized photograph.
–  n. 3 (three) HIGH DEFINITION DIGITAL IMAGES (at least 1 MB) of the work: two of the complete work and one of a detail of the work. The photographs must be anonymous, with neutral background, with no writing and without the name of the author.
–  A copy of the payment receipt

We remind you that the photographs are needed for the jury to choose the 54 works that shall be reproduced in the catalogue, so therefore they MUST BE HIGH RESOLUTION AND OF GOOD QUALITY. INCOMPLETE APPLICATIONS WILL NOT BE CONSIDERED; IF THE IMAGES FAIL TO SATISFY THESE REQUISITES THE WOK MAY NOT BE JUDGED BY THE JURY.

IT IS STRICTLY NOT PERMITTED TO SEND IN THE WORK TOGETHER WITH THE ABOVE REQUESTED DOCUMENTATION.

THE WORKS SENT WILL NOT BE TAKEN INTO CONSIDERATION FOR SELECTION PURPOSES AND, AS NO OUT-OF-BUDGET COSTS CAN BE INCURRED, THEY WILL NOT BE RETURNED TO THE SENDER.

THE BOARD AND THE PRIZES
A board, made up a chairman and two members chosen from the Arte&Arte Association will make their decision, which will be final, on the 54 works that will be shown at the exhibition.
The Board will award the following prize:

– The Arte&Arte Prize chosen by the members of the Association, with the work purchased to become part of the Bortolaso – Totaro Collection

NEW Project CULTURA DIFFUSA:
All the artworks that haven't been selected by the jury, will be carefully evaluated by the members of the cultural association Arte&Arte. Some of them will have a second chance to be selected and exhibited in Como, in the frame of the project CULTURA DIFFUSA: for the whole duration of the exhibition some artworks will be exhibited in shops, cultural venues, schools, and interesting sites in Como city centre.

– The Montrouge Prize selected by the Mayor and the culture office of the Municipality of Montrouge, the second location for the Miniartextil exhibition, and announced in February 2020 at the vernissage of Miniartextil at Montrouge.

The selected works must be sent in by 31st May 2019 (the stamp date counts), without the organisers having to pay customs duties (you are advised to send thework as textile sample sent not for sale and declare a customs value of only 5 €). If the works are subject to postal, customs or similar charges, reimbursement will be requested for costs incurred.Works should be sent to: ARTE&ARTE – Associazone culturale, Via Pannilani 23 –22100 – COMO – ITALY
The exhibition organisation alone is responsible for the choice of space reserved for each work in the context of the general staging of the event

The exhibition Miniartextil 2018 at the Spazio Ratti in Como

The exhibition Miniartextil 2018 at the Spazio Ratti in Como

The exhibition Miniartextil 2018 at the Spazio Ratti in Como