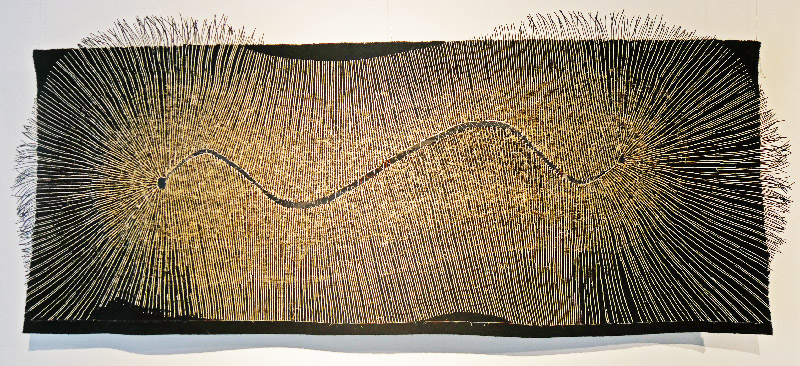 The Central Museum of Textiles, Lodz, presented textile art from its own collection from 29th June 2017 to 18th Febrary 2018. The exhibition reviewed the achievements of Polish textile artists during the International Textile Triennial (ITT)which has been held at the museum since 1972. First shown at the Lausanne Biennial in 1962, this novel kind of textile art included a revolutionary group of Polish textile artists. The ITT publicised these achievements to those who were unable to travel due to the restrictions imposed during the period.
Seeing that the Lausanne exhibitions ceased in 1995, the Lodz Triennial is now the oldest continuous event showcasing the revival of textile art, an art form conceived during the 1960s and 1970s. Polish art critic Irena Huml summed up the intentions of Polish artists as follows: "In times of intensified expansion, Polish textiles brought a creative ferment to the global quest for ever-changing contemporary art." The exhibition featured artists who had participated or won prizes at one or more of these Triennials. They included Magdalena Abakanowicz and Wlodzimierz Cygan who happened to have solo exhibitions in the same hall at more or less the same time (see blog entries of February 2018).
When viewing "Rebellion of the Matter", I noted several artists who merit attention in the light of the interest currently shown by the fine art world. To mention a few examples, Emilia Bohdziewicz was represented with "Unlimited Entry" created in 1978; she also has an individual show of her work in Cracow (1.). Dorota Grynczel's "Composition D" was created for the 9th ITT in 1998; Urszula Plewka-Schmidt's "Blooming" dates from 1971; Stefan Poplawski's "Valencia" was exhibited at the second ITT in 1975; Anna Bednarczuk's translation of photography into tapestry was also shown at the second ITT; JaninaTworek-Pierzgalska's "Meeting with a Mountain" was made in 1981; and Anton Strarzewski's "Monofactural Arrangement" was on display at the third ITT in 1978. These names are far too little known beyond Poland. The exhibition proved that the work of this older generation of Polish textile artists is still as vibrant and alive as it was when they first entered the stage.
Exhibition curator Marta Kovalevska intended to show that the field she calls "artistic textiles" has developed for years and sometimes been transformed in revolutionary ways. Nevertheless, it has remained a domain which finds expression in a coherent language of form and meaning that has now been incorporated in the current of contemporary art.
"Emilia Bohdziewicz 1941-1994. Eleven Possible Combinations of Vertical and Horizontal Lines", 12th December 2017 – 16th February 2018 at Gallery Starmach , Cracow

Emilia Bohdziewicz: Unlimited Entry, 1978, embroidery, made for the LodzTriennial in 1978

Dorota Grynczel: "Composition D", 1997; shown at the 9th Lodz Triennial in 1998

Urszula Plewka Schmidt:"Blooming", 1971; fot the first Lodz Triennial in 1972

Janina Tworek-Piersgalska:" Meeting with a Mountain"1981; shown at the 4th Triennial 1981

Stefan Poplawski: "Poland", ; presented at the 2nd Lodz Triennial 1975

Anna Bednarczuk:"I Was – adaption of Photography by Eadweard Muybridge into tapestry" 1975; exhibited at the 2nd Lodz Triennial

Anton Strarzewski: "Monofactural Arrangement", 1978; shown at the 3rd Lodz Triennial

Andrzej Rajch: "Three Graces", 1985; exhibited at the 5th Lodz Triennial