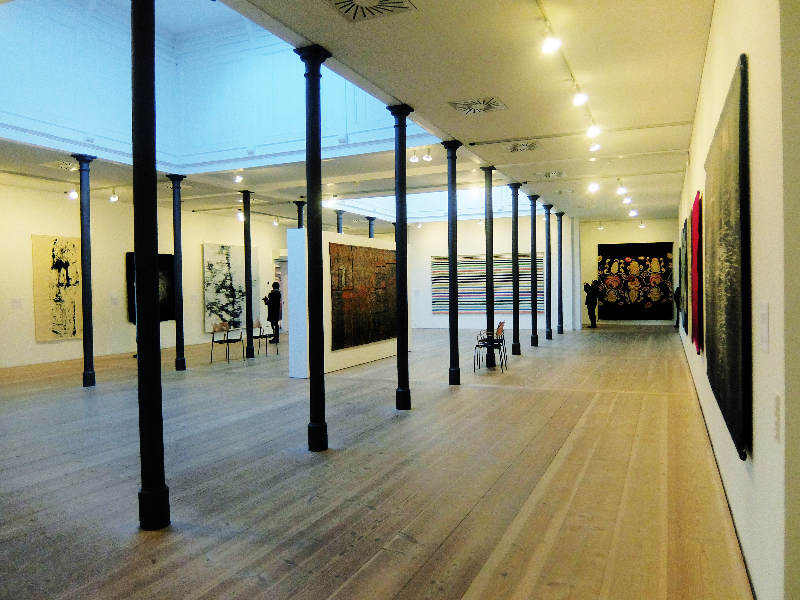 The opening of the fifth exhibition by the European Tapestry Forum was held on Saturday, 6th January at the Art Centre of Silkeborg Bad, a former spa resort situated on a beautiful lake in the Danish town of Silkeborg in Jutland, not far from Aarhus.
One does not expect to find a spacious exhibition venue with an international flair in a rural town numbering 90,000 inhabitants, but the Art Centre is precisely this. Selected by an international jury, the 40 pieces – required to be larger than 120 by 120 cm as per the competition rules – by 38 artists have been given the necessary space to come into their own. The ca. 15 artists in attendance, some of whom had travelled long distances, were noticeably impressed and happy with the result. For visitors, the exhibition offered a good overview of current production in modern European tapestry weaving. The most striking feature was the diversity of the works, which ranged from the very beautiful old gobelin technique through freer forms of tapestry weaving to jacquard weaving. The issue of how to define the boundaries of "tapestry" had been solved in a practical way by the ETF Steering Committee: they accept pictorial jacquard weavings, for example, but wish to present no more than ten percent of "related techniques" in the Artapestry exhibitions. The exact conditions of entry can be found on the ETF website:  https://www.tapestry.dk/сall-entries-artapestry5/n
My own experience in the Secretariat of the European Textile Network has taught me how difficult it is to represent Europe evenly. Tapestry weavers in countries which look back on a rich tapestry tradition, such as the UK, France and Belgium, tend to keep themselves to themselves and will form their own exhibition groups. However, in places where the number of such groups is dwindling (for instance, the Belgian Domaine de la Lice has ceased to exist) it is increasingly important to join forces on a European level. ETF is sometimes perceived as a Danish affair – wrongly so because they go out of their way to include every European country. This year's panel consisted of three judges, two of them from East European countries: Velta Raudzepa, curator of the Riga Museum of Decorative Arts and Design, and Lidia Choczaj, head of the textile department of the Academy of Fine Art and Design in Lodz, Poland. Incidentally, the third judge was the winner of the Artapestry 4 competition – Linda Green, a Scottish textile artist. This year's selection by the judges has resulted in a larger number of participants (5) from Poland but, sadly, none from Latvia which has a great tapestry tradition. Neither does Russia present any of its wonderful tapestries, although the conditions of entry define it as part of Europe. The most surprising fact for me is the absence of Hungary, even though there are very good links with that country and it has a major tapestry tradition. Perhaps it should be emphasised that the participation fee of € 40 is by no means expensive for an event organised by actual artists.
It may be helpful for the future that Artapestry 5 will be displayed at venues in former Eastern Europe – the Mark Rothko Art Centre in Daugavpils, Latvia, and the Arad Art Museum in Romania. After Denmark, the next venue to present the exhibition will be the Cultural Centre of Ronneby, Sweden.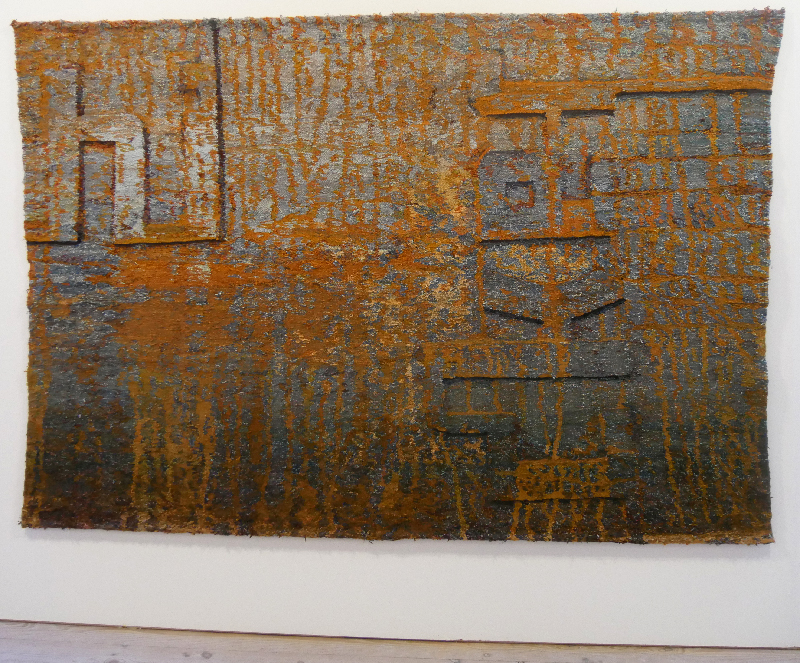 The award winner of this year's exhibition was Polish artist Pawel Kielpiński for "Steel". What appears like a rusted steel plate in photos is actually a beautifully woven soft surface!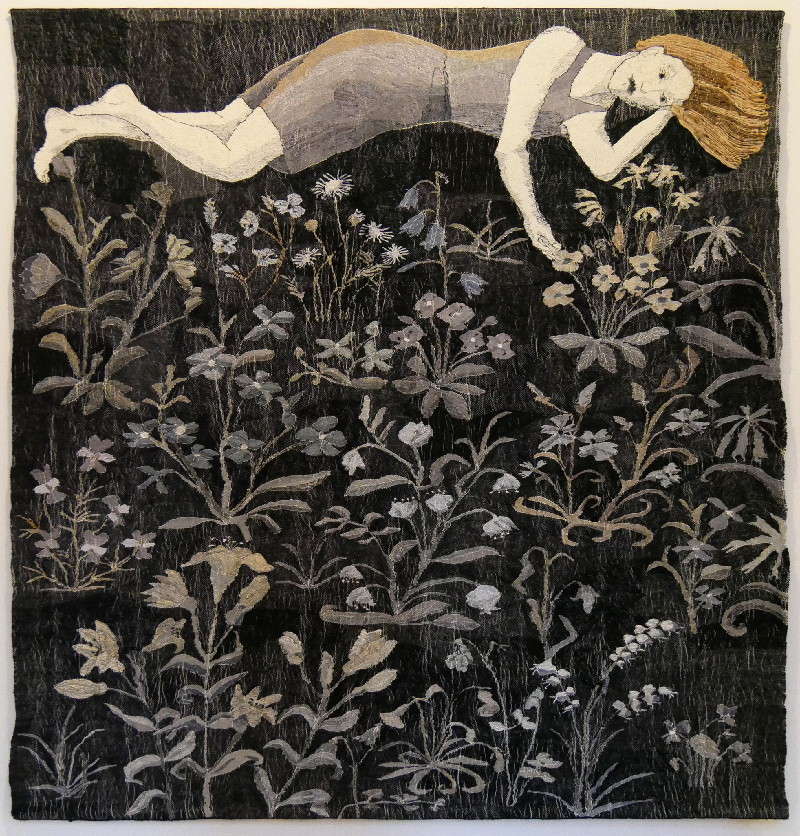 My favourite among the exhibits is "Millefleur" by Aino Kajaniemi from Finland, because her modern interpretation of a medieval millefleurs carpet assumes a surrealist and dreamy appearance.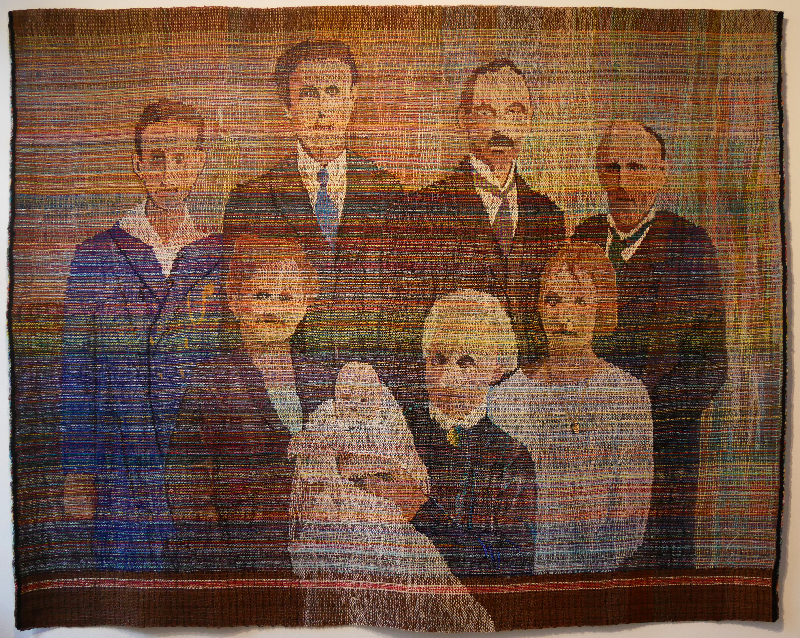 However, there is a whole range of further pieces I liked very much, such as "Christening" by Dorthe Herup from Norway. I knew her work, but this was the first time I saw it in the original. Her tapestry technique shows the warp and weft in wonderful colour combinations reminiscent of Pointillist paintings.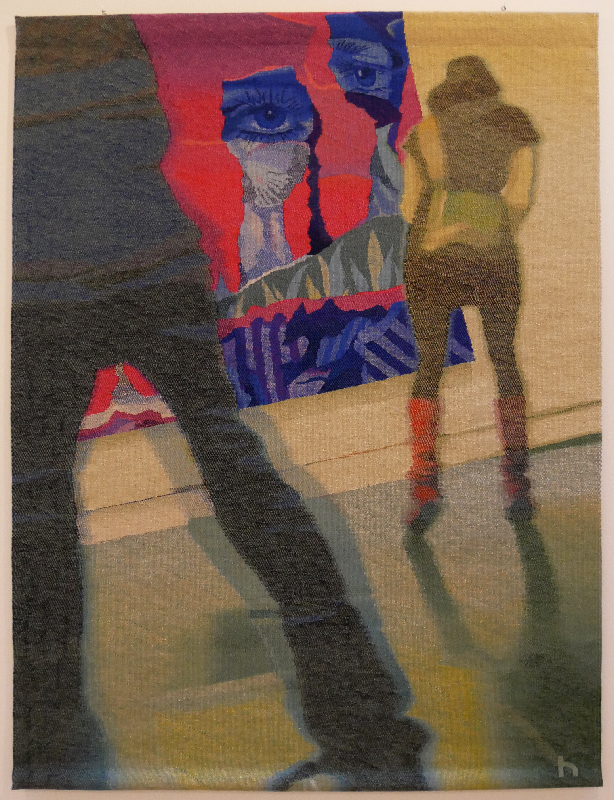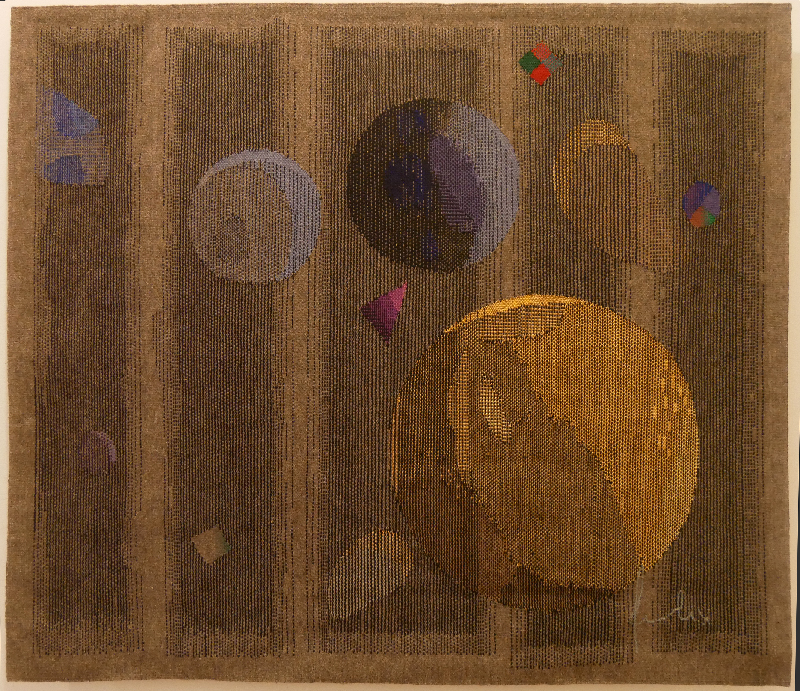 Other pieces woven in a modified tapestry technique – with regard to the warp – were those by Peter Horn/D (using a kind of twill weave with four colours in the weft) and Feliksas Jakubauskas/LT, who plays with dobby weaving techniques. Both are masters of their craft, and their works alone would have been worth making the journey.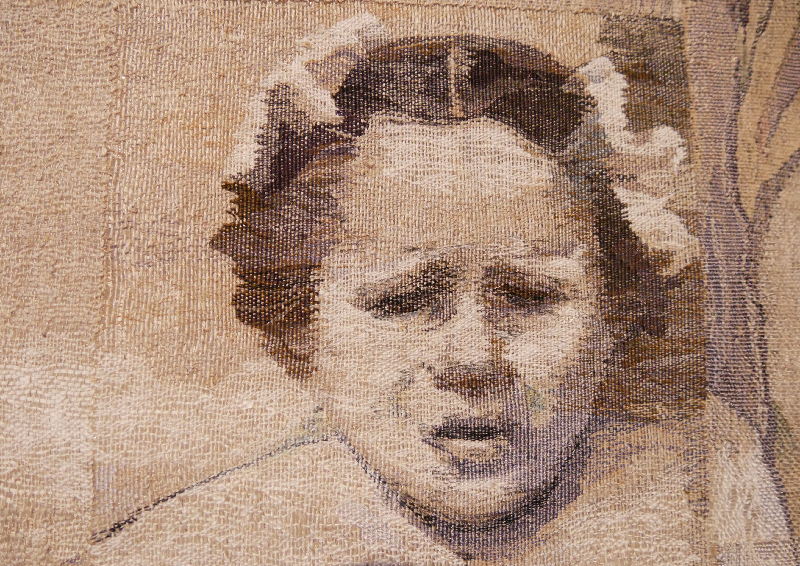 The weavings by Russian artist Irina Kolesnikova, who lives in Germany, also reveal the warp in places; they appear to be inspired by Coptic tapestries which, almost imperceptibly, change from tabby weave to covered warp tapestry weave. Her piece "Sunday Morning 1934" consists of many small sections which combine into a larger image. A close-up view of her work is very different from a distant view, an effect often seen in tapestry weaving. Every detail is just heavenly!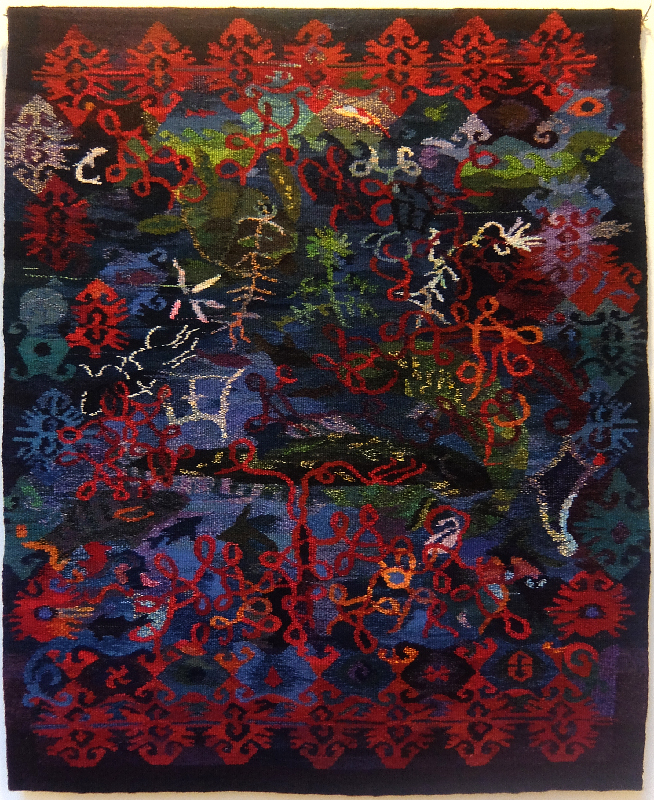 I was also impressed by the work of Ariadna Donner from Finland whose tapestries create an impression of being less of a picture and more of a piece of fabric. The weaving exhibited in the show, 'Lively and Silent' contains her typical lettering, this time in an abstract and archaic form surrounded by colours that conjure a landscape before one's inner eye.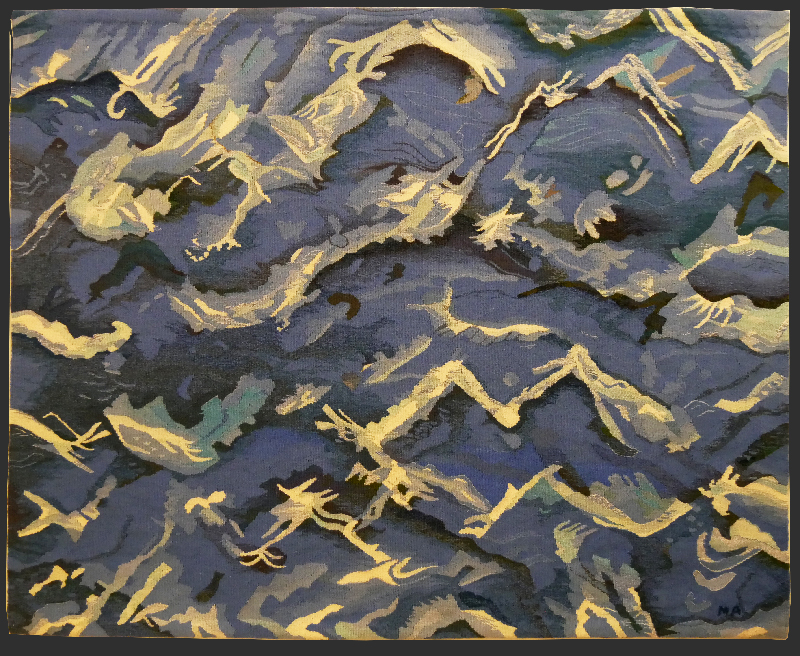 Margrethe Agger, the well-known Danish tapestry weaver also created a fabric rather than an image. The starting point of her piece, 'Looks Like Water' was a sketch painted in water colours and inspired by the wave designs of a Japanese kimono, as well as drawings of white-and-blue waves which she created while on a sea voyage.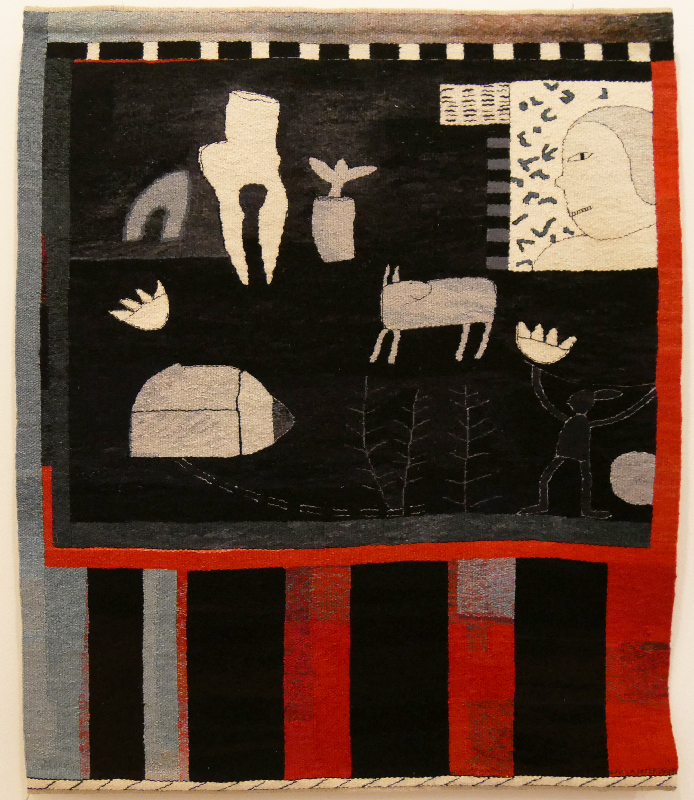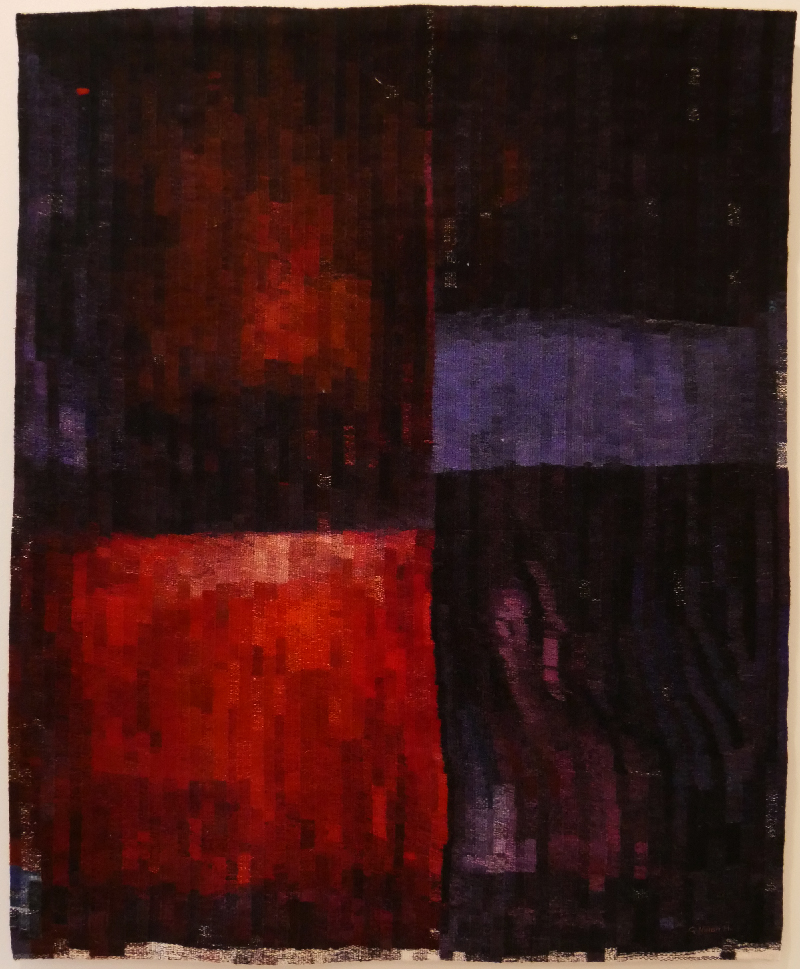 Among the pieces by Swedish weavers, I liked Gunilla Petersson's 'Landscape' which displayed her very own humorous and minimalist symbolism. I have admired her work for decades, but have rarely had the opportunity of viewing it in exhibitions. Wonderful flow of colour and light-and-dark effects characterise the piece by Gunilla Nillan Holmgreen whose work I had never seen before.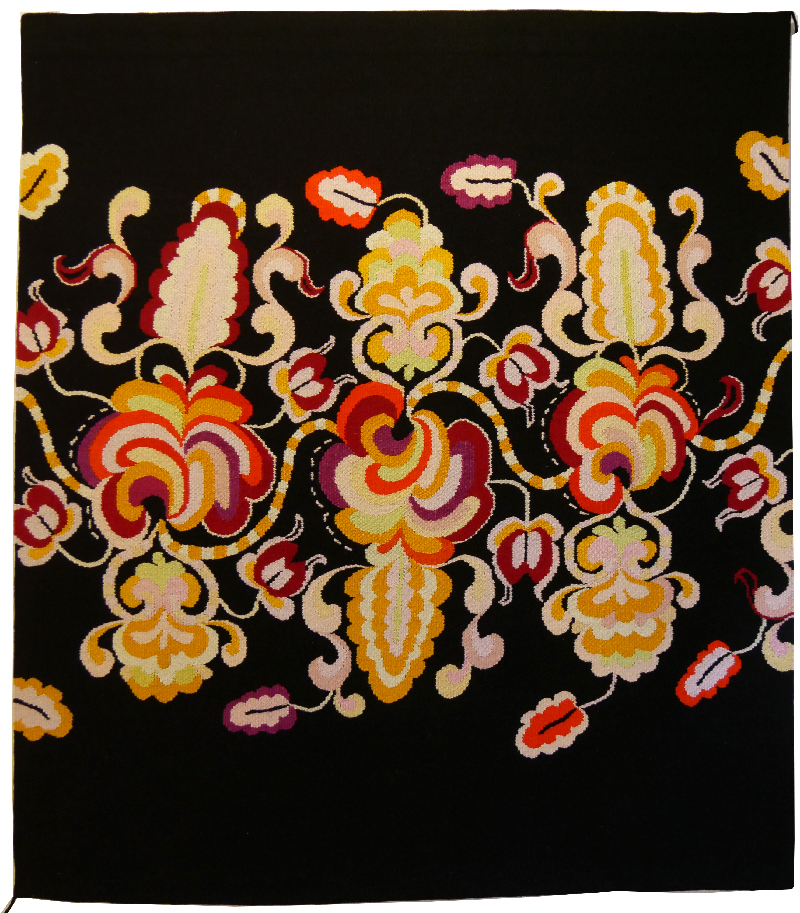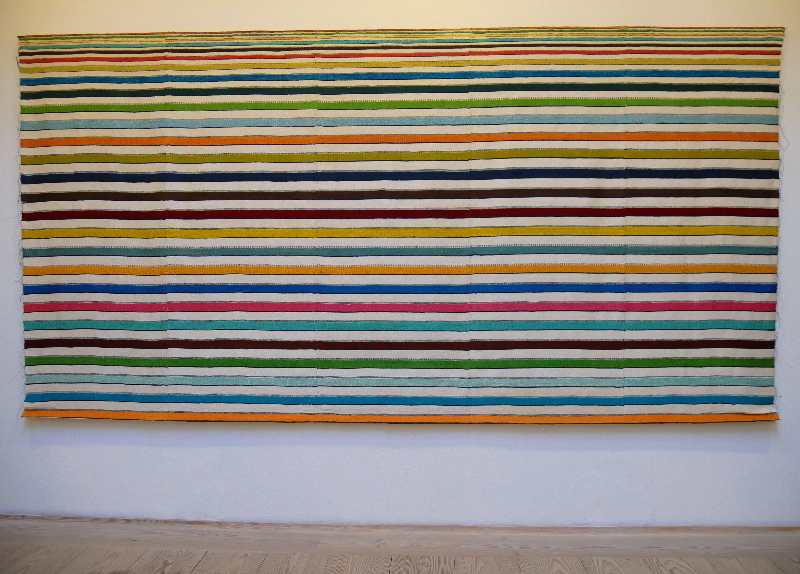 Brita Been from Norway surprised me by presenting an entirely new kind of work in which the embroidery motifs used in the folk art of Telemark were woven in bold colours on a black ground. Created as a commission for the administrative centre of Telemark county, she calls it 'Woven Rose-Embroidery'.
The exhibition gave pride of place to 'Passing Through', a very large piece by Solveig Aalberg from Norway woven in 5 sections on a single warp in a double weave technique, which allowed her to produce a double-layered colour scheme. The artist created her stripe design so as to achieve movement and depth, and her efforts have been remarkably successful.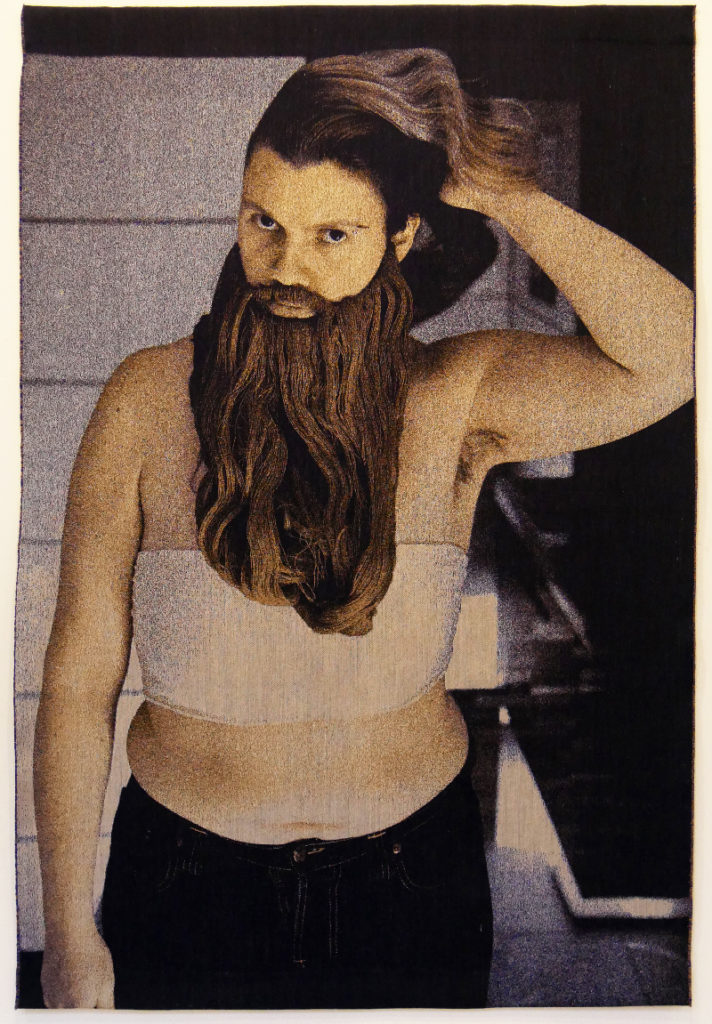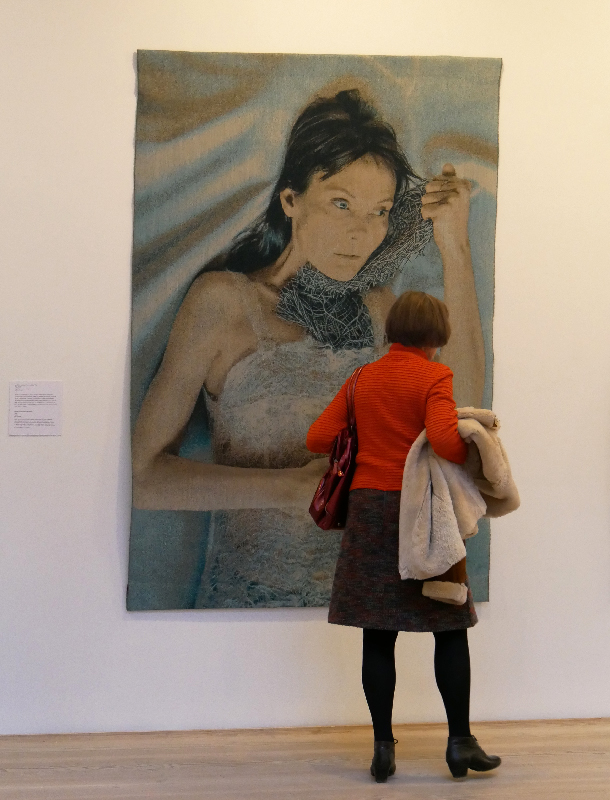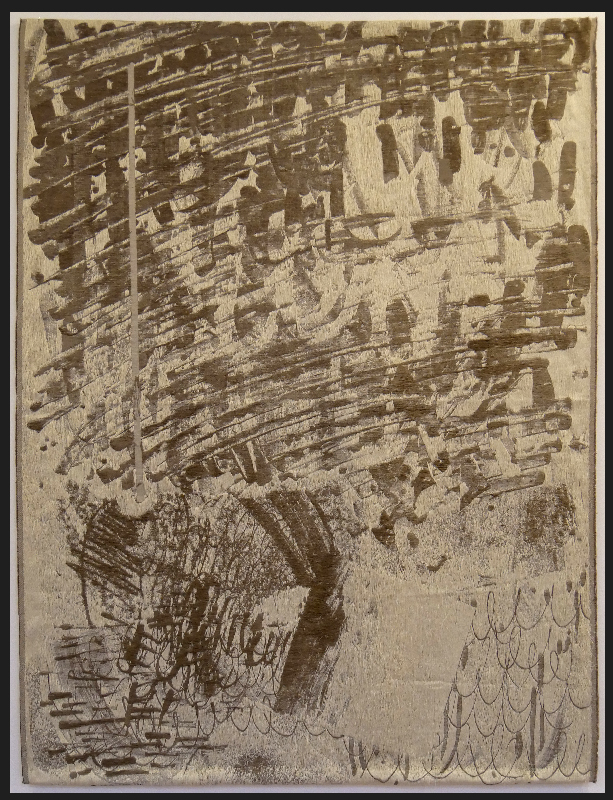 Among the jacquard weavings, I had already seen the pieces by Kristina Aas/LT and Karina Nøkleby Presttun/N at the Textile Biennial of Rijswijk/Netherlands. They greatly appealed to me once again because both artists expertly use the jacquard technique, and both present highly unusual and very personal motifs. Dorota Taraneks adopts a very different approach. She attempts to develop her own signature in the true sense of the word, making full use of the individual design options offered by the jacquard technique. I consider all three to be proper jacquard artists, unlike those who have their work produced by the Wielsbeke factory in Belgium, no matter how perfect their weavings may be!
I could mention further interesting pieces but it would be better to view them in person. Artapestry 5 will be on view in Silkeborg until 6th April 2018 and will then travel to Ronneby in Sweden, Daugavspils in Latvia and Arad in Romania. Exact dates can be found on the website: https://www.tapestry.dk