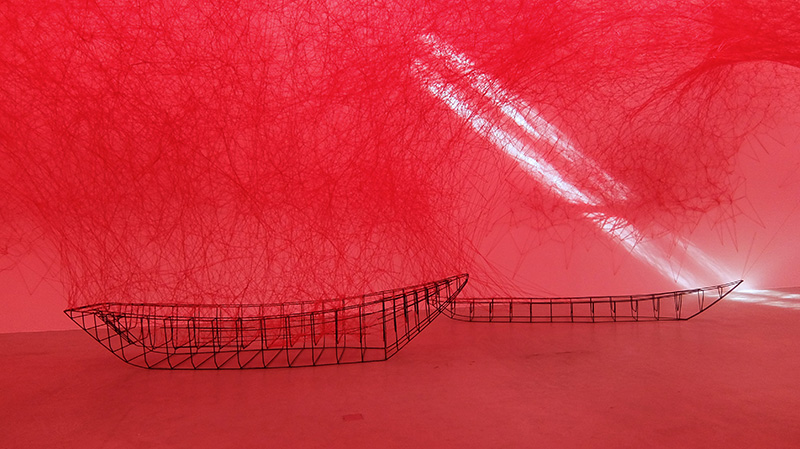 Exhibition from 17 September 2016 – 12 November 2016 at the gallery Blain/ Southern, Potsammer Street 77 – 78, Berlin.
The Japanese artist Chiharu Shiota, now very well know, represented her country at the Venice Biennial with the work "Key in the Hand"- A similar work now is on view in Berlin, a work that I consider very interesting from the point of view of textile art because here a painter is consistently using textile material to express feelings like homelessness, feelings of being lost but also the warmth of human connections. Those having the chance to visit Berlin should not miss this exhibition! Except for the main installation in the large gallery space there are further smaller works on show at the first floor. The gallery is originally based in London, their introduction to this exhibition follows here:

For her first exhibition with Blain|Southern, Chiharu Shiota has created a new site-specific monumental installation in the Berlin gallery, eight years after she last exhibited in her home city. Shiota is primarily known for her immersive installations, such as The Key in the Hand, with which she represented Japan at the Venice Biennale in 2015. Weaving intricate networks of yarn, the artist creates new visual planes as if she were painting in mid-air.
Uncertain Journey centres around one installation that dominates the gallery's vast central atrium. Seemingly growing from above, a dense web of red yarn reaches down towards the skeletal hulls of boats which rest on the gallery floor below. Speaking of the ideas she wanted to express with the boats Shiota says, 'Our lives are like a journey without a destination, even though we don't know where we are heading, we cannot stop. I wanted to emphasise this feeling of travelling with nowhere to go whilst alluding to a search for a sense of belonging.'
The colour of blood, the nexus of yarn is laden with symbolism, for the artist it echoes the interior of the body and the complex network of neural connections in the brain. The interwoven strands also express the connections between people, 'the lines of yarn speak for me about everything that connects people, about changing human relationships…the installation is like one vast network, with the boats carrying us through on a journey of uncertainty and wonder.'