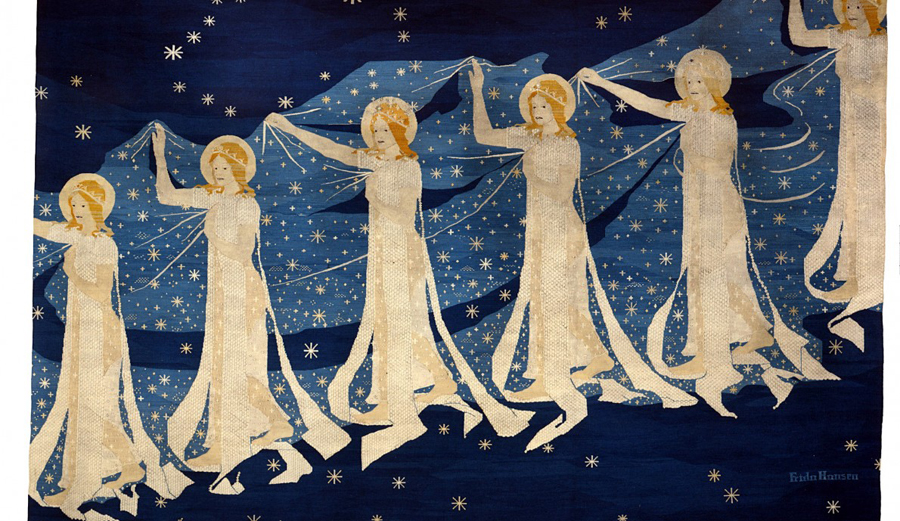 For the first time in 40 years, a large exhibition featuring the works of Frida Hansen (1855-1931) will be shown in Norway. This internationally-acclaimed artist from Stavanger, while active at the turn of the twentieth century, pioneered in the development of Norwegian textile art. Today she is considered one of Norway's foremost artists and representatives of Art Nouveau and Symbolism. Hansen made her international breakthrough in 1900, when she exhibited the tapestry Milky Way (1898) at the World's Fair in Paris and won a gold medal.
Her production consists of large tapestries with literary and floral motifs. For the floral works, she developed and patented a technique for creating partitions that enabled her to alternate between woven and unwoven 'transparent' passages. Many of Hansen's cartoons have been preserved for posterity. She was the first Norwegian artist to draw her own full-scale cartoons and to weave the images herself. Early in her career she collaborated with the Husflidsforening (an association promoting traditional crafts), both drawing patterns and teaching weaving techniques. Disagreements over pattern copyrights, however, incited her to start her own business. From 1897 to 1906 she ran Det norske Billedvæveri (the Norwegian Pictorial Tapestry Studio) in Kristiania (today's Oslo). Also during that period, in 1889, she founded the first weaving studio in Norway to have its own plant-dye workshop.
Hansen's colour palette and plant-dyeing techniques were rooted in what she had learned in her childhood and formative years in Stavanger, but also from weavers in the districts of Jæren and Ryfylke. But she was also inspired by European currents such as Art Nouveau and Symbolism. Her compatriots, therefore, rather than perceiving her tapestries to express anything typically Norwegian, saw them as more international in nature. During the years immediately before and after 1900, Norwegian institutions (e.g., museums) prioritized purchases that could help as much as possible to build national identity. Hansen consequently sold her works primarily to international museums and buyers.
Despite the recognition Hansen's works received during her own lifetime, they were largely forgotten by the next generation. Not until 1973, with the first comprehensive exhibition of her works at the Museum of Decorative Arts and Design in Oslo, was she presented as a central artist and a pioneer, both of which she truly was. Norwegians today have a renewed interest in textile art, and Frida Hansen's floral motifs and plant-dyeing techniques are once again gaining relevance in light of the current ecological perspective.
With many works loaned from Norwegian and international collections, the exhibition aims to show the breadth of Frida Hansen's unique artistic practice.
The exhibition is produced by Stavanger Art Museum in collaboration with Anniken Thue and Janne Leithe.
Text: Inger M. Lund Gudmundson, curator for Stavanger Art Museum