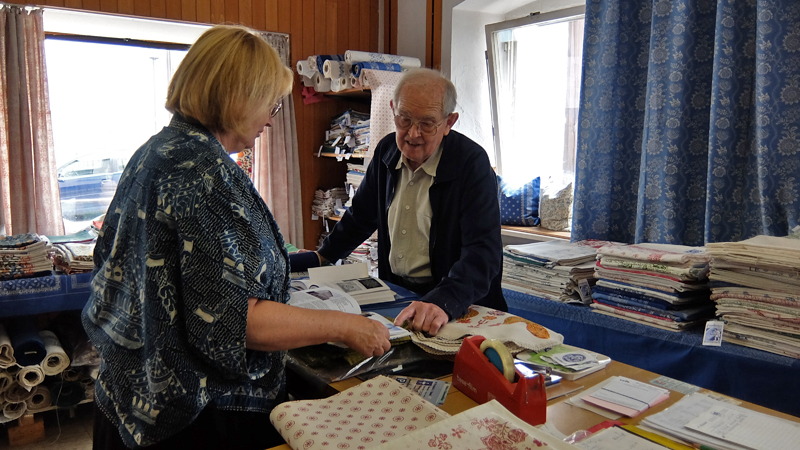 My desire to visit the Fromholzer hand printing workshop in Ruhmannsfelden sprang from a conversation with Maria Wronska-Friend, the author of our last magazine issue on Blaudruck – paste resist-printing on indigo-dyed cloth – in which she asked if there was any other Blaudruck workshop she should visit for her book on the subject. Mr Fromholzer came to mind because he was one of the few German Blaudruck printers – described in TF 4/2014 – who complimented our magazine issue on the subject and even ordered additional copies. In a programme broadcast on Bavarian television I heard him say that it would probably take another lifetime to research everything there is to know about Blaudruck. It has to be said that so far he has made good use of his own life span; he began working in the textile printing workshop at the age of eleven, starting out as his father's apprentice and later taking on the running of the family business.
Whereas his father worked with 5 indigo vats, Josef Fromholzer converted the business to small-scale industrial dyeing. Eventually he completed a course at the Reutlingen engineering college and later embarked on a number of internships with the Hoechst and Bayer companies in North Rhine-Westphalia and Ciba Geigy in Basel.
Since then, one of the four large workshop halls has housed an imposing washing and dyeing machine that takes up the whole room. Having been drafted to fight in the war as a teenager (aged 16!), followed by internment as a prisoner of war in England, Mr Fromholzer was only able to begin his course in dyeing engineering in his twenties, but this made him the keenest and most successful student in his class. He continues to use his notes from those days, which he now keeps in his archive. Like any scientist, he takes pleasure in sharing his expertise with anyone seriously interested in hand printing. With some pride he told us of a professional development course he attended in recent years (aged well over 80 at the time), where students were told that only novel technical textiles and niche products had a chance of making it in the market. The Fromholzer textile printing workshop fills such a niche. Its client base is highly diverse, ranging from local hotels and pubs through tradition-conscious residents and holidaymakers to Munich's top designers. During our visit, the workshop was printing the "Tölz Rose" design on a genuine hand-woven linen fabric for one such designer, who works for a large Munich fashion house and planned to use the fabric for making bags. The design dates back to the Wallach brothers who first established a traditional costume shop in 1900 and went on to found the "Wallach-Werkstätte AG" (Wallach Workshop plc) in 19191.) Their retail outlet, the "House of Folk Art", owned a so-called model collection – a small museum of folk art. Being Jewish, the Wallach brothers were persecuted by the Nazis; one of them was murdered, but the other two managed to escape to America. Their business continued to operate under different ownership in an "Aryanised" form.
We were greatly surprised to encounter a comprehensive and well-maintained collection of screens for the famous multi-coloured Wallach brothers screen prints. Josef Fromholzer came to own the designs in 2004 when the Munich "House of Folk Art" closed. Even before World War I, most of the Wallach printed fabrics were produced at the Fromholzer printing workshop, and as a result, the two families developed a friendship. The designs can still be ordered as regular stock items and are even available in a hand-woven linen version; there are two craftsmen in the region who grow their own flax in order to spin and weave it.
Work on the screen printing tables, each measuring over 30 metres in length, is so well organised that the journeyman is able to print 30 metres of the multi-coloured "Tölz Rose" design in an afternoon. A large hall containing two long printing tables is dedicated to screen printing. A further building houses the block printing hall. It also contains the archive comprising the Fromholzer family's 3000 printing blocks, including some of the oldest in Germany and some created by Alois Fromholzer, Josef's brother who died in 2008. Dating back to the mid 17th century (the first ancestor was mentioned in Vilshofen in 1648), the Fromholzers' Blaudruck printing business is almost as old as the Wittram family's workshop dated 1638. The Fromholzers changed location in 1821, buying a Blaudruck printing company in Ruhmannsfelden and converting it into their workshop.
Mr Fromholzer proved to be a veritable encyclopaedia and was able to shed light on a number of facts of which Maria Wronska-Friend had been unaware. In the old days, as Mr Fromholzer recounted, almost every village in the region had its own Blaudruck workshop. With the advent of industrial textile printing in the post-war period, most Blaudruck workshops changed into dry cleaning businesses in order to survive. The Fromholzer textile printing workshop was the only company of its kind to remain. Pleased that we showed such an interest in his expertise, Mr Fromholzer took great delight in giving us detailed explanations of many small company secrets of the kind that other Blaudruck printers like to keep to themselves. Another reason our visit was so interesting is that he still mixes his own dyes, following all the guidelines on light fastness and ecology!
When saying goodbye he asked Maria Wronska-Friend when she would finish her book. On hearing that it would take another three years to complete he said: "I'll be 91 years old by then and hope I will live to see it".
Anyone interested in hand-printed textiles should combine a visit to the Fromholzer textile printing workshop with a short break in the region, which represents Bavaria at its best. Unfortunately, the German railway provides no information on the small regional train that runs from Deggendorf to Gotteszell, some 4 km from Ruhmannsfelden.
The Fromholzer shop and workshop are located in Marktstrasse 1, 94239 Ruhmannsfelden; telephone +49 9929/ 1098; website:http://www.textilhanddruck-fromholzer-wallach.de/index.html
The Fromholzer company's designs can be viewed in several museums, such as the Bauernhausmuseum Amerang (Amerang Farmhouse Museum) and the Augsburg textile museum.
1) The history of the Wallach brothers will be added at the earliest opportunity. The link below provides preliminary information on an exhibition entitled , "Dirndl, Truhen, Edelweiß: Die Volkskunst der Brüder Wallach (Dirndl Dresses, Storage Chests and Edelweiss: The Wallach Brothers' Folk Art)"
The show was on display at the Jewish Museum Munich from 27th June – 30th December 2007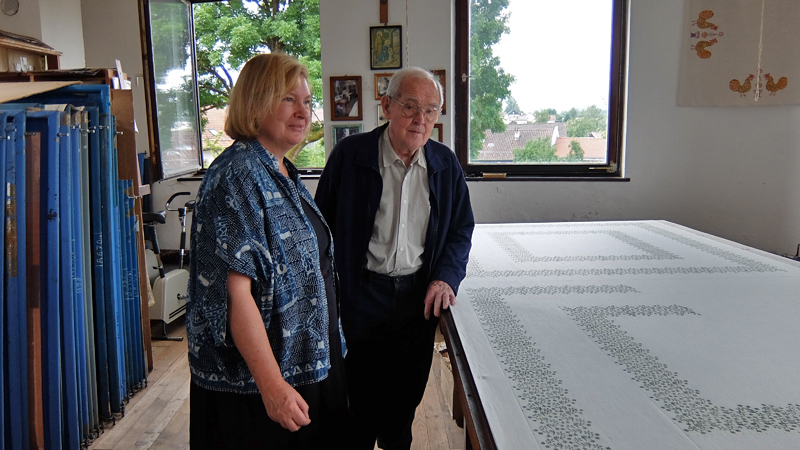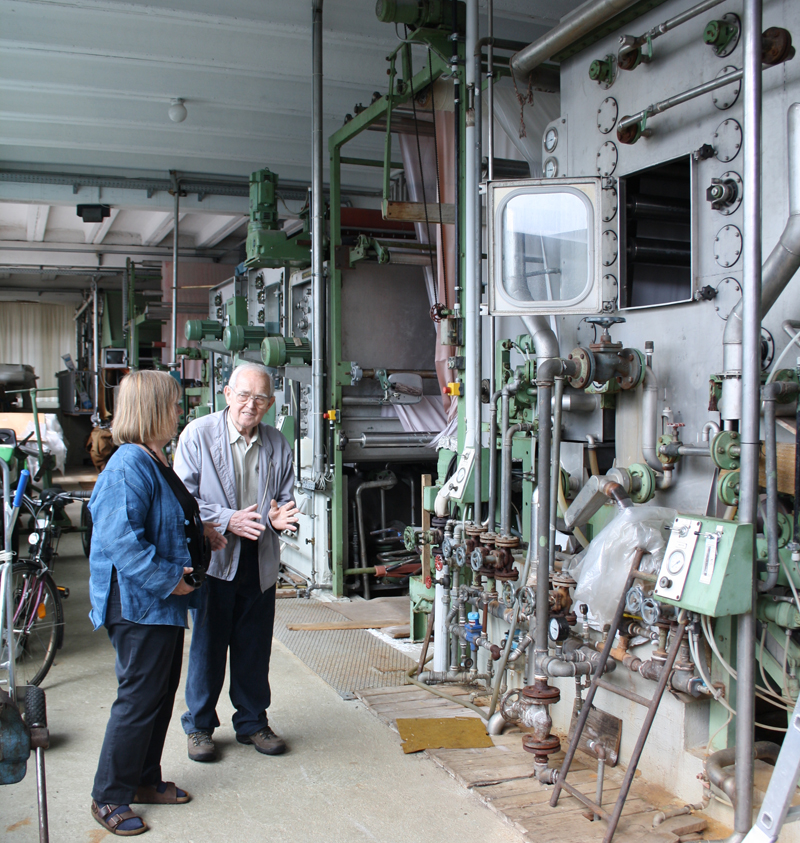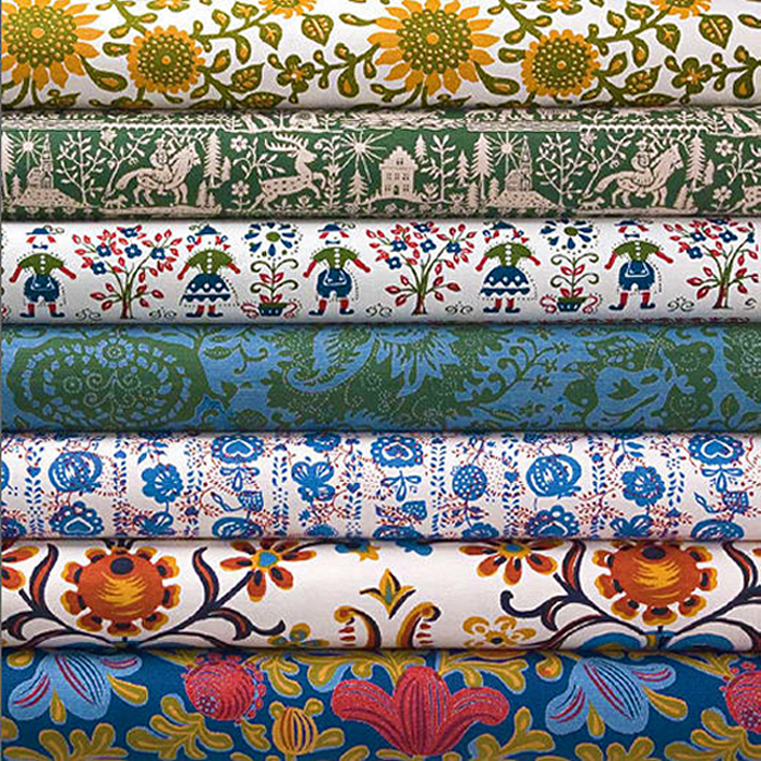 [smoothslider id='8′]