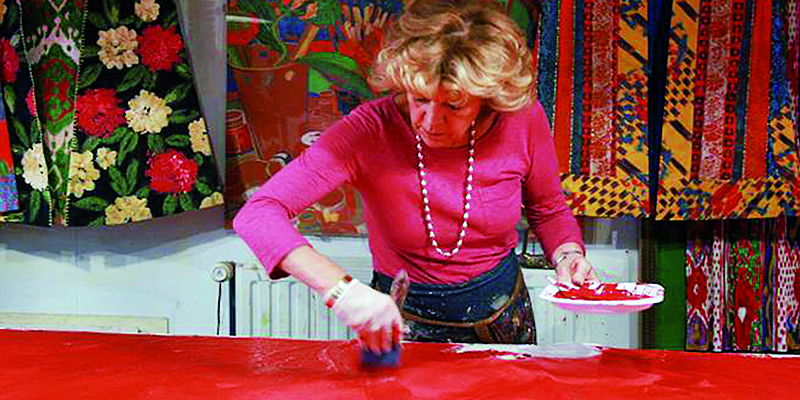 An exhibition from 8 March to 15 June,2014 at the Breda´s Museum, Chassépark Breda, Parade 12, NL 4811 DZ Breda, the Netherlands. The painter and designer Isabelle de Borchgrave, who is creating paper costumes since 1994, has brought to life four major collections:"Papiers à la Mode (Paper Fashion)", "Mariano Fortuny", "I medici" and finally "Ballets Russes".
The current exhibition in the Netherlands is highly recommemnded. The artist has long been inspired by Benozzo Gozzoli's frescoes in the Medici chapel of the Palace, which she visited several times, as well as the art objects on display in the Uffizi, Palazzo Vecchio and Palazzo Pitti.
Employing trompe l'oeil media, Isabelle de Borchgrave invites museum visitors on a tour of the Renaissance, its aesthetics and history. She has captured the 15th century by re-creating period costumes – their perfection in silk and velour, their embroideries and laces – in paper! The outfits on display were produced over the course of several years, each created within a time frame of between one and two and a half months, with an admirable mastery of the material and a magic that falls nothing short of the fabric originals.
An interesting note: Isabelle de Borchgrave opens her Brussels atelier for visitors twice a month, every first and third Monday. Detailed information can be found on her website: www.isabelledeborchgrave.com/en_atelier.php. People who have visited her atelier were very enthusiastic!
In Textile Forum magazine we reviewed her catalogue "Papier à la Mode" in TF 4/2000, page 40; her book "Paper Illusions" in TF 1/2009, page 42, her exhibition "I Medici – A Renaissance in Paper" in the Musée de Cinquantenaire, Brussels (from 20 Nov.2009 to 29 Aug.2010 ) in TF 2/2010, page 14 and the exhibition "Pulp Fashion: The Art of Isabelle de Borchgrave" at the Fine arts Museum of San Francisco (from 5 feb. to 12 June, 20119 in TF 2/2011, page 7.
[smoothslider id='5′]