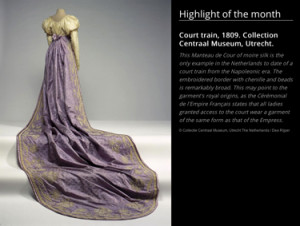 Europeana.eu is an internet portal acting as an interface to millions of books, paintings,films, museum objects and archival records that have been digitized throughout Europe. More than 2.000 institution across Europe Have contributed to Europeana. In its Strategic Plan for 2011 – 2015 Europeana is outlining four tracks:
Aggregate European cultural and scientific heritage content
Facilitate knowledge transfer, innovation and advocacy
Distribute the heritage to users wherever they are
Engage new ways for users to participate in their cultural and scientific heritage
The Europeana Foundation is the governing body and its registered office is within the Koninklijke Bibliotheek in Den Haag/NL.
The European Fashion Portal became available to the public on 13 December 2013 for the first time. It allows everyone to discover hundreds of thousands of fashion items from 19 leading European fashion and costume institutions in one single website with a blog. Users are asked to help improve this portal by sending their feedback! The Europeana Fashion Project has started in March 2012 and will end In February 2015. Already now we would like to highly recommend this brilliant portal to our readers.