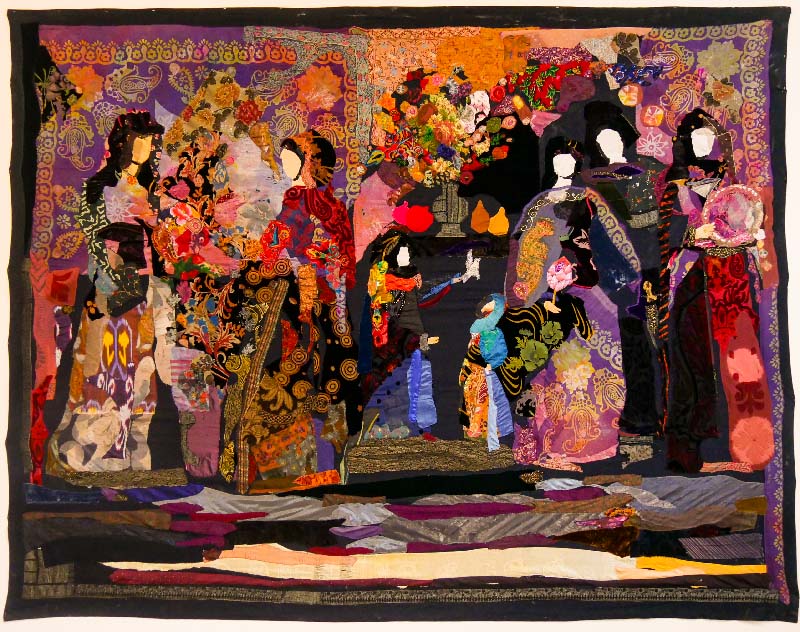 Textile artist Nino Kipshidze had an exhibition from 11th April till 15 Mai 2023 at the Baia Gallery in Tbilisi, Georgia.  Because of the pandemic, I have been unable to see her recent overview exhibition at the wonderful Azerbaijan National Carpet Museum in 2021/ 2022, where especially her large format works did get the space they deserved.
Nino Kipshidze, born 1958 in New York but living most of her life in Tbilisi. She graduated the Art History department of the Tbilisi State academy of Fine arts.  Thanks to the never-ending activities of the Georgian Textile Group that was founded by her and her colleagues, many Georgian artworks did get the attention they deserve. This is very important especially for textiles that are so often forgotten. When some years ago I was visiting the remote region of the Tusheti mountains with her, we discovered by chance some kilims  in two private homes (the owners were more than happy to talk about them) and we visited one weaver working on her loom, who was advised and supported by Nino regarding her use of natural colors. More recently she has been collecting images of local embroiderers, making heart-warming works of art.
In her own work Nino Kipshidze has reached a state of self-evidence and simplicity that only comes after long years of working in a special material & technique, in her case appliqué with colorful fabrics and threads. I have known her for over 30 years now and I remember how impressed I was with the life-size Georgian characters she than created. Nowadays she has reached a lightness and ease of creation that makes one forget how complicated it can be to "paint" a simple still-life with fabrics and thread. Her strong point are her mastery of colors and moods in her landscapes, still-lives and narrative stories about people, often biblical scenes. The colors are from very bright to warm dark tones in velvet, her moods are heart-warming and poetic with a good touch of nostalgia.
Nino Kipshidze has exhibited in solo exhibitions in the US, Kyrgyzstan, Azerbaijan and Georgia. She took part in group exhibitions in the US, Georgia, Israel and Poland (at the Lodz Triennial). Instagram nino_kipshidze