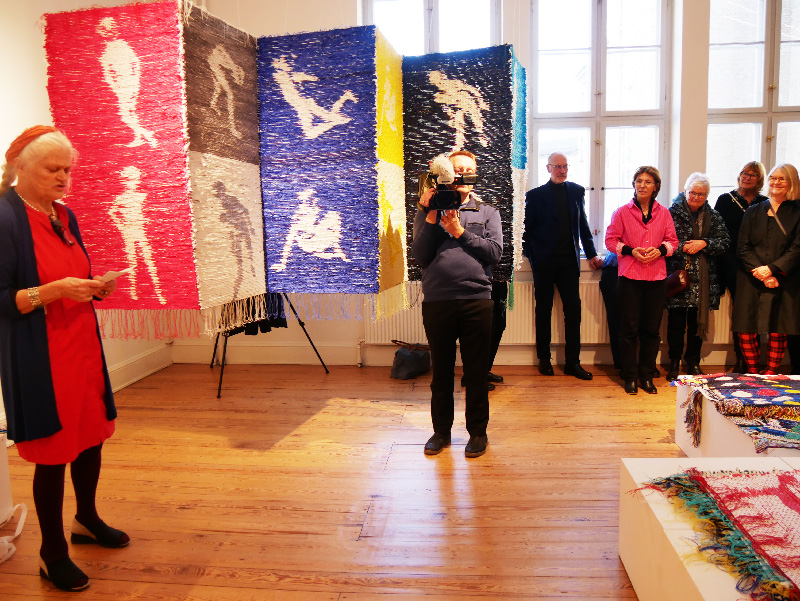 World Wide Weaving – exhibition at Nicolai Kunst & Design, Kolding/DK from 5th March – 10th of April, 2022
This exhibition is showing the works of 6 Jacquard weavers from 5 countries and 4 continents: Wen-Ying Huang (Taiwan), Lia Cook (California, USA), Monique van Nieuwland (Australia), Belinda Rose (Scotland, UK), Grethe Sørensen and Lise FrøLund (both from Denmark). The choice of participants was made by Lise FrøLund, who had asked some of the Jacquard weavers she knew and admired. She asked them not to show large works but what they can do on the TC1 and TC2 loom ( invented by Vibeke Vestby from Norway) which other looms cannot. Why have these weavers chosen this loom, and why have they stayed on it? It is the varied intentions, try-outs, working processes and materials, which are shown in this exhibition.
What is so special about this loom invented by a weaving professor from Oslo?
A little bit of history, in 1982, the year when Textile Forum magazine started, the first Jacquard project on an traditional Jacquard loom, took place at Rhode Island School of Design, published in American Craft February/March 1983. We wrote about this experiment in TF 2/83.
In Norway, weaving professor Vibeke Vestby developed a computer program for weavers as early as 1984. This program enabled students to make interesting patterns with more than the available 16 to 20 shafts or the very complicated jacquard heads. That is why Vibeke started to think about a direct transfer from the computer to a loom where every single thread could be moved. With the help of a substantial grant from her government in 1989 (to assist women in the countryside to connect directly to the industry) she developed her first TC1 Jacquard loom. In 1994 she founded her company "Digital Weaving Norway" in cooperation with "Tronrud Engineering".
Textile Forum published her inventions since 1990 and in 1991 she was present at the "Jacquard Project Müller Zell", a project organized by Textile Forum with the participation of Lia Cook/USA, Sheila O´Hara/USA, Cynthia Schira/USA, Patricia Kinsella/Italy and Hanns Herpich/Germany. The artists had the whole weaving mill with technical staff for one whole week. One observer said "I have never seen anything as close to the Bauhaus ideas as this project" and I guess that he was right!
Ever since, the digital revolution took place for the field of weaving, thanks to this simple-looking TC1 hand-jaquard loom. It is used by industry designers, artists and hand-weavers alike and has made weaving available to a larger group of creators, as one does not need to be a weaver to work with this loom.
Already in his book "Textile Art" of 1985, Michel Thomas wrote that "textile art is the ultimate digital art (textile art est le l´art digitale par excellence)", giving many examples of textile artists using the computer!
The artists in this exhibition
The most well-known of them certainly is Lia Cook, educated in weaving in Sweden, using old European Jacquard looms already before the TC1 was invented. She is a great artist and a master of the Jacquard technique.  All European Jacquard weavers are looking at her with admiration. In Kolding she showed samples of her pixelation process, from close by they look very diffuse but from far you see the faces appear clearly!
Also rather well-known the Danish Grethe Sørensen, who has had large exhibitions, a gallery representing her and many art commissions for public buildings. Vibeke Vestby wrote about her in TF 2/2012 "Grethe Sørensen is a designer, an artist and an artisan, moving between textile art for walls and spaces and textiles with a practical function for furniture or interior design… Grethe demonstrates the same dedication no matter what end product she creates…. Grethe even went as far as developing her own weave structures, her random weaves " In the exhibition are several of her newer commissions shown as samples.
One weaver who certainly will get more international attention in the future, is the organizer Lise FrøLund, the most daring of all when it comes to experimentation and finding out what this loom an accomplish. One of her experiments was an 6- fold warp of very thick material to create a textile book, with another picture on every "page", all woven together in one piece! A pile of samples is on show in the exhibition, proving that no material is unsuitable for this loom, in the same time showing Lise´s never-ending inventiveness!
Belinda Rose from Scotland is- in my opinion- the weaver with the most "textile" perfection in her weaves. She looks more than others after the drape of a fabric in combination with the materials used, so that her works are not only works of art but are also perfect to wear. She showed her experimental woolen scarves with double, triple and quadruple weaves, that would unfold into larger pieces when taken from the loom together with new samples of very old weaving structures.
Wen-Ying Huang fromTaiwan, well-known for her three-dimensional sculptures in Jacquard, showed some impressive works with glow-in-the-dark yarns inspired by nature together with a funny three-dimensional object, a perfect ladies bag showing a depiction of high-heels!
Monique van Nieuwland from Australia learned to weave in the Netherlands. After migrating to Australia in 1982, Monique studied Visual Arts- Textiles at the Australian National University School of Art. Textiles at the Australian National University School of Art and has completed her masters degree. She was present at the 15th International Triennial of Tapestry in Lodz, Poland.
In Kolding she showed some fine examples of her experiments with the TC1, in black and white and natural color but also a beautiful study in color.