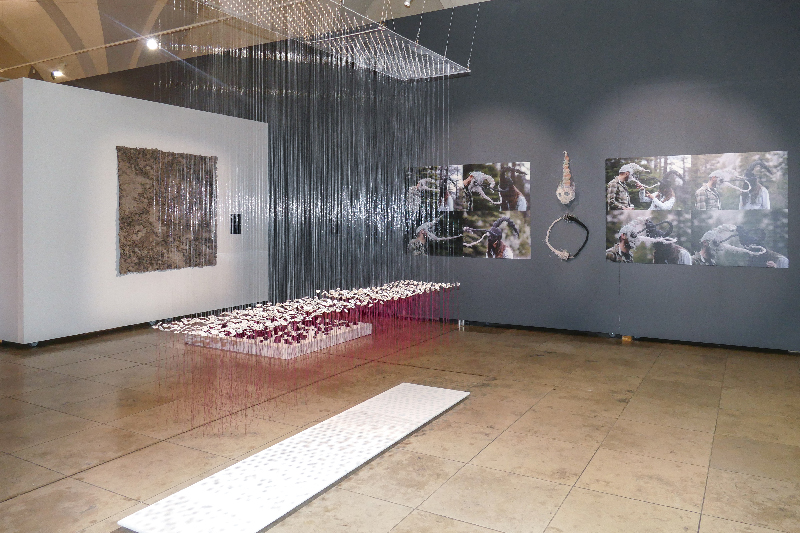 THE 7th RIGA INTERNATIONAL TEXTILE AND FIBRE ART TRIENNIAL
Tradition & Innovation.
Theme: QUO VADIS?
Organizer: the Latvian National Museum of Art/ the Museum of Decorative Arts and
Design, Riga, Latvia.
The place of venue: Museum of Decorative Arts and Design (10 Skarņu St., Riga) and
The Art Museum RIGA BOURSE (the Dom Square 6, Riga).
Time of event: June 15 – September 17, 2023
THEME AND CONCEPT
The 7th Riga International Triennial of Textile and Fiber Art Tradition&Innovation with the theme QUO VADIS? (2023) is planned under difficult circumstances. Not only because of the pandemic and the current political situation in the world, but also because the exhibition hall ARSENĀLS, which had hosted the six previous shows at the moment is under the process of renovation.
Despite this, the organizers of the Triennial aim to continue the tradition of these triennials (started in 2001) to ensure the continuity of this internationally acclaimed event, reflecting current and innovative features in textile and fiber art in Europe and the world important for the development of this art field. We hope that there will be favorable conditions for the presence of the artists themselves.
Unlike previous triennials, the 2023 triennial will be organized in 2 museums: the Museum of Decorative Arts and Design and the Art Museum RIGA BOURSE from 15 June to 17 September. In parallel with the works of textile and fiber art, the triennial will include video textiles. A 2-day scientific conference is planned within the framework of the triennial for specialists and artists to discuss current issues in the field. In the context of the triennial, several satellite exhibitions and creative workshops will be organized and the main prize winners will be awarded. We plan to invite 2 guest artists to exhibit their works – one coming from Latvia, the other from abroad.
Traditionally, each triennial has its own motto.
The motto of the 7th Riga Triennial is a Latin phrase QUO VADIS? (Where are you going?). Originated in a religious context and used in both literature and cinema, today the phrase seems relevant to what is happening in the world and society, including art and culture. The theme is multifareous and philosophically capacious therefore we expect artists to discuss it from different points of view:
CONVERSATION ABOUT THE DEVELOPMENT OF ART TODAY AND THE FUTURE PERSPECTIVES OF THIS SPECIFIC ART DISCIPLINE;
DISCUSSION ON CURRENT GLOBAL GEOPOLITICAL AND SOCIAL ISSUES;
REFLECTION OF YOUR INNER-SELF THROUGH TIME AND ART.
For more information visit https://www.lnmm.lv/en/museum-of-decorative-arts-and-design/news/7th-riga-international-triennial-quo-vadis-38– go to – The Museum of Decorative Arts and Design – then to – News – then to – 7th Riga International Triennial QUO VADIS?
Find here the regulations, the entry form and the guidelines for cv and concept
Press release