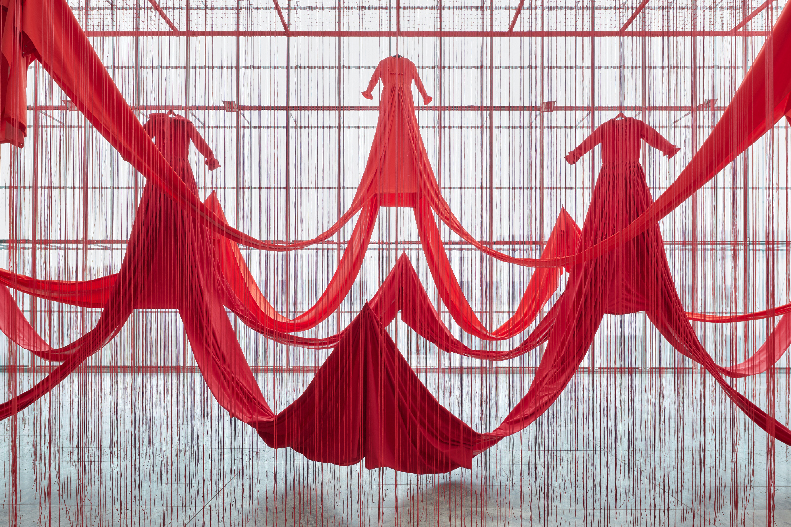 Chiharu Shiota exhibition in the Leipzig  Museum of Fine Arts on view until March 27, 2022
The MdbK presents the monumental installation "Internal Line" by Chiharu Shiota. The Japanese artist transforms the large terrace on the museum's second floor into a red world of fabric and light.
Chiharu Shiota is known for her expansive works that have the appearance of gigantic fabrics. In them, she combines painting and drawing with the dimensions of the spatial. She creates works that are, as it were, hatched into the space. Often thousands of individual threads – or better: lines – condense into organic structures. These can weave around shoes, boats, clothes, keys or musical instruments, which become carriers of meaning for the nature of human beings.
Shiota's works usually touch on central themes of human existence. Her primary colours are red, black and white, to which she attaches cosmological significance. Among other things, her "pictures" are about making memory and time visible, about human obsessions, about the weight of origin and tradition or about the cycle-like organisation of nature. In the process, Shiota also tells of her own experiences and feelings.
Inside the installation are oversized clothes that seem to rise from the threads like dream images. Clothes do not only determine identity, they are also protective coverings. In Chiharu Shiota's work, however, the oversized textiles are empty and thus become metaphors for the absence of physical bodies. The covers freeze into a surreal memory of real presence and analogue existence. Surfaces and structures are permeable and fragile, they block out the view and the touch, and, at the same time, they are protection and prison. However, "Internal Line" does not only revolve around the physical as the absent. Rather, the installation allows for ambivalent associations. It also refers to an attitude that says that certain people are connected to each other by invisible threads, and that feelings and thoughts can, as it were, touch each other through internal lines. People are capable of producing bonds by giving each other closeness. But what would such bonds look like if we could actually look at them? Shiota creates a strong image of a network of thoughts, of togetherness and of closeness. The red colour tone refers to the flow of energy that begins between individuals when they are connected and perhaps even produce shared memories.
The Berlin-based artist Chiharu Shiota played as host to the Japanese Pavilion at the Venice Biennale in 2015. Her works are exhibited internationally, including at MoMA PS 1, the Mori Art Museum in Tokyo and the ZKM Karlsruhe. Shiota's work includes installations as well as sculptures, video performances and stage designs for theatre and opera productions. "Internal Line" was exhibited at Japan House in São Paulo in 2019/2020. The installation was specially adapted by the artist for the MdbK and can now be seen in Europe for the first time.
With "Internal Line", the MdbK is opening a new series in which important positions of international, sometimes non-European contemporary art are presented in Leipzig in regular rotation. One focus will be on sculptural impulses that are staged on the museum's terraces and can thus confront the local collection.
Press release