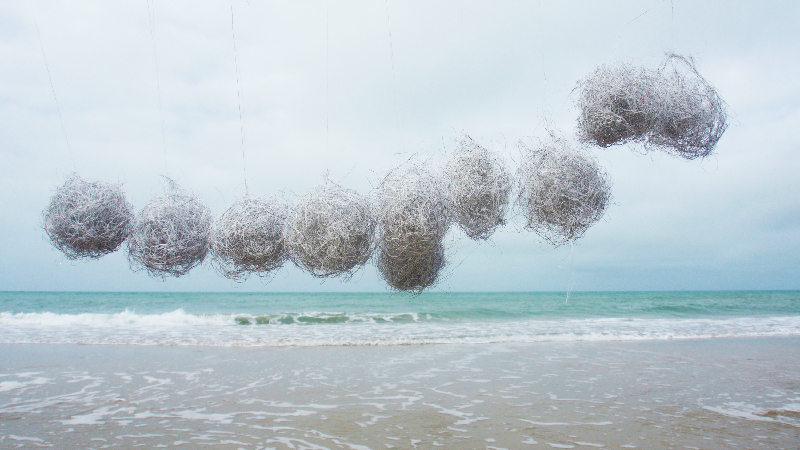 Veronika Moos,"Signatures in Space" exhibition from 2. to 29. August 2021 at Schloss Landestrost, Schlossstrasse 1, 31535 Neustadt, Germany
Veronika Moos is a sculptor with a great love for textiles, whereby it is not the material that is in the foreground, but rather the procedure as a gesture of creating space '. She likes to refer to the architect Gottfried Semper (1803-1879), who saw textiles as the beginning of all architecture and spatial formation. In her work with textiles, the artist is very strong and at the same time sensitive in her approach; she is interested in the fleeting, the vulnerable but also the resistant aspects of textiles. Textile is never just a material, the way it is put together is always decisive, and this occupies a central place in Veronika Moos' art. Her work radiates self-evidence , and looks wonderfully effortless.
Part of her work consists of Land Art, which she creates alone or with a group and the results are as light as feathers, a material that is used again and again. She speaks of realized utopias, which for her are brief, fleeting moments of happiness in which collaboration with others or with the environment (wind, light, currents) has taken on an almost magical form.
During her art studies with Professor Elfi Knoche-Wendel, a well-known textile artist, she was lucky enough to be able to learn many different textile techniques. She uses these often time-consuming techniques as a change of context in her work, so that a change of perspective and perhaps also a detachment of our subjectivity is possible, for example from the present to the past (Middle Ages) or from our culture to that of another country (Japan) . The artist is also interested in another topic, namely that of social sculpture according to Joseph Beuys, i.e. the assumption that art is created through joint action. In this context, the flax plant plays an important role for her: The The Blue Flower 'project exemplifies what she understands by a social sculpture.
This is only the introduction of the complete text that is available in German. Also the captions are in German! The complete article will be published in German by Textilkunst in their Autumn 2021 Issue!