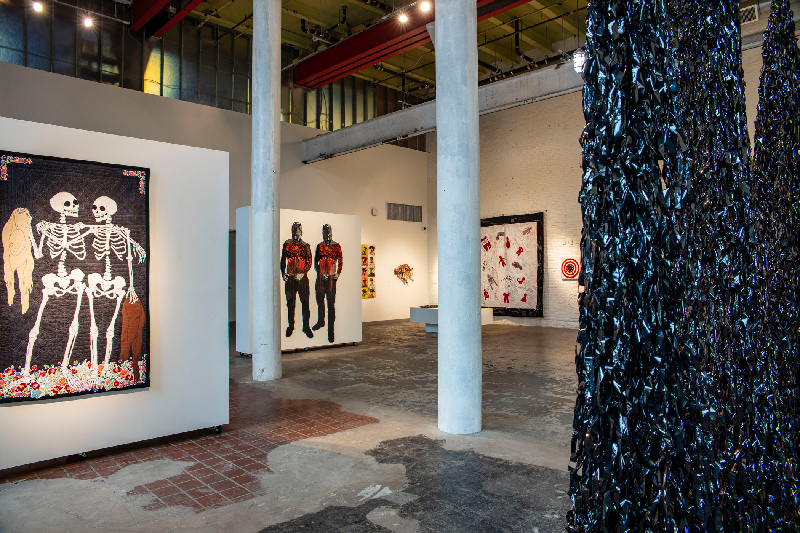 Fiberart International 2022
This international competition is organized since 1976 by the Fiberart Guild of Pittsburgh Inc., a member supported fiber art organization. I had started to include this competition in my blog (https://www.textile-forum-blog.org/2017/09/fiberart-international-2019/) when the focus came on "exploring unexpected relationships between fiber and other creative disciplines".
Now there is even more reason for artists from Europe to be interested in this competition as the organizers have chosen a foreign jury (for the first time as far as I know):
– Chiachio & Giannone, artists from Argentina working with hand embroidery, well-known by their worldwide participation in art exhibitions;
-Jessica Hemmings,  Professor of Craft & Vice-Prefect of Research at HDK-Valand, University of Gothenburg, Sweden;
-Nnenna Okore, an artist from Nigeria, she is a professor of art at North Park University in Chicago, where she teaches sculpture.
The organizers are seeking to "exhibit the best of contemporary art, inviting submissions from around the world. The exhibition is recognized around the world as a benchmark that documents trends and innovations in the field. The goal of the exhibition is to include innovative work rooted in traditional fiber materials, structure, processes and history, as well as art that explores unexpected relationship between fiber and other creative disciplines."
The exhibition will take place from June 3 to August 20 , 2022
The submission deadline is August 31, 2021 (entree fee $45)
for entry requirements and further details see https://fiberartinternational.org/