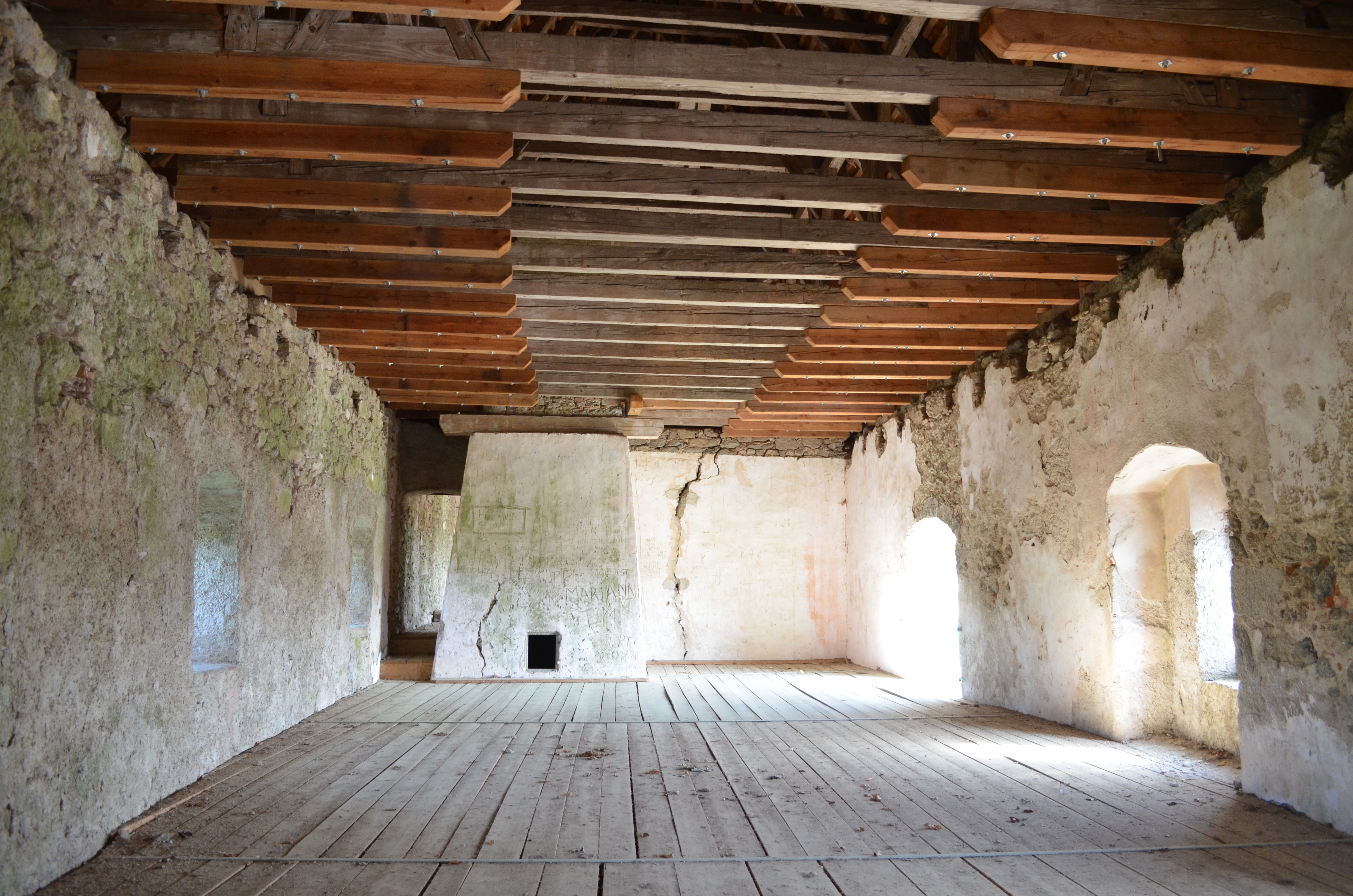 Garden of Eden
Textile exhibition at the ETN conference in Haslach / Austria, July 17 to August 4, 2019, Neuhaus Castle
It has been a long time since ETN (European Textile Network) staged its own major exhibition. The "Garden of Eden" project at the Neuhaus Castle is an ambitious undertaking, with which the two new ETN organisers, Christina Leitner and Andreas Selzer of Textile Kultur Haslach, introduce themselves. Founded in 1991, this association has made a name for itself internationally through the organisation of high-quality textile courses, a variety of special exhibitions and the establishment of a well-known Weavers' Market.
In 2012, the Textile Center Haslach was opened in a former textile factory, uniting several partners under one roof. In addition to the association Textile Kultur Haslach, this center now houses a Museum of Weaving, which was awarded the Austrian Museum Prize in 2014. Further partners in the house are Manufaktur Haslach, a socio-economic enterprise, which specialises in the processing of regional sheep's wool, the so-called Shuttle course for students of universities, as well as the "weberie", which develops small series and high-quality fabrics at special request.
Textile Kultur Haslach has already won several awards for its work, including the major Cultural Distinction of the Province of Upper Austria for proactive cultural work in 2001. Since 2016, the Textile Center Haslach is also listed on the list of best-practice examples of UNESCO. The ETN conference in July 2019 and the "Garden of Eden" exhibition are also sponsored by UNESCO. My hope is that Haslach will establish itself as a future meeting place for textile professionals from all over Europe.
The theme of the exhibition, the Garden of Eden, left room for very different views and approaches – from lush garden, plant and flower representations to spiritual, philosophical perspectives, as evidenced in the titles: "Virgin Garden", "Ornamentica Floralica "," Green Veins "," Lost Paradise "or" Flowers of the Earth "to" Divine Surprise "," Hiding from God "," The Awakening of the Goddess "or" Heaven Earth – Earth Heaven ". The organisers had chosen this theme not only because of the beautiful surroundings of the Mühlviertel and because of the simultaneously held garden show in Aigen-Schlägl – 15 minutes away from Haslach – but above all because of the need of many artists to appreciate the resources of our earth to work sustainably and to explore alternatives in dealing with materials and methods of production.
The artists have taken the aspect of sustainability very seriously in their submissions, and have often used recycled or found materials, such as recycled cotton pulp, pine cones, palm trunk fibers, magazine paper, horse hair, old clothes, old hospital robes, silk scraps of old kimonos, old handkerchiefs, plastic from the sea, plastic bags, recycled yarn, earth and much more.
I liked the variety of works, which were not only focussed on textile art, but also on textile design and clothing, a latitude that was expressly desired in the tender. My hope is that broad, cross-technology tenders against the fragmentation of the textile art scene (e.g. in tapestry here and patchwork there) will help, because we need a joint effort of all textile artists to get out of the niche existence of textile art. Although trend designers might predict that textile craftsmanship is on the rise – it has not yet penetrated to the great museums and galleries.
For the exhibition "Garden of Eden" 451 works from 38 countries were submitted and prepared for the jury. The applications were very different and covered the whole range of textile design. Most of the works (67) were in the embroidery-lace category, which is not surprising, since many textile art exhibitions often use embroidery technique today. This may be due to the fact that this technique can be worked very individually as well as very accurately and slowly. It resembles a handwriting and corresponds to the desire of the artists to express themselves in a very personal and precise way (quasi the textile counterpart to the "slow food"). Then followed the categories printing-dyeing-painting with 56 works, quilt-patchwork-appliqué with 53, garment-sewing-pleating with 50, tapestry-tufting with 48, mixed media with 43, weaving with 42, felting with 21, paper with 18, jacquard weaving with 17, other techniques with 17, crochet-knitting-knotting with 15 and photo-video with 4 submissions. Remarkable is the large number of tapestries in traditional technique (also a very slow process!) as well as the renewed interest in the tufting technique, which since recently one can learn in Haslach, by the way.
The work of the jury, consisting of Marga Persson (former professor and head of the textile / art & design department of the University of Linz), Paola Re (head / organiser of Minartextile Como), Beatrijs Sterk (former editor of the journal TextileForum, initiator of ETN) as well as Christina Leitner and Andreas Selzer (of Textile Kultur Haslach as curators), has not been exactly easy. It was very important to have had two days to talk about the works calmly. Finally, 81 works by 78 artists from 30 countries were selected for the exhibition. A further 12 artists were invited by the curators to participate, so that more than 100 works from 34 nations will be on display on the wonderful premises of the castle.
During the selection, particular care was taken to ensure that the exhibition reflects the diversity of the works, and that the visitors can be just as surprised by the works as the jury was.
What else does one value as a jury member? I can only speak for myself here, for example, how relieved I am when good photos (with details) are sent in, or when the idea of the designer and the way of implementation is as understandable as it is appealing (for works that seem very enigmatic and that you would need to look at longer, in order to be able to appreciate them it is usually difficult). As a jury you have so little time to look at the individual works, so that a good illustration, which leaves no questions unanswered, is a big plus! I am always pleased with artists who can handle their material masterfully, but refreshing experiments or sketchy lightness are also impressive. Personally, I have a hard time with works that can only be understood after the explanatory text has been read. For me it is important that the work itself "speaks". That is what Jack Lenor Larsen called "presence."
It should be some small comfort for those who will not participate this time, that because of the large number of submissions only every 6th work could be selected, and that therefore many good works did not end up in the exhibition.
I am looking forward to seeing the "Garden of Eden" exhibition this summer at Neuhaus Castle, and to experiencing the ETN Conference 2019 under the new management in Haslach!
Beatrijs Sterk, founder of ETN, jury member, May 2019