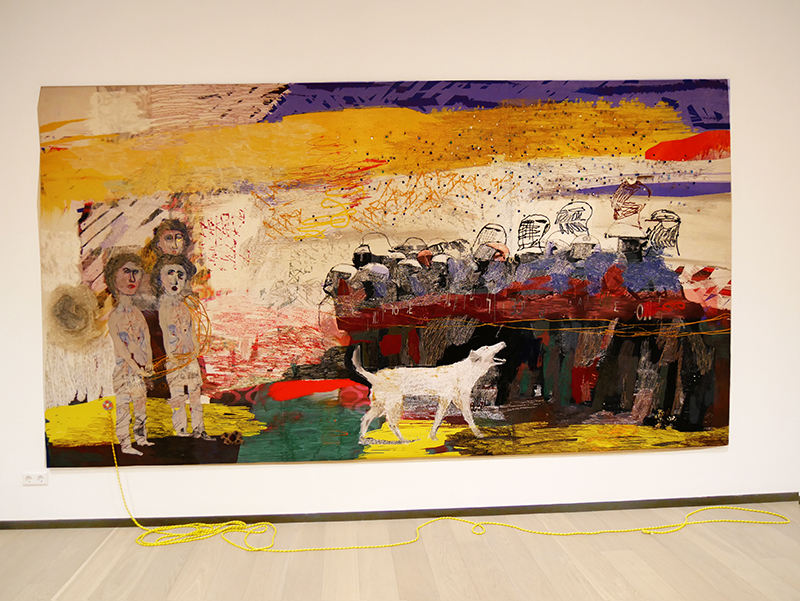 Last week I was finally able to visit this Biennial in Rijswijk near The Hague. Having been a jury member, I knew most of the artists, but in some cases I had only viewed their work in digital or printed form. Seeing the actual works leaves a much stronger impression. I was surprised by the final results and will show you some photos of the ones I particularly liked.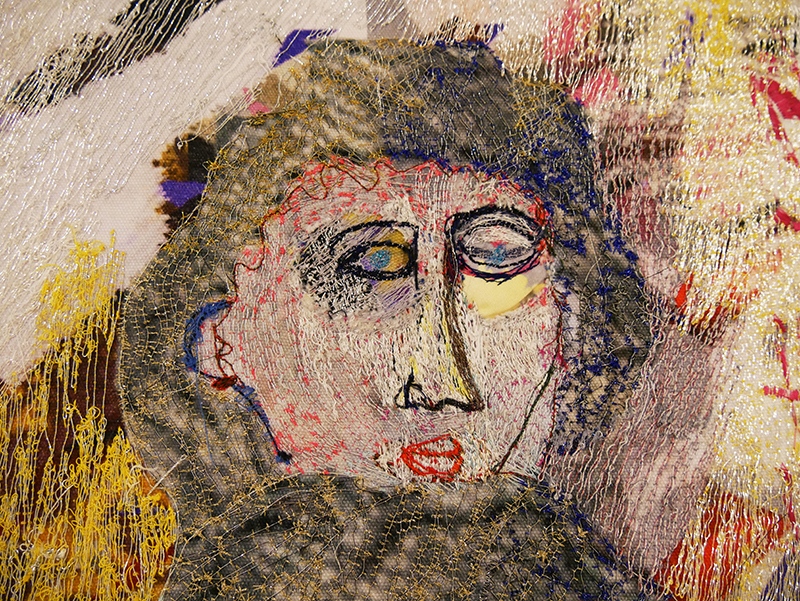 My favorite work in this exhibition is Alice Kettle´s "Loukanikos the Dog and the Cat´s Cradle", 2015, 520 x 217 cm. It is very expressive, rich in detail and masterfully executed in the embroidery technique. Although very large in format, the work creates an impression of being feather light. Alice Kettle has completed large commissions for ships and public buildings. Her work is ART, of course, but as it is meant to be used in specific spaces it is applied art in the best sense.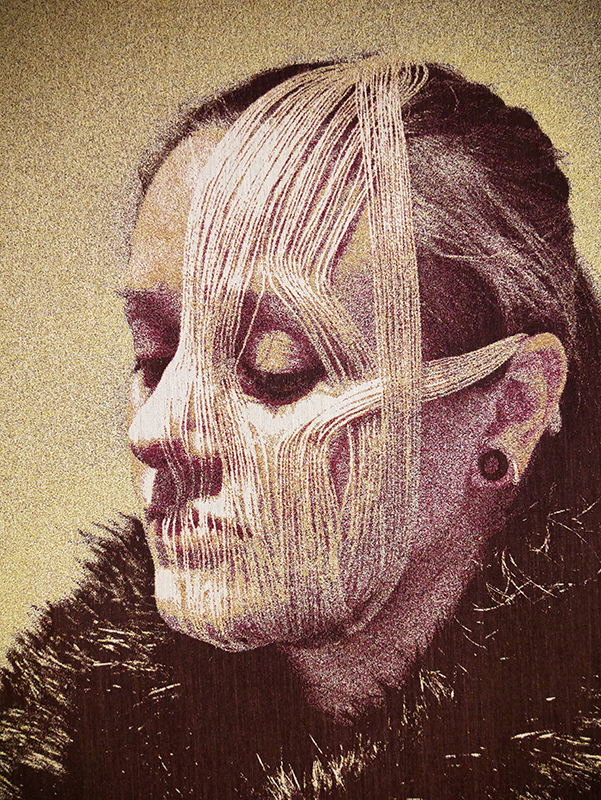 I was also very pleased to see the digitally woven works by Kristina Aas (Lithuania) & Karina Presttun (Norway) who had worked together combining textiles, photography and weaving. I still remember the first TC1 jacquard loom that went to Kaunas/Lithuania not so long ago, and I am impressed by the work in digital weaving that has been done there since then.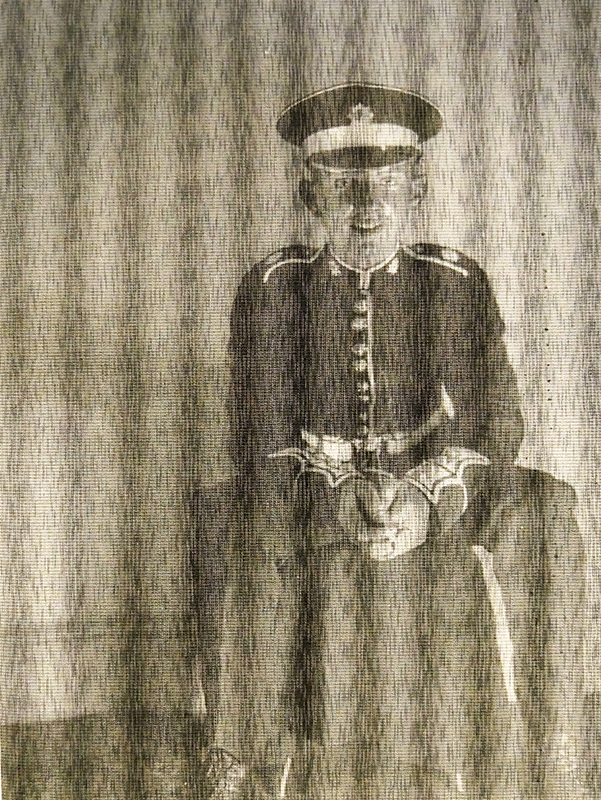 Nigel Hurlstone, whose work I had seen at the Lodz Triennial last year, had a whole series of pieces created in a special embroidery technique in Rijswijk. He covers photos printed onto textiles with an embroidered veil, both hiding and revealing the photo to make the work look very subtle and private. In Lodz I could not work out how it was done, but now I suppose his work is created on the embroidered lace machine owned by Manchester University.
I loved the embroideries by Tamar Mason from South Africa which combine human figures with symbols and landscape elements for a poetic perspective on early Africa and the Africa of today.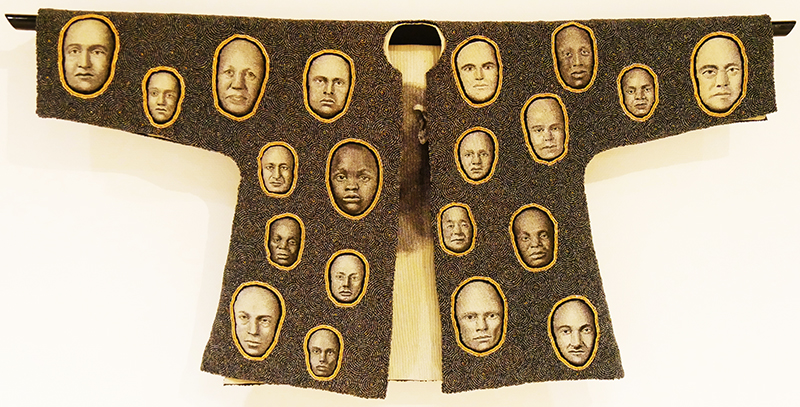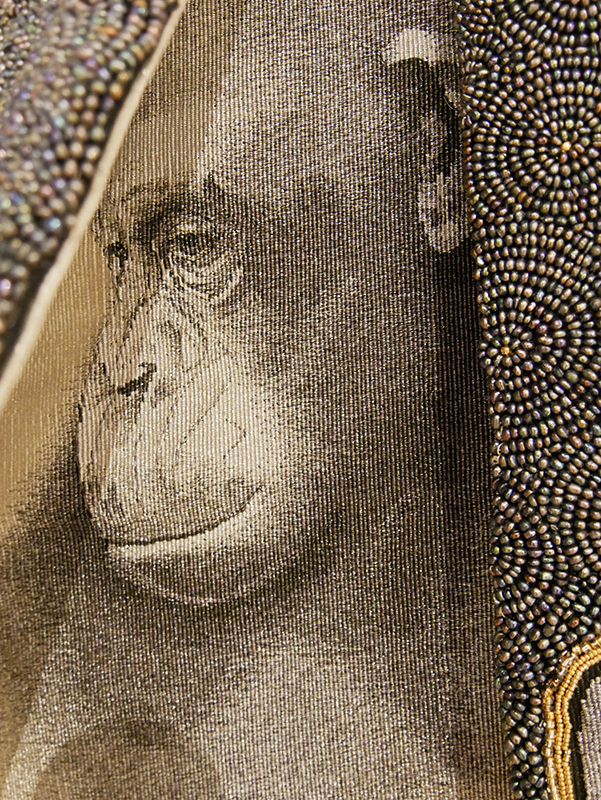 I knew the work of Jon Eric Riis, but was pleased to see them in reality for the first time. They are so meticulously made that looking at them produces very intense sensations. While photographing his "Ancestor Pearl and Tapestry Coat" I discovered the portrait of a wise old ape inside the coat! It is typical for Riis that even the not so visible parts of his work are created with the same intensity and time-consuming love of detail, giving the work an almost mythical aura.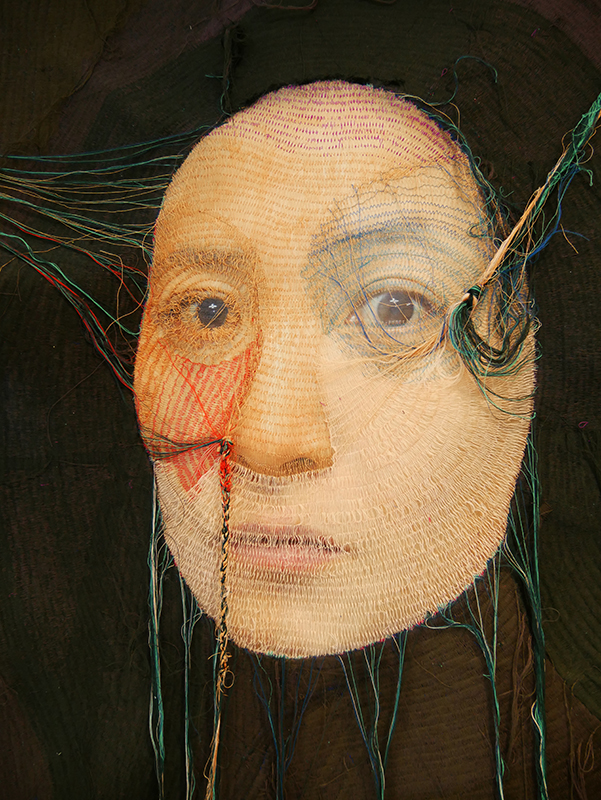 Ji Seon Moon´s "Rag Faces" are moving stories told in threads and fabrics. She sews her self-portraits with raised brows like a child might draw them – playfully in search of forms, colors and connections. There is something alarming in the expression of the faces that makes you stop to have a closer look and think about them.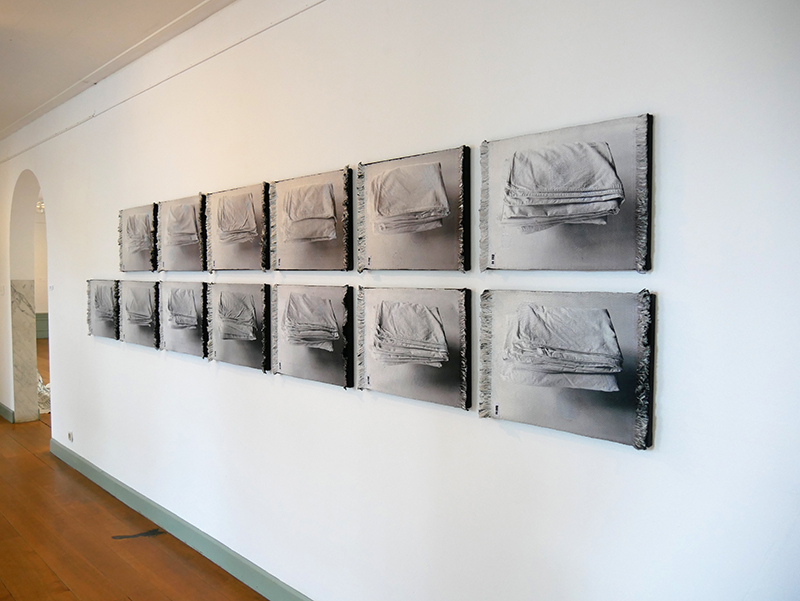 There were further works that surprised me. June Lee´s colorful figures were so much smaller than I thought they were from the photos. Laima Oržekauskienė´s "Dedication to Father, Vilnius City Hospital" – 15 hand-woven tapestries with digital prints which I knew from the Lodz Triennial – were well placed. The hospital laundry images depict her pain at the loss of her father in that hospital.
As in many other textile art shows, this exhibition included a great deal of embroidery. There were very moving works by Jenni Dutton entitled "Dementia Darning"; Rieko Koga´s installation "Future Diary" posed questions to the public, leaving a fresh and interestingly playful impression. I also liked "Country Dream" by Cristián Velasco, which raises awareness of indigenous cultures. But I was not so convinced by Murat Yildiz' embroideries – very finely made self-portraits creating a slightly uncomfortable feeling. His special kind of craft raised my curiosity but did not really move me.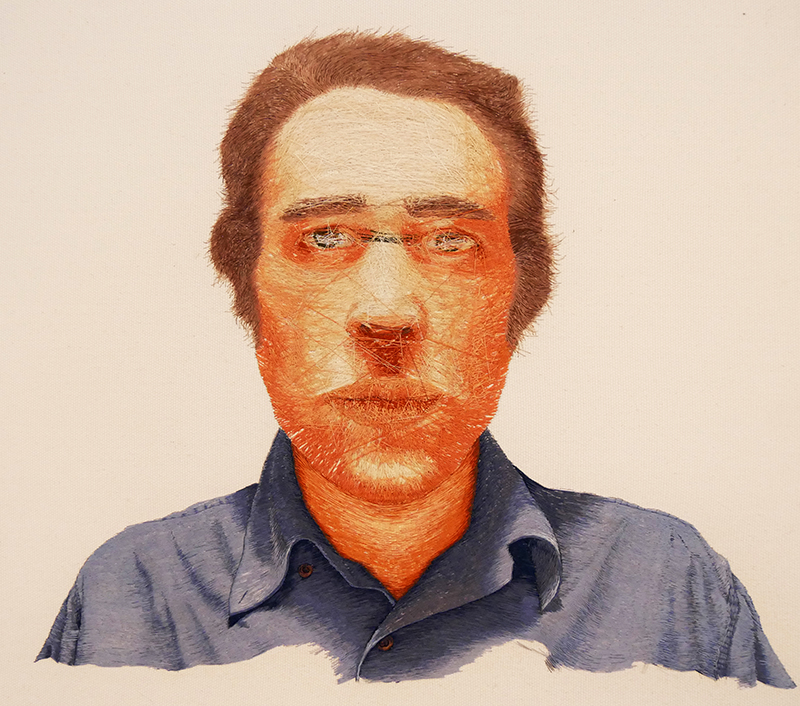 The main aim of the show is ART, although produced in textiles. If you consider applying for the next edition, keep in mind that they are looking for new artists, new approaches to textiles and exceptional concepts. If you have been selected previously, there is no need to apply again. When applying (deadline presumably in August 2018) you will need to indicate the work, installation or group of works you wish to exhibit should you be chosen. Jurors of this Biennial are looking at textiles from a fine art angle (not my usual point of view), but they are very happy when the entries include well-crafted works. This Biennial helps bridge the gap that unfortunately still exists between craft and fine art.
The Rijswijk Textile Biennial will remain on view until September 24, 2017. I strongly recommend anyone interested in textile art to go and see it. Address: Rijswijk Museum, Herenstraat 67, Rijswijk, Netherlands
There are two more blog articles on this Biennial:  https://www.textile-forum-blog.org/2017/05/textile-and-art-recent-developments/ and https://www.textile-forum-blog.org/2017/03/the-rijswijk-textile-biennial/