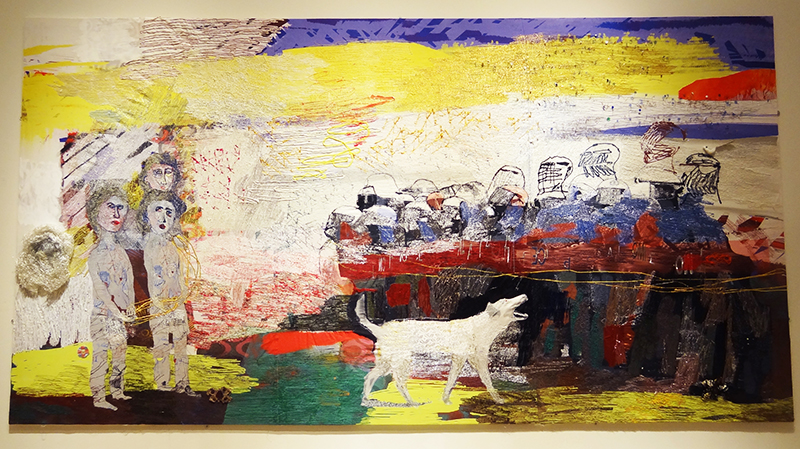 The fifth Rijswijk Textile Biennial will take place from 16 May to 24 September 2017 at Museum Rijswijk, Herenstraat 67, 2282 BR Rijswijk, Netherlands. Twenty-four international artists will be showing their fibre art. 'Well-worn' textile techniques like weaving, knitting and embroidery, combined with photography and digital processes, are used to express social and political themes, as well as personal stories. Powerful statements about oppression, terrorism, ageing and gender are wrapped in soft textiles. Art that poses questions. Questions that need not be answered right away. 'Fabric' for thought.
The Textile Biennials at Museum Rijswijk have grown into internationally renowned exhibitions in the world of fibre art. This fifth biennial is no exception. The selected artists are at the forefront in their innovative uses of fibre and textile to express powerful messages with potent imagery.
The artists in the exhibition are: Kristina Aas & Karina Presttun (Norway), Maryam Ashkanian (Iran), Susanna Bauer (England),Renato Dib (Brazil), Jenni Dutton (England), Nigel Hurlstone (England), Henry Hussey (England),Daun Jeong (Korea), Kate Just (Australia), Alice Kettle (England), Rieko Koga (Japan/France), Karoline H Larsen (Denmark), June Lee (Korea), Tamar Mason (South Africa), Janaina Mello Landini (Brazil), Sophia Narrett (United States), Laima Oržekauskienė-Ore (Lithuania), Jon Riis (United States), Agnès Sébyleau (France), Hannalie Taute (South Africa), Cristiàn Velasco (Chile), Murat Yildiz (Turkey), Ji Seon Yoon (Korea).(press release)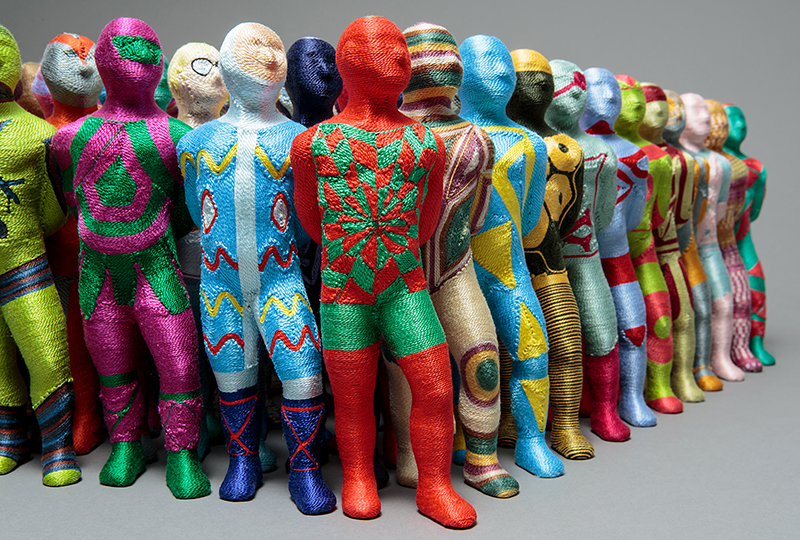 In recent years, textiles have increasingly become a topic of interest in the art world. This means that textiles are now shown in many art exhibitions. Unfortunately these rarely include works by those who call themselves textile artists, unless they saw their heyday 40 or 50 years ago and are now elderly or deceased.Up until now the exhibition circuits for "fine" art and textile art have been more or less closed off from each other. However, an increasing number of artists from other disciplines who use textile materials now feature in textile art exhibitions. This is rightly perceived as an enrichment. Are the separating walls breaking down?
The Rijswijk Textile Biennial is a good example of this development because it presents both fine art and textile art. The Biennial is a logical development arising from the Rijswijk Paper Biennial which has been held in the Rijswijk Museum since 1996. The arts of paper and textiles are separate in the Dutch language, but in English they are united by the concept of Fibre Art (https://en.wikipedia.org/wiki/Fiber_art). The Textile Biennials commenced in 2009 to ensure that textiles would not be excluded.
The aim of the two Biennials is to show the innovative elements in contemporary textile and paper art in both artistic and material terms. Their focus on innovation has led to a majority of artists working with textiles in new and often surprising ways. Only 6 of the 23 artists chosen this year are still connected to textile traditions and could be perceived as textile artists. At the same time, the Rijswijk exhibition is one of those where well-crafted textiles are greatly appreciated.
 It appears that "fine" art and fibre art are set to converge, but this development still has a long way to go. Exhibitions like the Rijswijk Textile Biennial constitute a step in the right direction along this path. As they have often done in the past, the Dutch are pioneering a new movement.
(part of catalogue text by Beatrijs Sterk)