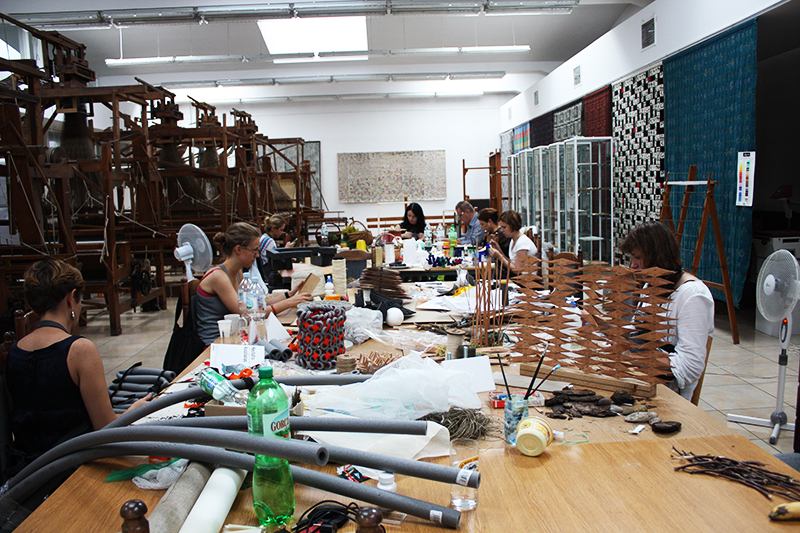 In 2017 For the fifth time the Strzemiński Academy of Fine Arts Łódź has the pleasure of inviting artists and art enthusiasts to participate in the International Summer Courses Printmaking and Textile Art PATA 2017. Four previous editions brought to Łódź artists from 35 countries. As in the past, also this year the course offer is addressed to both beginners and experienced artists.
The Textile Art Courses are addressed to both people beginning their artistic career and professional artists who have been using textile art as a means of their creative expression for a long time. The courses are held in two sessions: first between July 18 and 30 and second between August 8 and 20, 2017.
The programme of PATA 2017 includes textile art courses: Krystyna Daniela Jałkiewicz will run a course of installation between textile art and sculpture, Unique and Functional – Handmade Interior Objects will be run by Jolanta Rudzka Habisiak and Textile Prints by Krystyna Czajkowska and Ludwika Żytkiewicz -Ostrowska. For the first time this year the Footwear and Leather Accessories Design Studio offers a course on accessories in the fashion world.
Both, July and August sessions will be a time of extremely intensive work. During the two weeks spent in Łódź participants will realize 90 working hours. The classes are held in English and Polish. All activities will be held in the well-equipped studios under the guidance of professional artists – outstanding academic teachers of the Łódź Academy. Participants will have an opportunity to present the final results of their work during the exhibition organised at the end of the course.
We encourage you to get acquainted with the detailed course programme at  www.patanetwork.org and on Facebook: Summer-Courses-PATA. You may also contact us by e-mail: pata@patanetwork.org
Application deadline: June 30th, 2017
This blog text is a press release by the Strzemiński Academy of Fine Arts in Łódź