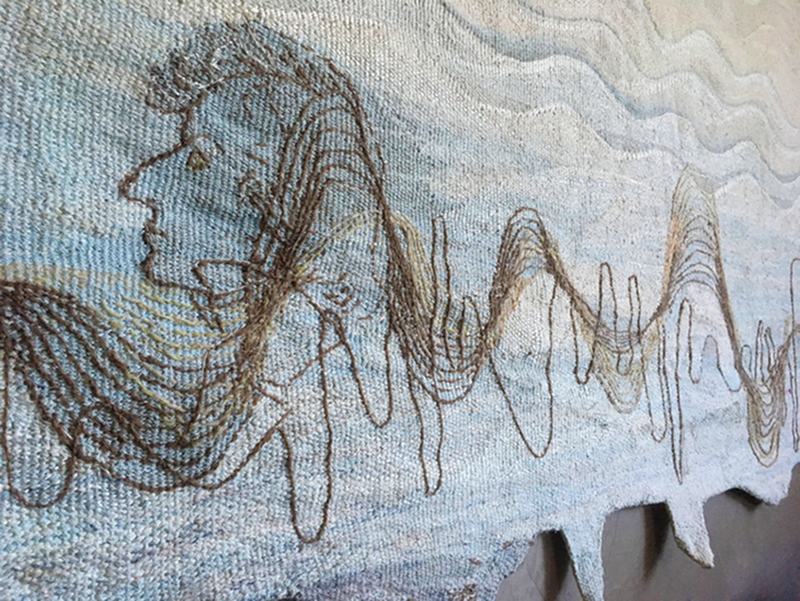 This article was written by jury member Beatrijs Sterk for the catalogue of the 7th INTERNATIONAL WEARABLE EXPRESSIONS JURIED EXHIBITION AT PALOS VERDES ART CENTER, USA, February 9 – April 16, 2017 Wearable Expressions: wearable art designed for the human body in all media from separates to entire garments, to jewelry and a wide variety of accessories.
It is always a pleasure to see an entire creative field – wearable art in this case – in the course of a jury process. My love of this art genre began with a book, "Art to Wear" by Julie Schafler Dale published in 1986. She illustrated works by the much-admired artists of the late 60s and 70s, opening up a whole new world for us Europeans. Even the textile art community did not take much notice of body-related art. The only exception was Debra Rapoport who wrapped herself in her art work at the Lausanne Biennial exhibitions back in the 80s. Today she is an icon of older women's street-style, the so-called Advanced Style in New York. In Amsterdam we call ladies dressing up like this "butterflies". Rapoport is present in this exhibition with a suede cape and a hood in her typical style.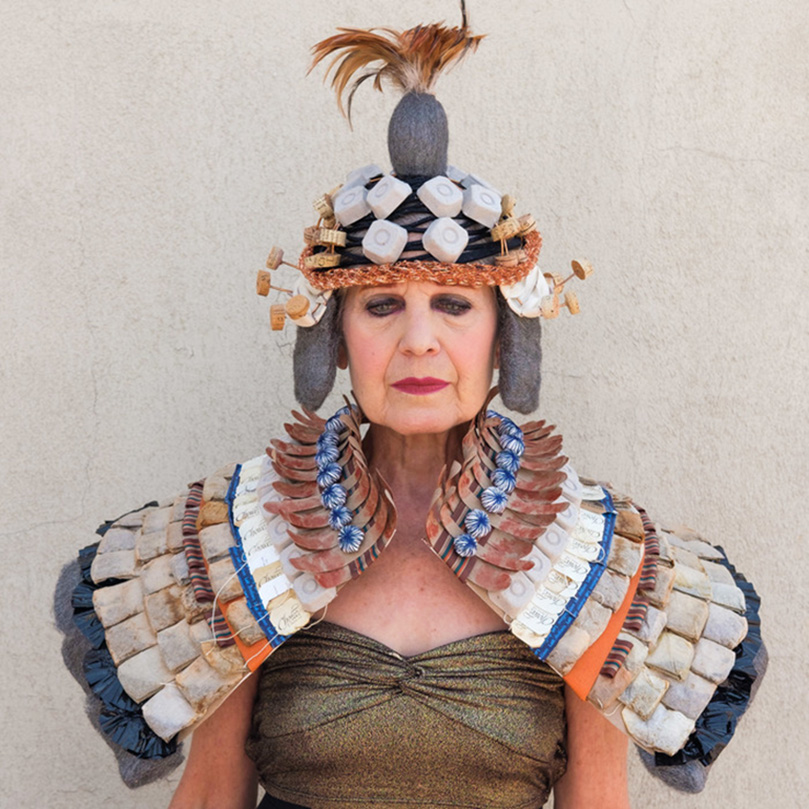 By the way, the curator of this wearable art show, Gabriele, is an "Advanced Style" icon herself!
Our focus as a jury was on visual impact, innovation & design as well as quality of technique and execution. In addition, I looked for intensity and concepts integrating the work and the maker.
Although the number of entries was rather high, the standard of the works was highly diverse, ranging from simple items of nice clothing to real expressions of moods and statements. In her book, Schafler Dale writes that the focus on personal iconographic elements distinguished this art genre from other forms of body embellishment. This criterion was not met by all the entries. The craftsmanship involved in making a garment is considered of equal importance by Schafler Dale, and again we found huge differences. Some time-consuming and painstakingly produced works were among the best I have seen in the field (e.g. My Father's Coat by Sue Bradley from the UK and Caribou Women by Teresa Burrows).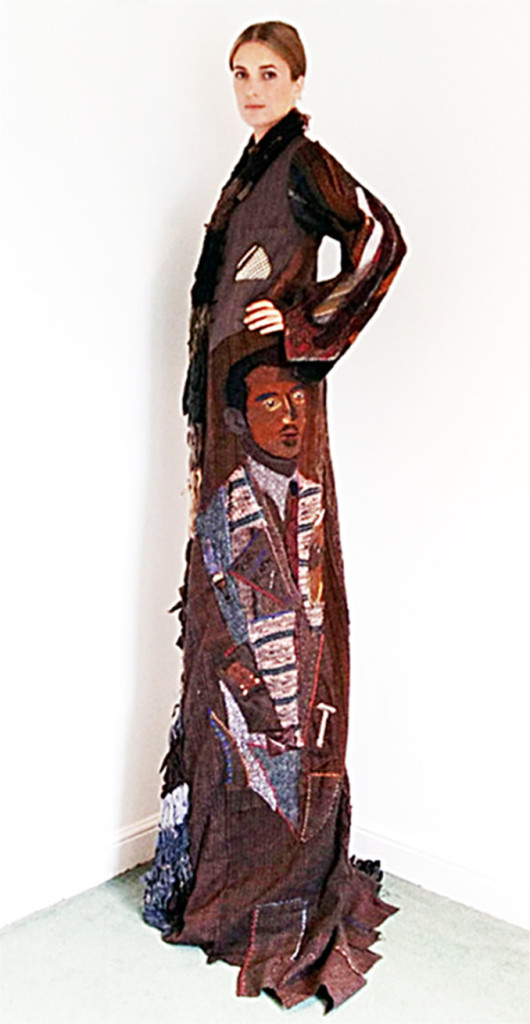 As regards techniques, sewn patchwork and appliqué again prevailed in creating the works, with some very high-level sewing (for example the patchwork coats by Dorothy Bird; a dress by Kim Hahn & Ja Young Hwang or the dress made by Kendra Lapolla ).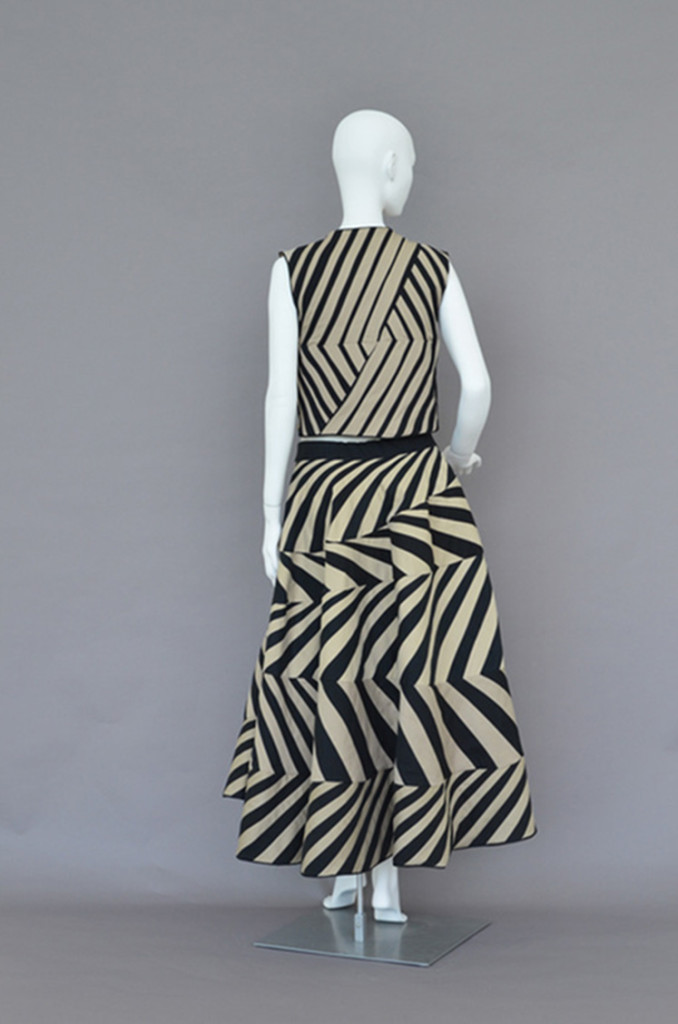 I noted a number of differences compared to the 2008 Wearable Expressions. It appeared to me that this time there were more felted pieces (with works by well-known felt artists like Liz Clay from Great Britain ), in particular nuno-felting. Other techniques to create fabrics such as weaving and knitting were represented in smaller numbers than I expected. From what I remember there were fewer items of silk painting than last time. Lace and lace-like constructions were frequently seen and roughly equal in number to silk paintings.
The decorating techniques used were printing (including digital printing), dyeing (including shibori), embroidery, beadwork and plissé. In other exhibitions held in 2016 such the Lodz Triennial, embroidery featured as the star technique, but in this competition we only saw a small number of wonderful stitched pieces (among them again Sue Bradley).
The entries for this show also included theatrical fantasy costumes similar to those shown at the World of Wearable Art in New Zealand, with Margarete Pfalz as the creator of a perfect example of these sculptural costumes. She is a star of the genre and an endless source of new ideas. Theatrical and funny was the entry Pohutukawa Bra by Charles Gandy!
The red dresses made from industrial fabric scraps by Susan Taber Avila expressed a health-related message for women and were beautiful works of art on top of that.
There were some very poetical entries like the work La Guardienne des Arbres by Julie Keller or the Cape for Chopin by Polish artist Monique Lehman, produced in perfect tapestry technique, conveying a heart-warming message.
Some works are still to be mentioned like the work In the Tradition of Boro by Mary Rae displaying how well she understands this tradition. Also Brainstorming between Art and Craft by Anat Van-Cleef Shamai from Israel, a real wearable art piece, did touch me by the pleasure it radiated. A very simple piece, just some beautiful fabric folded to wear: Cocoon by Hwang Ja Young was very convincing for me.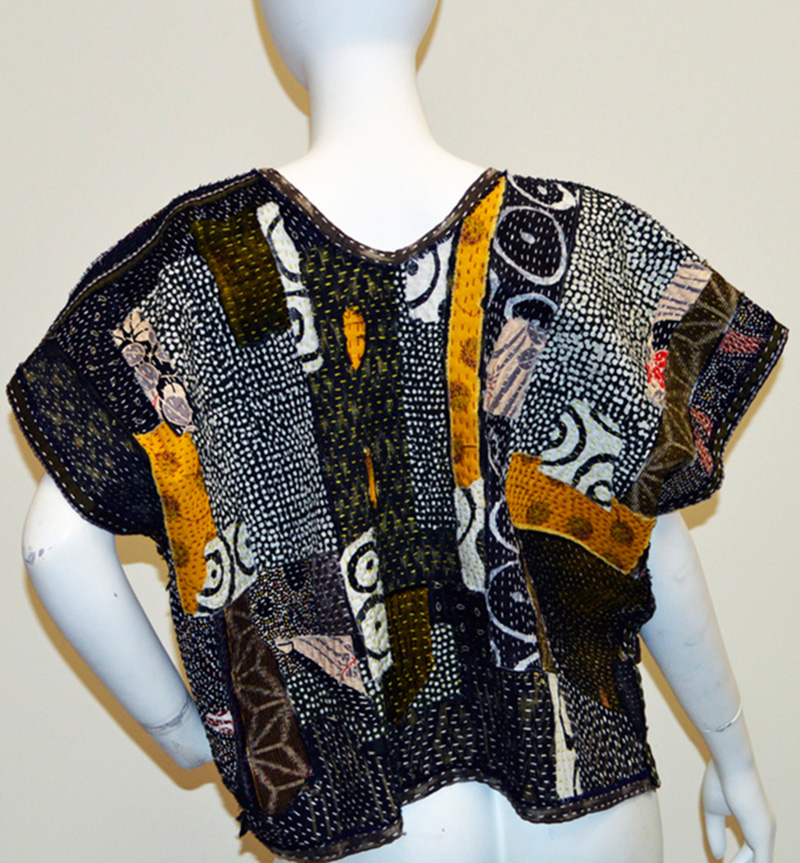 The competition section for accessories was full of surprises, with creations ranging from contemporary First Nation decoration to perfectly woven shawls and small, finely crafted beadwork bags. My favorites were the funny and political Peaceful Protest Helmets by James Berson. This combination of fun and critique formed the basis of our political protests in the Netherlands back in the 60s, and it appears that the time for it has come again.
On balance, the exhibition seems to show that interest in wearable art is currently on the rise again.