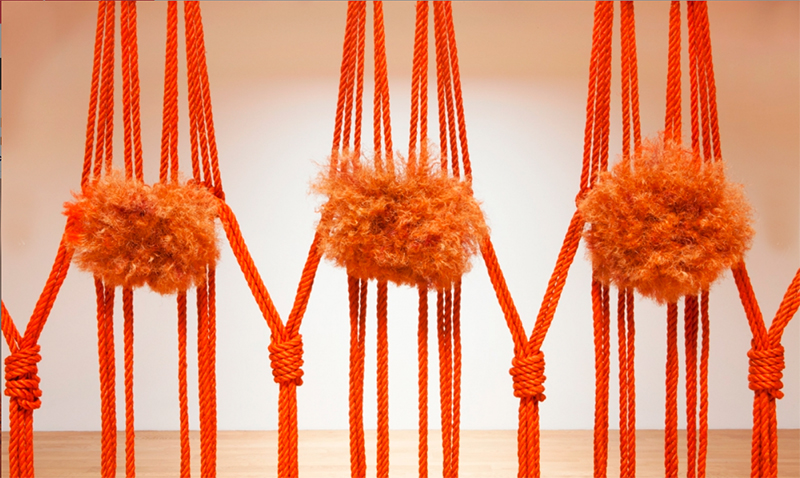 Exhibition from October 18, 2016 to March 15, 2017at the Museum of Modern Art, New York.
Again a proof that the textile artists who exhibited at the Lausanne Biennials are seeing a revival and a real appreciation of their achievements!This is happening at several places and I hope to report on many of these exhibitions or publications! Beatrijs Sterk
Press text:
In the 1960s, Françoise Grossen rejected the rectilinear loom that constrained contemporary weaving for an intuitive approach to fiber that resulted in the creation of large-scale, suspended rope forms constructed of knots, loops, braids, and twists. At the time, fiber was still associated with utility or ornament rather than fine art, and Grossen's freehand, three-dimensional handling of the medium was considered a revolutionary gesture that upset the traditional hierarchy subordinating craft to art. A number of other artists in the 1960s and 1970s, including Eva Hesse, Sheila Hicks, and Magdalena Abakanowicz, also began working with fiber in innovative ways, and they shared Grossen's interest in the process of making and the desire for unmediated contact with everyday materials such as rope, string, cord, and twine.
Process as an aesthetic value in the art world of the 1960s and 1970s provides one context for this groundbreaking work. Grossen also found inspiration in utilitarian structures and objects made of fiber, such as rope suspension bridges, Peruvian khipus, marine ropes for docking and anchoring, and natural forms such as the exoskeletons of insects. Her practice has always involved translating these sources into abstract forms through a cumulative, repetitive approach that she describes as "rope upon rope, braid after braid." Through this methodical process her work takes shape, shifts, ¬¬¬and mutates into forms that elegantly thematize transformations of the natural and the cultural, from the processing of fiber into utilitarian rope to its subsequent elevation in her work as a medium of sculpture.
As part of MAD's POV series, Grossen has mined the Museum's permanent collection and brought her own rope sculptures together with a selection of work from MAD's unusual collection of baskets, as well as other work in fiber, wood, and metal. Privileging elemental methods of construction as a language of abstraction, Grossen's selections highlight an approach to contemporary sculpture that focuses on the artist's direct transformation of material and links it to a wider discussion about ways of making in culture at large.
MAD's POV series invites guests' perspectives on the Museum's permanent collection through the lens of their own practices. Grossen's exhibition is the first POV to address the full MAD collection, and part of the second season of POV exhibitions, alongside Lauren Kalman's But if the Crime Is Beautiful… in the Tiffany & Co. Foundation Jewelry Gallery.
Françoise Grossen Selects is part of MAD Transformations, a series of six exhibitions presented this fall that address artists who have transformed and continue to transform our perceptions of traditional craft mediums. Building upon the exhibition Voulkos: The Breakthrough Years, which celebrates the work of an artist known for drastically changing the way clay is categorized as an art material and discipline, the MAD Transformations exhibitions consider fiber, clay, and jewelry and metals—disciplines (along with glass and wood) that compose the bedrock of the Museum of Arts and Design's founding mission and collection, and that continue to morph in the hands of contemporary artists today.