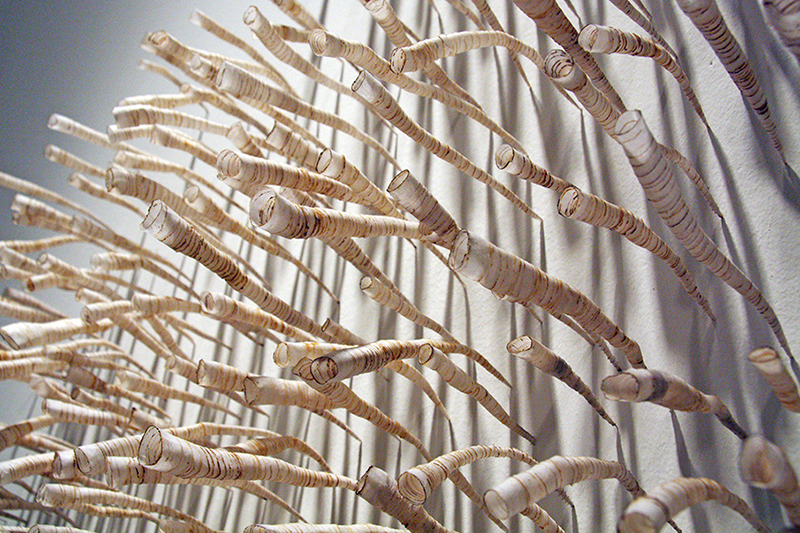 From 16 October 2016 to 2nd. April 2017, the third Asia –Europe Fiber Art exhibition will start to travel through Europe. This event is one oft he good examples of an artists-organized series of exhibitions. The following text is from the current curator, Marika Szaraz. The list of participants can be found at the end oft he text!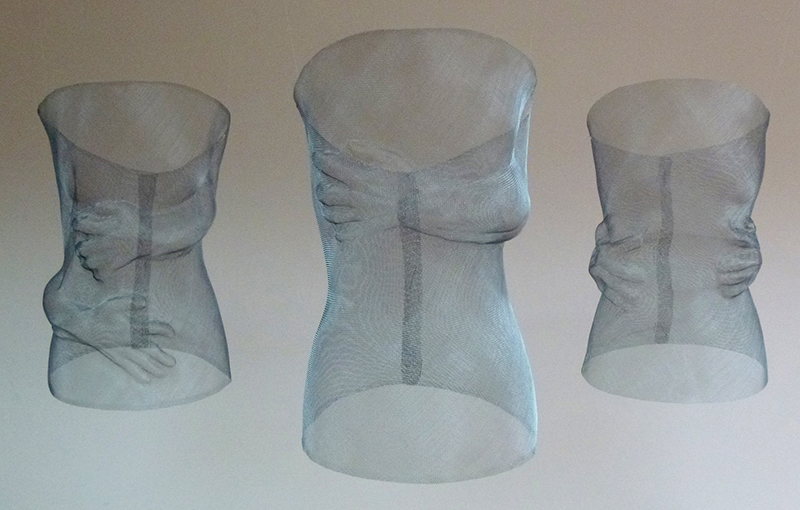 Erny PIRET founded the ASIA-EUROPE exhibitions in 2009 in thanks to her long friendship with the Japanese artist Kakuko Ishii.
In 2009, the first exhibition 'Asia-Europe' was presented as satellite exhibition of the Kaunas Biennial. In 2011, this exhibition was shown in two prestigious places: the 'Deutsches Textilmuseum' in Krefeld (Germany) and the 'Jean Lurçat and Contemporary Tapestry Museum' in Angers (France).
In 2014, the second 'Asia-Europe' exhibition was held again in these two Museums. Considering the success of the first edition, the exhibition was shown during 3 months in Krefeld and during 6 months in Angers.
In 2015 'Asia-Europe II' was also held in the 'Janina Monkute-Marks Museum' in Kedainiai (Lithuania).
After both very successful International touring exhibitions 'Asia-Europe I' and 'Asia-Europe II', it is a great honour for me to of being appointed curator for the third edition.
The concept of the exhibition is based on technical innovation and on diversity of material. Participating artists have experimented and perfected the technique of their choice. It was important that Asian artists used their own cultural techniques, resulting from their traditions, while the European artists used their Western traditions and techniques.
I selected European and Asian artists who are creating artworks starting with their personal research in relation with techniques used in European or Asian culture; with an authentic approach, with creativity and innovation and often diverse and surprising materials or techniques such as lace, embroidery, weaving, and tapestry. Several artists decided to create new work for this occasion, to be exposed for the first time. Other artists joined the exhibition with major creations whose personal concept is a result of research over many years.
This exhibition present a variety of creations from three Asian countries: China, Japan, and South Korea and thirteen European countries: Belgium, the Czech Republic, Finland, France, Germany, Hungary, Italy, Latvia, Lithuania, Luxemburg, the Netherlands, Poland, and Spain. 'Asia-Europe III' will show textile arts in the form of tapestry, wall and ceiling hangings, textile sculptures, installations and works on pedestals.
The first Museum to welcome the traveling exhibition "Asia-Europe III" will be the 'Deutsches Textilmuseum' in Krefeld (Germany) from October 16th 2016 until April 2th 2017.
The following museum will be the 'Central Museum of Textiles' in Lodz (Poland) from 7 September to 12 November 2017.
The third museum of this traveling exhibition will be the 'Janina Monkute-Marks Museum' in Kedainiai (Lithuania) from 12 January to 10 March 2018.
Marika Szaraz, curator
Facebook: Asia-Europe Fiber Art
Blog: http://asia-europefiberart.blogspot.be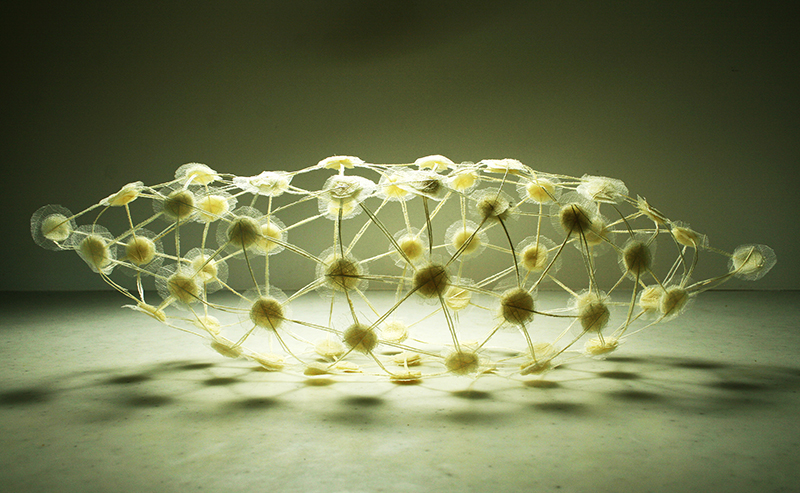 Participants:
1-Antra AUGUSTINOVICA – Latvia
2-Marian BIJLENGA – Netherlands
3-Young-Soon CHA – Korea
4-Nora CHALMET – Belgium
5-Yeon-Soon CHANG – Korea
6-Yong-Soon CHUNG – Korea
7-Wlodzimierz CYGAN – Poland
8-Kela CREMACHI – Italy
9-Kazue HONMA – Japan
10-Kakuko ISHII – Japan
11-Mitsue ITO – Japan
12-Yasuko IYANAGA – Japan
13-Raija JOKINEN – Finland
14-Ken KAGAJO – Japan
15-Hideaki KIZAKI – Japan
16-Irina KOLESNIKOVA – Germany
17-Akiko KUMAZAWA – Japan
18-Bara LEHMANN-SCHULTZ – Germany
19-Sung-Soon LEE – Korea
20-Jean Michel LETELLIER – France
21-Beili Liu China
22-Françoise MICOUD – France
23-Miki NAKAMURA – Japan
24-Maria ORTEGA – Spain
25-Erny PIRET – Luxemburg
26-Jeannine De Raeymaecker Belgium
27-Lina RINGELIENÉ – Lithuania
28-Ausra SEDLEVICIUTÉ – Lithuania
29-Jin Sook SO – Korea/Sweden
30-Magdalena SOBON – Poland
31-Yukako SORAI – Japan
32-Blanka SPERKOVA – Czech Republic
!!33-Marika SZARAZ – Hungary
34-Kyoko UEDA – Japan
35-Makiko WAKISAKA – Japan
36-Rieko YASHIRO – Japan