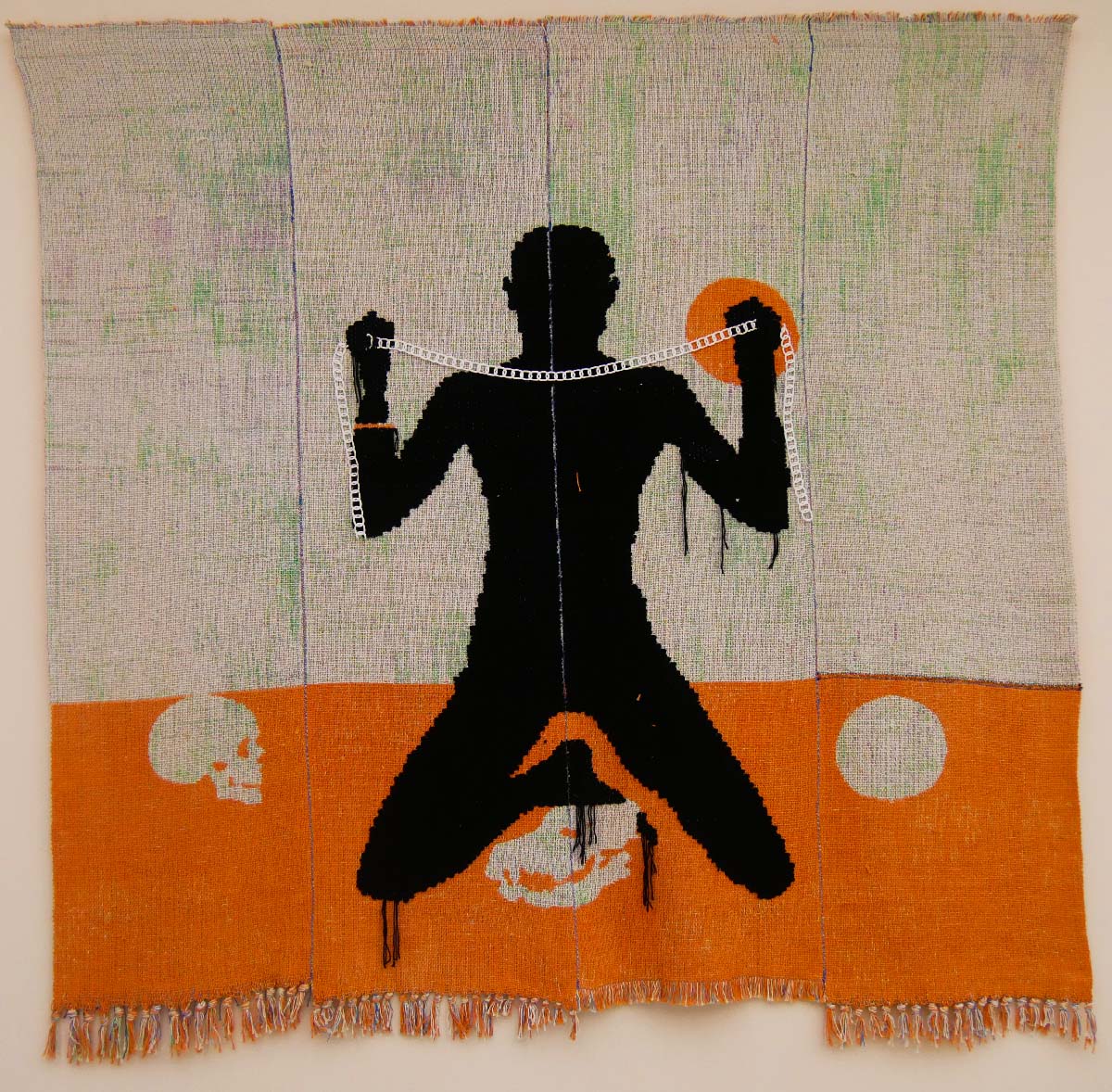 Diedrick Brackens "Everything I have ever touched"
Not very often did I see such fresh and new ideas expressed in the good old craft of weaving! Diedrick Brackens is a young black weaver, using weaving as a metaphor for his very honest  and moving life stories. It works out well that in good textile art educations, like the one he followed at California College of the Arts, they asks their students to express their private experiences and feelings about the world they come from, that world that they know from intimate knowledge. Thus cotton is used as a hint at slavery, his stories as a queer person are telling about forms of masculinity, tenderness and violence he experienced. His weavings are nearly always constructed in a simple double weave technique with a strong graphic imagery, that immediately speaks to the viewer. Brackens uses a small harness loom used by hobby weavers, often making several parts in his narrative pieces. I love this "Just use what you have" attitude as it is the expression that counts. I also am very glad to see weaving done by the artist himself again! This exhibition at the Kestnergesellschaft in Hannover is still on until June 4th, 2023. Here follows information given by the curator Adam Budak:
This exhibition at the Kestner gesellschaft is the artist´s first solo show in a Europeanart institution. Composed of an existing body of workas well as of an extensive number of newly produced works, this exhibition is Brackens´ self-reflective endeavor where radical tenderness, accompanied by a critical intimacy, contributes to the ethics of storytelling and a lyrical representation of masculinity.
Exploring the intersections of identity and sociopolitical issues, Diedrick Brackens (born 1989 in Mexia, Texas) creates intrigate tapestries and textile sculptures that re-examins allegory and narrative through material, autobiography, the broader themes of African American and queer identity, as well as American history and memory.
Brackens' is a highly intertextual and performative practice which incorporates various traditions and employs techniques from West African weaving (such as kente cloth), quilting from the American South and European tapestry making (including medieval European Unicorn tapestries) to create both abstract and figurative works. Often depicting moments of male tenderness, Brackens culls from African and African American literature, poetry and folklore as source.
The material indicates a sensation of tactility as well as it connotes the political dimension: "Cotton is the primary material because it is a very easy material to manipulate, it takes color beautifully and its historical significance in the US relative to enslavement, violence and subjugation has had lasting effect on black bodies", the artist explains. " I think of the process of handweaving cotton as a small way to pay tribute to those who came before me and worked with the material under very difficult circumstances".
In Brackens work, the nuanced visions of African American life and identity are reflected in the complicated histories of labor and migration. His collective mythology combines timeless narratives about emancipation and remediation through pattern, body , and the power of craft. Participation in rituals and fantasies of desire and kinship, Brackens' protagonists perform choreography of vulnerability and care; here the beauty and brutality are intertwined in the allegoric dance of cosmic proportions; here the intergenerational trauma is re-enacted in an almost shamanistic séance of empowerment and resilience, imbued with a fantastic spirit, and poignantly bridging past and present.
Diedrick Brackens lives and works in Los Angeles, CA. He received a BFA from University of North Texas, Dento, TX and an MFA in Textiles from California College of the Arts, San Francisco, CA