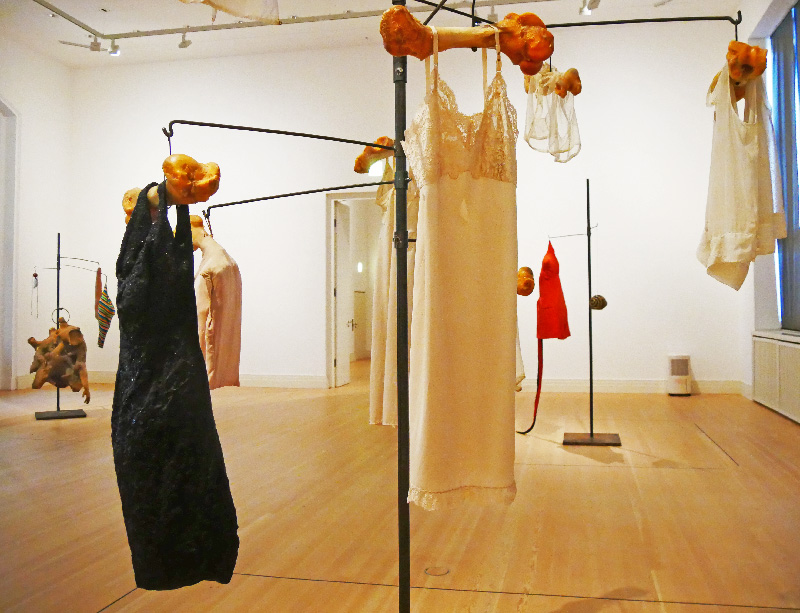 Louise Bourgeois: The Woven Child Exhibition, 22nd July to 23rd October at Gropiusbau Berlin
This is the first major exhibition dedicated exclusively to the textile works of sculptor Louise Bourgeois. It was only at the age of 80 that the artist began to create works of art from clothing and household textiles that would become her most haunting and intimate works. She wanted to both preserve and transform the past. Many of them can be seen in the Gropiusbau, for example her "Cells", her "Textile Heads" and the free-standing "Pole Pieces". In this way, she processed themes such as the body, memory, femininity, trauma and repair.
Louise Bourgeois (1911 to 2010) grew up in a family who worked as restorers of old fabrics and tapestries. Throughout her life she had a very bad relationship with her father. For a long time, the father cheated on her mother with the English nanny, and he did not show any consideration for his daughter whom he ridiculed. In an interview (aired on 3sat Kulturzeit in December 2005), the artist said: "I have made numerous works on the subject of "The Destruction of the Father". I don't forgive and I don't forget. That's the motto that feeds my work.
Louise had a good relationship with her mother, whom she described as her best childhood friend. In her artworks she used the spider as a symbol for her mother since she worked as a weaver. The spider was seen by Louise Bourgeois as the benevolent protector. After her mother's death in 1932, Bourgeois attempted suicide. In 1938 she went to New York with her husband, who accepted a teaching position there as an art historian. Louise continued her art studies in the USA, having started them in Paris.
The artist only became well-known at a late stage in her life; the New York Museum of Modern Art dedicated a retrospective to her in 1982, when she was 71 years old! In 1992 she was represented at Documenta in Kassel, and in 1993, at the Venice Biennale. In 2005 she ranked 5th on the art compass and in 2009, shortly before her death, she was the most successful woman in the ranking.
Bourgeois' return to textiles at the age of 80 is viewed as a re-examination of her past. The materials often came from her own household and personal past. The works explore sexual ambiguity and painful psychological and social relationships.
The soft materials, the "second skin" of her own clothes, led to a sensual quality in her work and an almost tangible vulnerability and intimacy. She associated cutting, tearing, sewing and assembling with notions of reparation and the physical expression of emotional tension. The textile works invite you to reconsider the meaning of "mending" and to see it as a kind of emotional redemption.
The approximately 60 works in the group "Cells" were created by Bourgeois from 1991 onwards, and consist of space-like installations with personal objects and sculptural elements that are combined in such a way that they result in self-contained and meaningfully charged compositions. The cells often make reference to the artist's personal past.
In her work "Pole Pieces", she processed garments from her childhood and her mother's clothes. For Bourgeois, clothes were as important as the pages of her diary. In one such sculpture from 1996, the words "Seamstress, Mistress, Distress, Stress" can be read on the base of the sculpture, a reference to Bourgeois' family history and its psychological consequences.
In 1998, Bourgeois began making stuffed textile heads from a variety of textile materials, such as cloth, cotton twill, petit point embroidery, tapestry, towels and patterned garments. Some of these heads have more than one face, indicating the juxtaposition of conflicting feelings and attitudes. One of the heads is named "Pierre", after her brother who was committed to a psychiatric facility in 1945. A missing ear refers to the lack of communication between the siblings, whereas the head itself is seen as a physical representation of spiritual redemption.
The spider is a well-known motif in Bourgeois' work; what immediately springs to mind are her large-format bronze figures created in the 1990s and 2000s. But there are also spiders made using textile materials, such as "Spider" from 1997. In this case, the spider grips the cell housing as if to protect its web. The cell contains an armchair upholstered with tapestry fabric and personal belongings of the artist. This creates an atmosphere of reflection and lost time.
The series of fabric collages from 2006 comes very close to the works of textile art in the classic sense. For this, Bourgeois cut up striped and patterned pieces of fabric as well as household textiles and reassembled them into interlocking and sometimes concentric circles. The compositions resemble spider webs – an image that represented "a comforting haven" for Bourgeois and serves as a metaphor for her own creative process.
But the biggest surprise for me were the more intimate small textile books and series, such as The Woven Child, a series of 6 works made from strips of woven fabric from 2003; as well as "Ode à L'oubli" consisting of 30 works of art, 2004; then "The Fragile" 36 digital and screen printed on fabric with hand-sewn additions from 2007; and "Ode à La Biévre", a fabric book with 25 pages digital and screenprints, 2007and finally "Eugénie Grandet", 16 parts, 2009.
These works are so playful and full of imagination that my heart opened and I felt like playing around with my own fabric memories. This lightness forms a contrast to the other more dark side of her work, of which Louise Bourgeois says "It is not an image I am seeking. It is not an idea. It is an emotion of wanting, of giving, and of destroying"! She succeeds in her intentions very well; I felt closer to her after seeing the exhibition!
Beatrijs Sterk, September 2022