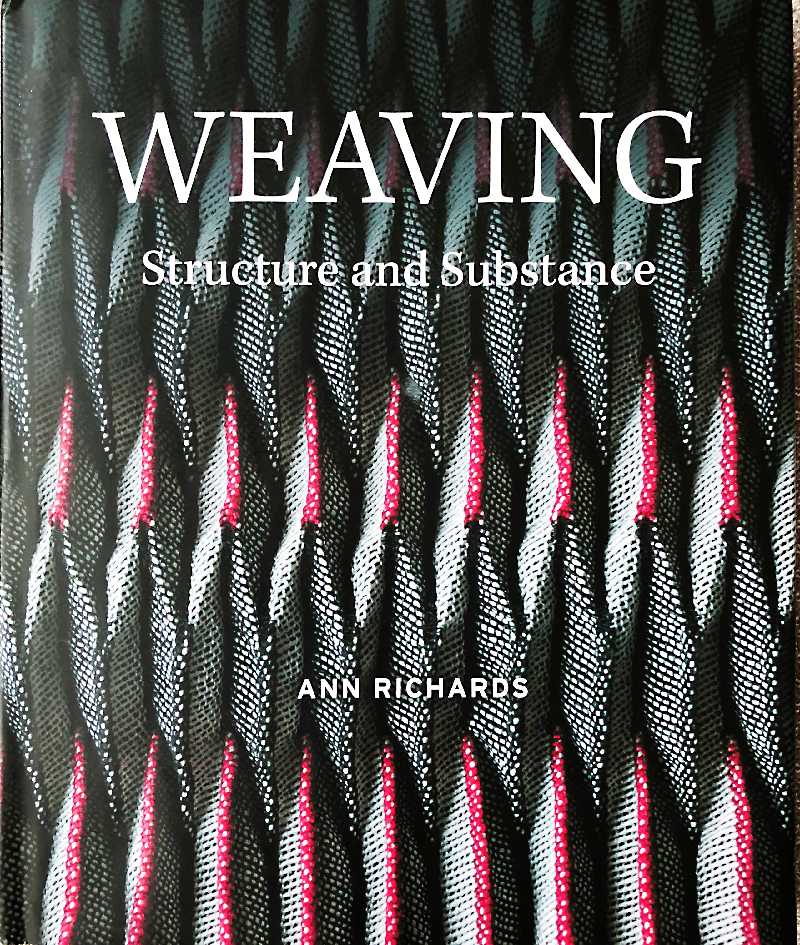 Ann Richards: Weaving – Structure and Substance 
When I reviewed Ann Richards' first book, "Weaving Textiles That Shape Themselves", in Textile Forum 2/2012, page 44, I wrote that this was the most interesting book on handweaving that I had read in the past few years. In 2020 the wonderful book "Thread Magic" by Danish weaver Lotte Dalgaard (and Paulette Adamson) was published on the subject of weaving with active and passive threads and discussed in this blog.
The latest book by Ann Richards presents further developments as well as the interplay of materials and structures. She writes: "Textiles necessarily possess textural qualities and deeper tactile properties – they have substance. Such aspects often receive less attention than they deserve, even though all weavers know that they are essential to the success of woven fabrics …. weaving structure is crucial to the design of woven textiles but, being simply a plan of interlacement, it does not in itself specify what the fabric will be like."
In Chapter 5 on Ribbing and Pleating, the author says something about her motivation; when she herself was a beginner in spinning and weaving, she accidentally produced a pleated fabric. She described her fascination with this effect in her first book, "Weaving Textiles That Shape Themselves". Later she made a replica of a 2000-year-old rib twill fabric for a Dutch archaeologist and learned how old this type of fabric is!
The book is divided into four parts that look at the natural world as inspiration, the design resources of materials and weave structures, the fabric qualities as starting points for design, and the practical issues of designing through making.
Each part is divided into chapters that enlarge upon the topic and illustrate practical examples by weaving artists and designers such as Reiko Sudo, Ann Sutton, Junichi Arai, Tim Parry-Williams, Deidre Wood, Lotte Dalgaard, Berthe Forchhammer, Stacey Harvey-Brown, Andreas Möller and many more. It also cites statements by well-known weavers like Anni Albers, Peter Collingwood, Ann Sutton, Junichi Arai and others.
The book makes interesting reading and also serves as a guide to doing your own weaving, although if I wanted to weave in practical terms I would start with the first books by Ann Richards and Lotte Dalgaard. The possibilities that the author presents in this publication are so diverse that it is easy to lose track in the face of so much virtuosity. My fingers were itching to try this or that effect. It is good to know that Ann Richards has often offered summer courses at the Textile Centre in Haslach, Austria, and will hopefully offer them again soon.
The book contains a small but important bibliography, online references to helpful websites, suppliers of weaving yarn and an index. It was published by The Crowood Press, Ramsbury, Marlborough, Wiltshire, UK, 2021, with 243 colour illustrations and 61 drawings, priced GBP 25