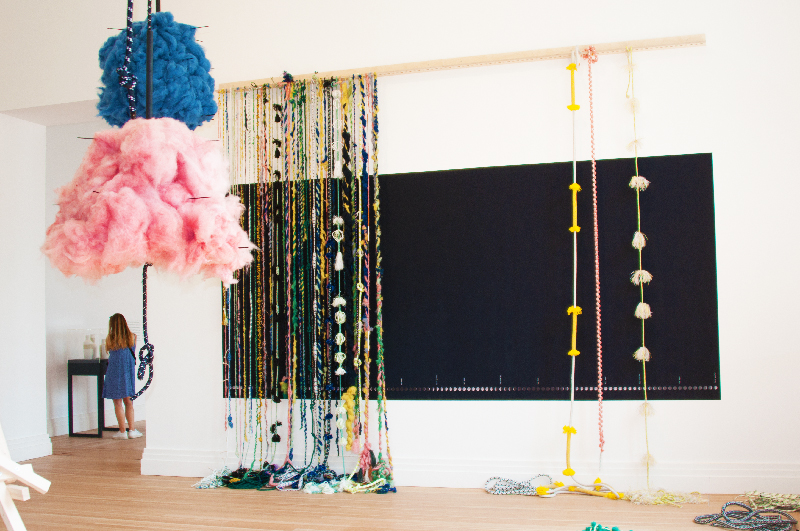 Hella Jongerius: Woven Cosmos
When entering the exhibition, one wonders at first why a design studio of world fame should choose weaving as the theme of an exhibition in an equally famous art museum (Gropius Bau is presenting Yayoi Kusama next to the Jongerius show), and about the ambitions visualised in this exhibition (craft as part of a sustainable future, highlighting even the spiritual aspects of weaving). Hella Jongerius' goal is nothing less than to heal the industry.
I tried to find the reason for this exhibition, read everything I could find about it and spoke with the (mostly Dutch) designers of the Jongeriuslab located in Berlin. It seemed that Hella Jongerius has recently taken a sabbatical from her usual industry work, and that she was approached by Gropius Bau just at that time to think about an exhibition. She found this a good way to express her ideas about changing the future of the textile industry by means of a new cultural platform: how craft can be part of a sustainable future. There are many layers to weaving; it is not only about sustainability, there are also the ecologically harmful industry, the terrible working conditions and then the spiritual aspects of weaving.
"Through Woven Cosmos I try to understand the cultural meaning of weaving beyond materials and technique. This is also deeply linked to the challenges of our time: questions of sustainability, social responsibility and spirituality. For instance, what can be the healing function of objects?"
The Jongeriuslab had worked on preparations for the exhibition since November 2020, and it was opened virtually in April 2021. Since May it has been possible to visit the exhibition in real life, so I went to see it together with Gertraude Pohl, whose work I featured last May. Like Hella Jongerius, Gertraude is a designer who has worked on large public commissions that are not restricted to textiles. We were both impressed with what has been achieved in the show.
There are several rooms featuring different themes, starting with "Space Amulets", a part of Jongerius' exploration of healing and the transformative power that objects have on people and spaces. The display refers to the healing and protective qualities of these objects.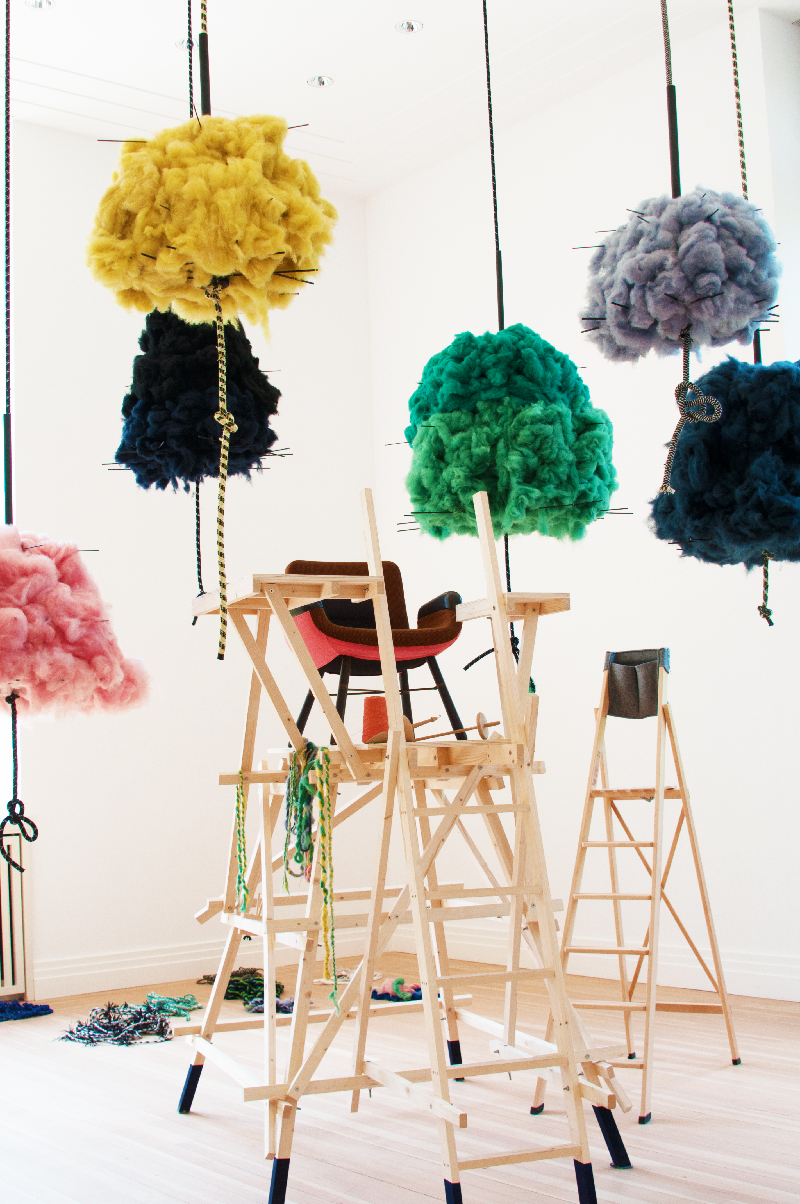 The second room is called "Cosmic Loom". With this installation, Jongerius explores the idea of weaving a new texture of the world: a textile that connects mind and matter. Before the exhibition, the fibres and colours were chosen together with shamans in the Gropius Bau, so their understanding of astronomical and spiritual cycles in time was incorporated into this work.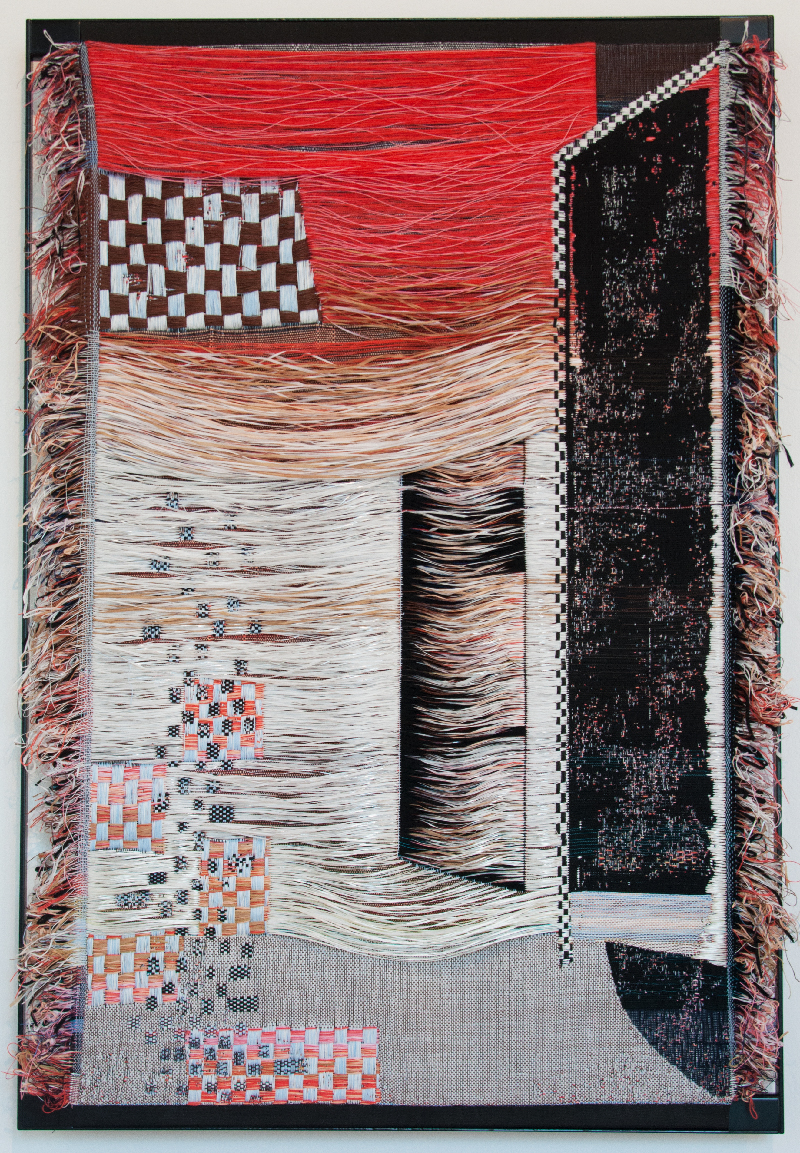 The third room is called "Woven Windows" and was the greatest surprise for me. I have closely followed most artists and designers working with the TC2 jacquard handloom invented by Vibeke Vestby from Norway. Given the pandemic, Jongerius wove her windows mainly by herself. What came out are true masterpieces which use this machine to explore the possibilities of weaving as an act of painting. Were she to send them to any textile art exhibition she would cause a sensation! The window is a prominent motif in painting – its structure resembles a picture frame, allowing viewers to look either out or in, or into a painting. The window is thus a symbol of seeing.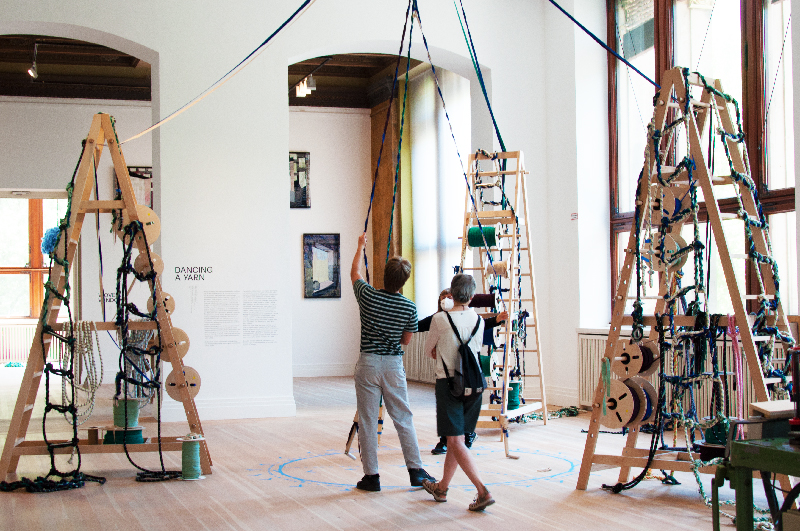 "Dancing a Yarn" is the name of the next room, which shows a yarn manufacturing machine commissioned by Gropius Bau. Visitors are invited to actively participate in the production process. Similar to dancing around a maypole, the yarn materialises while people are "dancing". The ropes created during this process will grow to become rope ladders that extend out of the Gropius Bau windows.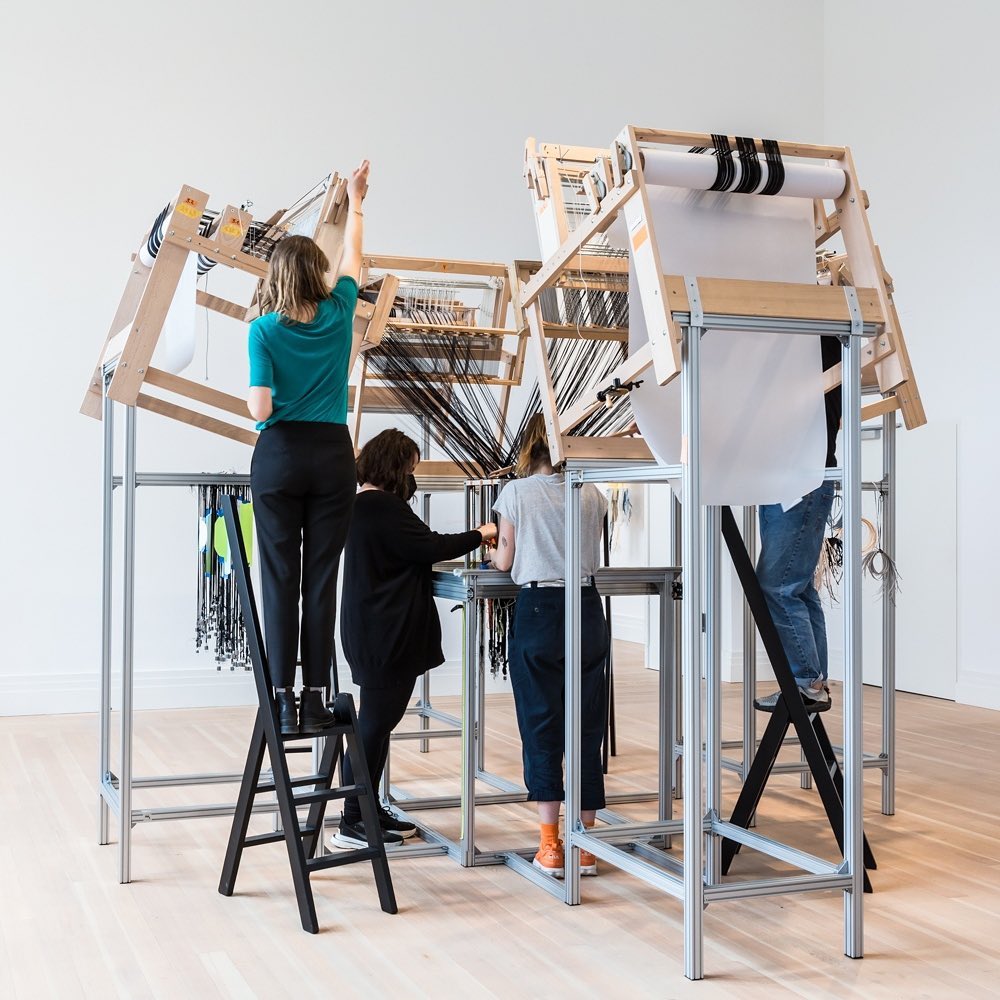 The next room shows the "Space Loom#2" to explore three-dimensional weaving. On this special loom, the warp threads can move in different directions, weaving the weft threads around them. The weft threads therefore do not just move from left to right, but can be woven in all directions, producing 3D objects, so-called "matrix modules".
In fact, what you see is four smaller handlooms arranged so that the results come together at the centre. It looks very uncomfortable to use and requires at least 3 people to work. When we were there, the looms were being prepared for a new piece so we could not see this "space loom" in action. But we were able to see the 3D objects it had produced, which looked small but very intricate. Hella Jongerius' credo is working by hand, and it is all the better if the machine is slow as it allows the maker more time to experiment. In 2019 she already showed a similar loom called "the seamless loom" in Paris, which created a large round fabric resembling woven architecture.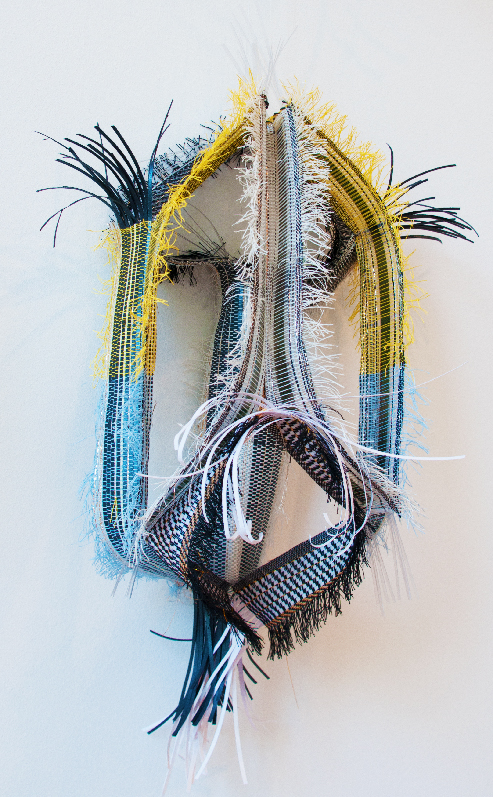 The next group of works, "Pliable Architecture", raises the following questions: How and for what purposes can we use this ancient craft today? Which materials can now be used, and how can building materials be reimagined? This method enables the creation of objects that achieve a large volume with minimal use of materials. It results in diverse material qualities within one structure, ranging from stiff to supple and opaque to transparent. Occasionally Jongerius adds functions to these woven structures, such as photovoltaic strips and energy conducting yarn, to activate and set them in motion. Woven structures are lighter, more durable and require less material, which makes them economically viable and eco-friendly.
These pliable architectures are all created on the TC2 jacquard handloom. What I found most touching was the calm "breathing" of the woven structures – realised by Jongeriuslab designer Jos Klarenbeek by means of photovoltaic strips and conductive yarn – giving them a poetic life of their own.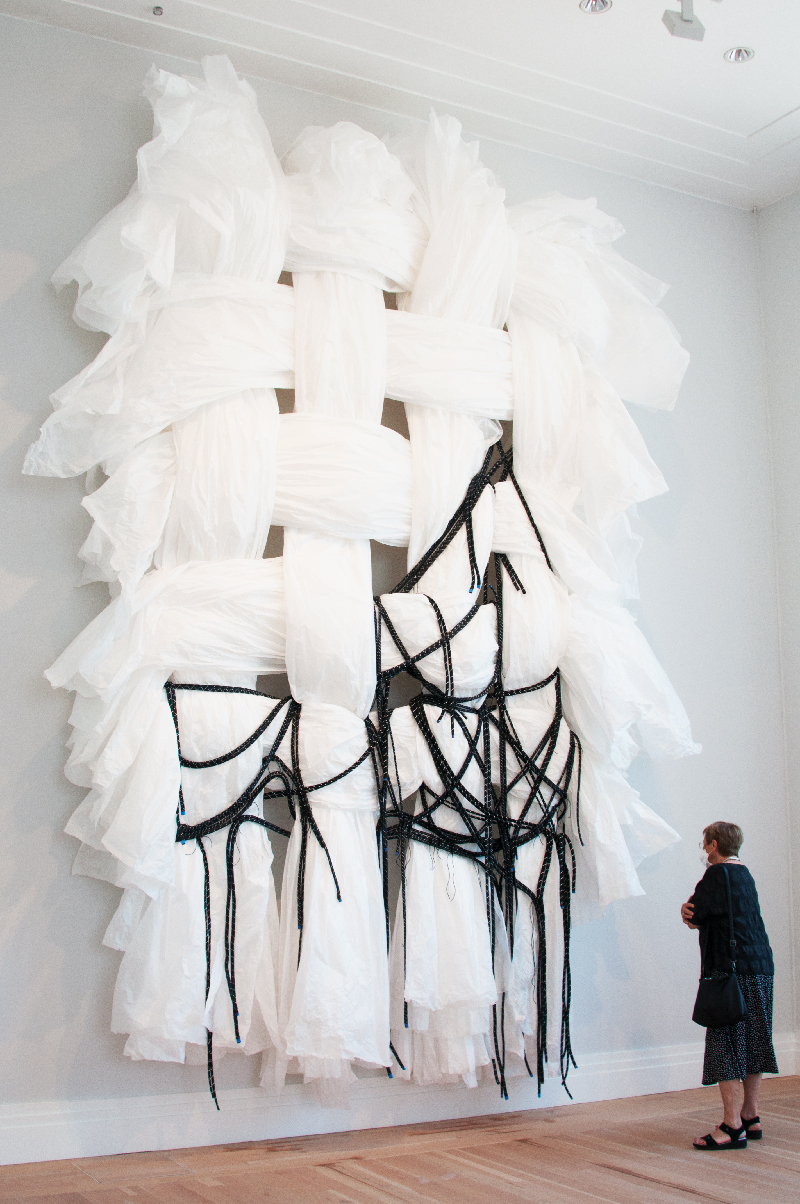 The final room shows "Woven Systems" where Jongeriuslab experimented with yarns, weaves, textures and the fundamental logic of weaving – the intersection of threads in a grid. Jongerius is fascinated by the rigid nature of weaving, which she employs as a symbol to think about systems, grids, layers and connections. Western thinking in particular reduces processes to categories and rules, imposing a linear logic upon a circular planet. Jongerius believes that the design processes of systems create meaning, but that they can constrict and intimidate at the same time. She questions how we relate to these networks of connections that are beyond our control.
At a first glance, Gertraude remarked that this approach resembled her work with her students at Weissensee, the famous East Berlin art school. Looking further, however, we discovered that Hella Jongerius, who had apparently created most of the works in this room herself, had been pushing the limits in terms of scale, materials, techniques etc. For example, she had made an enormous "weave" out of very thick stacks of lightweight silk paper, combining them with a thick black rope to cover a whole wall in the large Gropius Bau. This was juxtaposed with very fine layers of printing and stitching, both on paper and on fabric. I call this "huge fabric" an impressive interlacing of elements that all appear to be in maximum contradiction: the colours both white and black, the materials both light and heavy, the forms both pleasingly sculptural and bound by lines, the appearance both poetically volatile and tangibly defined. A feast for the eyes that almost made us feel happy! And a symbol of audacious thinking.When we arrived we were sceptical about the ambitious goals of the exhibition, but we went home with the very good feeling of having seen a great collaborative work that provided much food for thought. I have great respect for Hella Jongerius and her enthusiastic team.
This exhibition will be on view at Gropius Bau, Niederkirchnerstraße 7, 10963 Berlin until 15 August 2021.