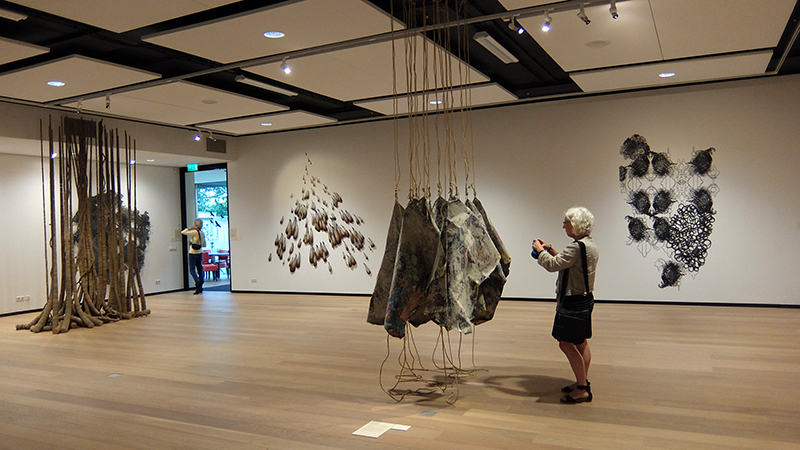 The 11th Paper Biennial is on view at the Rijswijk Museum near The Hague until 18th September 2016. This year's show focuses on the laser paper cutting technique, whereas the hand paper making technique is not as prominent as it used to be. The highly refined aesthetics of the Biennial is counterbalanced by a number of very powerful installations, such as those by Hayes et al.
Once again the Biennial provides completely new insights into contemporary paper art. The comparatively small Rijswijk Museum has achieved a major feat in enabling this Biennial series, important both for paper and textile art, to be shown at such a high level, in spite of all the austerity measures currently affecting the cultural field.
We are indebted to curator Anne Kloosterboer and all the museum staff.
Beatrijs Sterk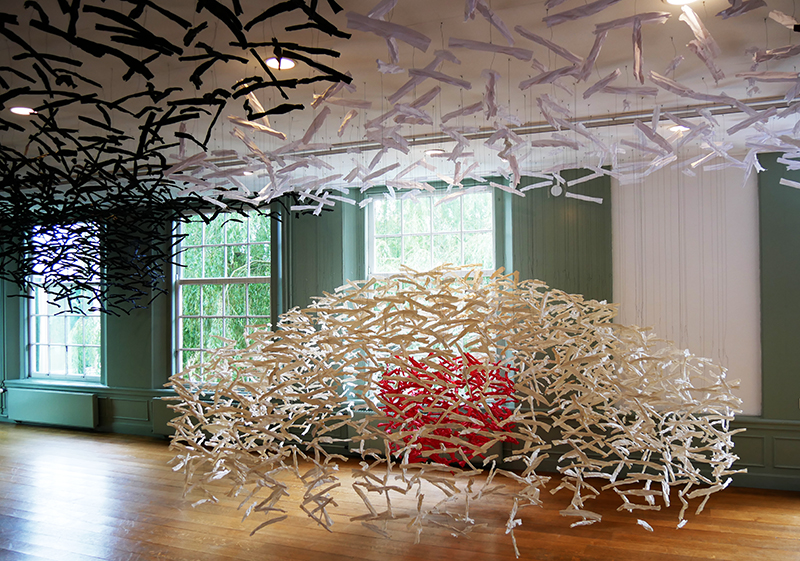 Here's the press release:
A swarm of thousands of sheets of crumpled papers, hung on thin wires, symbolic of thousands of ideas that have landed in the rubbish bin. A petit backyard made of paper, charcoal and plexiglass – life-like but sinister too. Vines of cardboard that twist and turn towards the sky, like a jungle. Organic forms like microbes, of self-made paper. But also, paper and geometry in folded, kinetic sculptures. Paper beyond boundaries through the use of digital technology. And… romantic viewing boxes with fragile plant structures impaled on pins.
This summer, once again, the 11th Paper Biennial is submerging Museum Rijswijk in the multifaceted world of paper.
Since 1996 Museum Rijswijk has been hosting state-of-the-art, international paper art, every two years. Every year is different because contemporary art is constantly evolving. In the 2016 edition the focus is on large installations, but the craftsmanship of handmade paper has not been ignored.
Five artists in the 2016 Paper Biennial are from the Netherlands, the remaining thirteen are from all over the world; with the exception of South America, all continents are represented. Most of the artists have never before exhibited in the Netherlands:
Sabine K. Braun (Germany), Josef Bücheler (Germany), Mandy Coppes-Martin (South Africa), Anne ten Donkelaar (the Netherlands), Lauren Fensterstock (USA), Ina Geissler (Germany), Dorthe Goeden (Germany), Kim Habers (the Netherlands), Paul Andrew Hayes (USA), Anna Jóelsdóttir (Iceland), Yoko Kataoka (Japan), Tracy Luff (Australia), Karen Margolis (USA), Matthew Shlian (USA), Graphic Surgery (the Netherlands), Annie Vought (USA), Joyce Zwerver (the Netherlands)
An illustrated catalogue will accompany the Rijswijk Paper Biennial (Dutch/English). Author: art historian Frank van der Ploeg. Price: € 19.75.
On Sunday 11 September there is as always the paper market in the forecourt of the museum and in the Old Church opposite.
www.museumrijswijk.nl
Museum Rijswijk, Herenstraat 67,
2282 BR Rijswijk, 070 3903617
Open: Tuesday to Sunday, 11 am – 5 pm
For more information: a.kloosterboer@museumrijswijk.nl