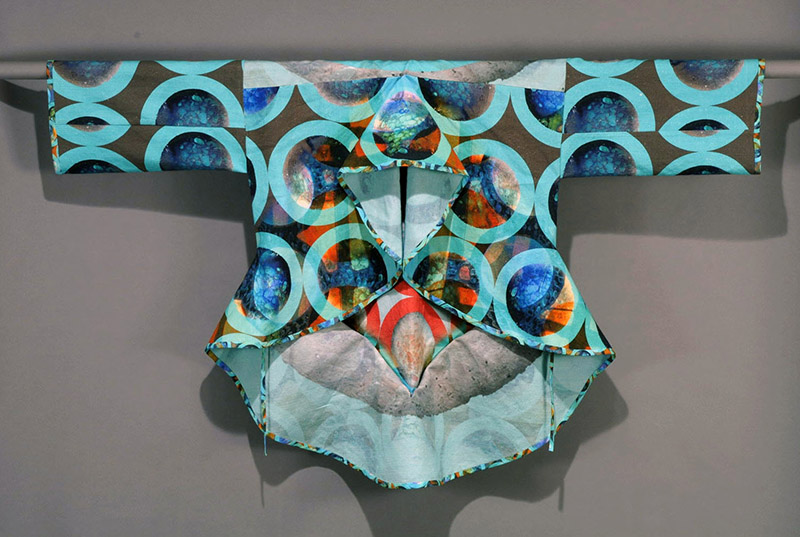 7th INTERNATIONAL WEARABLE EXPRESSIONS JURIED EXHIBITION AT PALOS VERDES ART CENTER, January 21- April 16, 2017

Wearable Expressions: wearable art designed for the human body in all media from separates to entire garments, to jewelry and a wide variety of accessories.
This, the seventh exhibition, is set for January 21 – April 16, 2017 with Off the Wall and On the Runway on April 22.
Jewelry, accessories and fiber art entries will be competing for a total of $20,000 in awards. Winners will be selected by the show's renowned US and international jurors.
Jurors for fiber and accessory entries are: Joris Debo, Belgium, Creative Director of Materialise, provider of 3D printing software and services in a variety of industries, Jo Ann Stabb, USA, Senior Lecturer Emeritus, Design Department, UC Davis and founding curator of their Design Collection, Beatrijs Sterk, Germany, former publisher of Textile Forum, initiator of the European Textile Network ETN). Jewelry jurors are: Charles Lewton-Brain, Canada, Distinguished Fellow or the Society of North American Goldsmiths, founder of Ganoksin Project, Robert K. Liu, Ph.D. USA, ethnologist and Co-editor of Ornament Magazine, author of The Photography of Personal Adornment, Anetta Vallous, France and Russia, professor and author of Soutache Embroidery.
Jurying will be on-line from high-resolution digital images. Entries ($40 for up to three pieces) are due by October 1, 2016 and must include an artist's statement and description of techniques and materials. For a complete prospectus and entry form, go to www.wearableexpressions.com.
The 2008 Wearable Expressions exhibition included 115 fiber or accessory entries ranging from hats, shoes and scarves to complete ensembles. The artists employed both traditional material – wool, silk, cotton or felt – to those that could only be described as unique – laminated photographs, sugar packets, onion bags, tires, book covers, broken egg shells and glass. Techniques ran the gamut from felting, screen printing and weaving to interlocked chain, laminating, inkjet printing and illumination.
The 140 jewelry items were crafted from everything from precious metals gems, polymer clay, wood and seed beads to monofilament, polycarbonate film, syringe needles, tires and computer components.
The artists came from Canada, England, Finland, Germany, Iceland, Ireland, Israel, Italy, Japan, Korea, Lithuania, New Zealand, Scotland, Slovenia, Sweden, Australia and Turkey as well as from throughout the United States.
The Palos Verdes Art Center, a non-profit visual arts organization, has provided the South Bay region of Los Angeles County with art exhibitions, education and community programs since 1931. For more information about Wearable Expressions, see website http://www.wearableexpressions.com If you have questions call 310-541-2479 or e-mail Gabrielle at we.curator@gmail.com.